Burger King's Gay Pride Whopper Campaign Is Selling Meat Sandwiches, Not Inclusiveness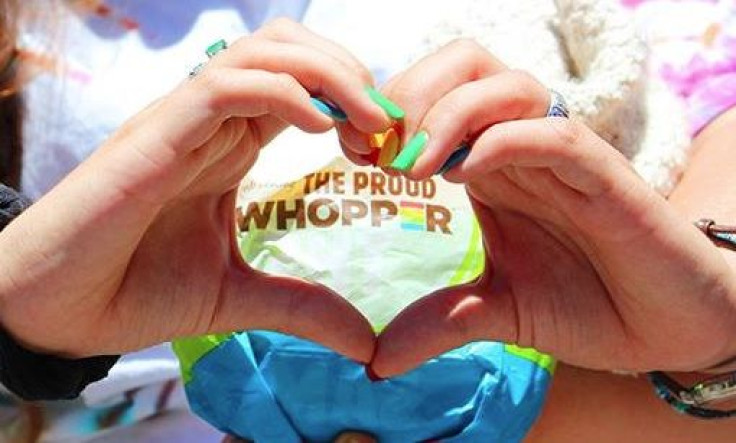 Burger King is enjoying an avalanche of social media chatter following its "Proud Whopper" campaign, which celebrated gay pride in San Francisco last week through rainbow packaging and the warm and fuzzy slogan, "We are all the same inside." Not everyone responded favorably to the inclusive message, but the Miami-based fast-food giant (NYSE:BKW) isn't flinching; instead, it's embracing the hate and turning a lens back on the haters themselves with a new video featuring some of the negative reactions.
Of course, we've seen this kind of marketing spin-around before --very recently, in fact. You might recall that in April, Nabisco's Honey Maid commercial "Love," which took on homophobic critics of a previous Honey Maid commercial by printing out the anti-gay messages and making a "Love"-shaped sculpture out of them. Before that we had General Mills Inc. (NYSE:GIS), which featured an interracial family in a Cheerios commercial, received a swarm of disturbing racist vitriol on YouTube, and defiantly brought the same family back for a new commercial that aired during the 2014 Super Bowl -- the most-watched telecast of the year. Take that, racists.
It's all part of a definite trend: Major brands are not only sticking to their guns in the face of criticism about their efforts to promote diversity, but they are cheekily allowing their critics to hang themselves with their own ignorance.
And so it is with Burger King's Proud Whopper. The actual rainbow packaging was limited to a single location along the parade route for San Francisco's 44th annual gay pride parade, but the company has helped make sure the campaign would live on in social media. On Wednesday, it posted a video on YouTube -- shot during the parade -- featuring customers reacting to the Proud Whopper's rainbow packaging and slogan. Once again, we're shown the folly of those who react negatively, including one customer who vows never to eat Burger King again. The video has since been viewed more than 1 million times, and its release was followed by the expected amalgam of praise and backlash -- from declarations of marketing brilliance to promises of boycotts. "You went too far and this is one family that in the future won't be patronizing your business," one Facebook user bellowed.
One takeaway from the melodrama is that Burger King -- like Nabisco and General Mills before it -- has learned that being inclusive is good for business, and that companies in the end will be rewarded for braving a backlash in the hopes of achieving a greater good.
A more cynical takeaway would be that Burger King just wants to sell burgers, and its "Proud Whopper" campaign was a pretty lazy way of going about it. Reactions to these types of campaigns have become so predictable that the tweets and Facebook posts practically write themselves. The brainpower behind "Proud Whopper," which was developed by Ogilvy & Mather's David ad agency, surely knew this. And in the end, how hard is to orchestrate virality by catching customers off guard in a burger joint?
Burger King Worldwide Inc. (NYSE:BKW), which went public in 2012 after being taken private by the investment firm 3G Capital, has had a bumpy ride over the last few years. It's an underdog in an industry fraught with PR pitfalls (remember when McDonald's customers used the hashtag #McDStories to bash the company that started it?), but that underdog status has given it the freedom to engage in a type of risk-taking that companies need to engage in if they're going to successfully navigate the world of social media. Even if it took the easy way out, its name trended on Twitter, which was probably the point of this exercise all along.
For some, however, the point will still be the product itself.
"We are feeling very conflicted about the Pride Whopper at Burger King," as one person tweeted. "We've always preached tolerance but also the importance of real food."
Watch the full video, "Proud Whopper," below:
Got a news tip? Email me. Follow me on Twitter @christopherzara.
FOR FREE to continue reading
✔️ Unlock the full content of International Business Times UK for free
offer available for a limited time only
✔️ Easily manage your Newsletters subscriptions and save your favourite articles
✔️ No payment method required
Already have an account?
Log in
© Copyright IBTimes 2023. All rights reserved.