Burma: Aung San Suu Kyi Pleads For Ethnic Minority Rights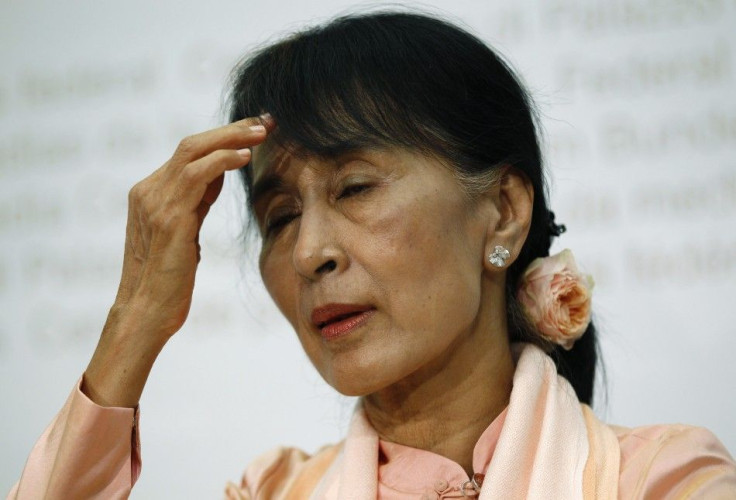 In her first speech before the Myanmar parliament, pro-democracy activist and opposition leader Aung San Suu Kyi has pleaded for the country to respect the rights of its various ethnic minorities.
Suu Kyi's comments come after weeks of unrest and violence in the Rakhine state of western Myanmar (also known as Burma) where the Muslim minority Rohingya have been attacked and targeted by the majority Buddhists. Government troops are also still fighting the ethnic tribes in Kachin state in the northern part of the country.
To become a truly democratic union with a spirit of the union, equal rights and mutual respect, I urge all members of parliament to discuss the enactment of the laws needed to protect equal rights of ethnicities, she said.
Furthermore, the flames of war are not completely extinguished."
Suu Kyi, however did not explicitly mention the Rohingya by name, and has been strangely silent on the issue of the ethnic clashes in Rakhine.
The Nobel Peace Prize recipient, who recently returned from a global tour, also called for the government to address the widespread poverty found among ethnic minorities.
Burma has a large number of ethnic minority rebel groups, some of whom the government have entered into peace deals with in recent years.
According to Stimson, a research and analysis group, Burma has at least fourteen ethnic minority groups, with the Shan (9 percent) and the Karen (7 percent), the two largest by population.
The Shan are closely related to the peoples of neighboring Thailand – their communities are endangered by huge construction projects, including dams at the Irrawaddy and Salween rivers, as well the proposed Sino-Burma oil and gas pipeline.
The Karen have fought the Burmese ever since the nation was granted independence from Britain after World War II. As a result of decades of military conflict, a large population of Karen refugees reside in crowded camps on the Thai border.
The Burman (or Bamar) majority are believed to represent about 70 percent of the nation's population.
© Copyright IBTimes 2023. All rights reserved.
FOLLOW MORE IBT NEWS ON THE BELOW CHANNELS