Burundi 2015: How Twitter, WhatsApp And Facebook Influenced Protests And Possible Coup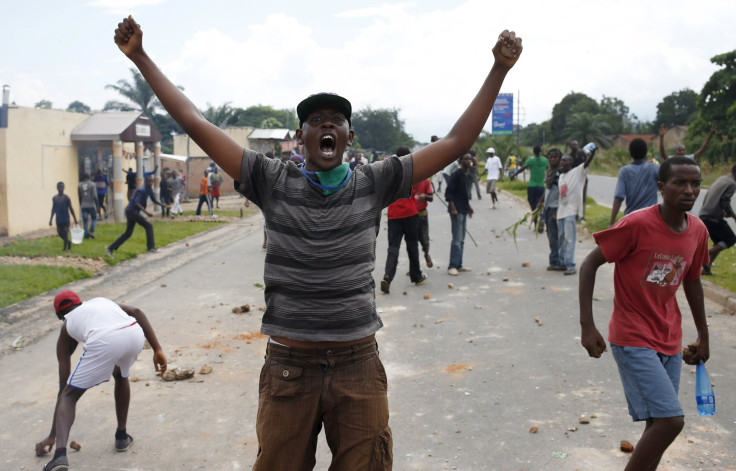 Burundi's capital city of Bujumbura has been rocked by protests, culminating in a proclaimed coup d'état on Wednesday. Though the city's population is just over 300,000, this week's events have been observed by millions, in real time, thanks to social media. President Pierre Nkurunziza, whose decision to run for another term despite a constitutional ban sparked the protests, censored traditional media outlets -- but Burundians were able to organize locally and broadcast globally thanks, in large part, to social media. Analysts say Twitter has played a substantial role in the possible ouster of the president, which could have ramifications across the continent.
"I do think that the revolution has, in fact, been tweeted," said Cara Jones, an assistant professor of political science at Mary Baldwin College in Staunton, Virginia, and an expert on Burundi. Jones lived in Burundi for years and has a plane ticket booked to return next week, but is currently in the United States. That didn't stop her from keeping track of real-time updates as the situation developed.
"I woke up and turned on my phone this morning and started seeing all these reports. It was my first source of information," she said. "It was really quite fascinating to be a part of."
The government shut down a handful of radio stations and arrested several journalists soon after the protests began in April, according to the Committee to Protect Journalists. Soon after, they also issued an order to shut down access to sites such as Twitter and text-messaging services such as WhatsApp, which demonstrators had been using to organize and broadcast their message. But, as countless protesters have done around the world, demonstrators found a way around using VPNs, "virtual private networks" that allow people to sidestep government censorship, and other methods.
While the power of social media for revolution is no mystery, especially after the Arab Spring, in this case Twitter became an essential platform for officials to express themselves as well, with varying degrees of skill.
It also showed an unique characteristic of coups d'état in the 21st century: It's very hard to take over a government if you don't control social media, not just traditional media. Coup plotters used to always seize first the radio and TV stations, so they would control the message and tell the population they were now in charge. That's what the tried and true method of how to seize power militarily, as explained in Edward Luttwak's 1969 classic "Coup d'Etat: A Practical Handbook," Jones said.
But this time, opposition forces calling for the president's ouster had another resource at their disposal.
"What's really interesting is that the opposition has been tweeting since the beginning of the protests," said Jones. "They've been doing everything on social media," she added, noting that WhatsApp especially has been very important in getting information out, and that updates and videos have appeared on Facebook since the movement began, and they soon outsmarted the ban on these sites through VPNs.
"This is a way to leverage outside interest," said Jones. And it seems to have worked. Online mentions of the term "Burundi" have increased more than 200 percent in the past six weeks, as unrest continued, according to Google Search Trends.
Maj. Gen. Godefroid Nyiombare announced on Wednesday morning that he and the military would relieve the president, who was out of the country at a conference in Tanzania, of his duties and "dissolve" the government. Though the official announcement came via radio, it took mere moments for anti-Nkurunziza activists and journalists to spread the message on Twitter.
The Twitter account for the ruling party, known as the CNDD-FDD, has not tweeted at all. It also has a paltry 786 followers. The opposition has been far more active online.
Even before the coup declaration, protesters had been using the hashtag "#Sindumuja" as a call to action. The term means "I will not be a slave" in Kirundi, and became a rallying call for the opposition after Catholic Church leaders used it during a March address. Soon, it started spreading far beyond Burundi. Tweets with the hashtag helped paint a picture of ongoing confusion in Bujumbura, with no one sure whether Nyiombare or Nkurunziza was in charge. And, in the age of Twitter, that may be the new normal for attempted coups d'état.
FOR FREE to continue reading
✔️ Unlock the full content of International Business Times UK for free
offer available for a limited time only
✔️ Easily manage your Newsletters subscriptions and save your favourite articles
✔️ No payment method required
Already have an account?
Log in
© Copyright IBTimes 2023. All rights reserved.