Call Of Duty 'Advanced Warfare' Reveal: Up To Four Players Can Play Survival Co-op Mode [VIDEO]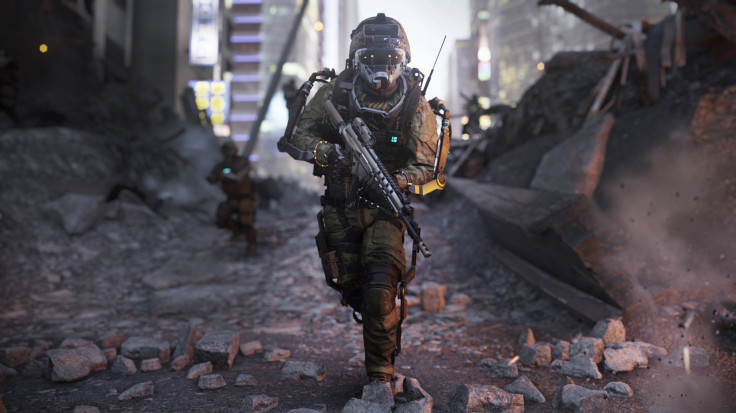 Activision Publishing, Inc. and Sledgehammer Games launched a new trailer for upcoming first-person shooter "Call of Duty: Advanced Warfare" on Wednesday, and the three-minute video clip showcased some new details on the game's single-player campaign and the new multiplayer co-op mode.
The trailer takes a first look at "Exo Survival Co-op Mode," which allows four players to join forces and battle waves of bad guys as a cohesive team as the enemies increase in difficulty.
It's hard to ignore the amazing graphics in the trailer, where bad guy Jonathan Irons (played by actor Kevin Spacey, 55) does a great job at yelling at his subordinates and looking angry.
Check out the trailer below:
Sledgehammer Games' "Call of Duty: Advanced Warfare" will be coming to the Xbox 360, PlayStation 3, PlayStation 4, Xbox One and PC on Nov. 4 worldwide and on Nov. 13 in Japan.
The game will take place in the year 2054, when a new type of combat exists. "House of Cards" star Spacey will play the role of Jonathan Irons, the CEO and founder of "Atlas," the largest private military company in the world. Atlas is responsible for the creation and development of some of the most advanced technologies on the planet, and engages in shady and secret operations with anyone who pays him the right amount. Irons wages war against America because of his belief that the country hasn't successfully installed democracies in various areas on Earth. He also believes America continues to waste its resources on changing the global balance of powers.
Players who pre-order the title will receive a bonus multiplayer map, "Atlas George," a remake of the map "Pipeline" from "Call of Duty 4: Modern Warfare." They will also gain access to an "Atlas Digital Pack," which includes two bonus weapons, a custom character helmet, a player card, five in-game supply drops and a single player upgrade token. Players will also receive a season pass, which grants access to four post-release map packs. Pre-orders will also be upgraded to the "Day Zero Edition," which includes early access to the title with double XP, more in-game items and weapons.
© Copyright IBTimes 2023. All rights reserved.