Can John Kasich Beat Hillary Clinton? Ohio Governor Fights For Relevancy In GOP Debate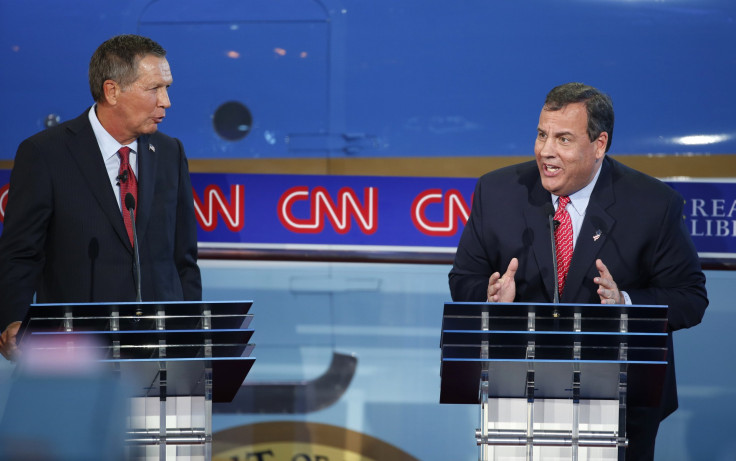 Ohio Gov. John Kasich said he can beat Democratic front-runner Hillary Clinton in his important home state during a Republican presidential debate Wednesday night. Kasich has largely stayed out of the spotlight so far amid the GOP presidential primary campaign. He was registered at 3 percent support in eight place in a national poll released Tuesday by CBS News and The New York Times.
But Kasich said he can take on Clinton in Ohio, a swing state that has often decided modern presidential campaigns. "Right now, I want to give people a sense of hope," he said on why he won't attack Clinton. "Don't worry about me and Hillary, I am from Ohio, she won't beat me there."
First, however, Kasich will have to win over far-right primary voters to survive the GOP primary. His moderate positions stand in stark contrast to many of his GOP rivals. Kasich has come out against shutting down the federal government over Planned Parenthood funding, he said a conservative Kentucky clerk of courts who refused to issue same-sex marriage licenses should do her job and doesn't oppose attending gay weddings. He also backs immigration reform that would grant the nation's estimated 11 million undocumented immigrants a path to legal residency.
"The president of the United States is not going to sign this," he said during the Wednesday night debate on the Planned Parenthood funding battle. "There are ways to do it without having to shut the government down."
But then he joined the GOP majority to slam President Barack Obama's Iran deal. "I think it's a bad agreement. I would never have done it," Kasich said. "We believe that we operate better with the world when our allies work with us. … Nobody's trusting Iran. They violate the deal, we put on the sanctions."
The GOP debate was held at the Ronald Reagan Presidential Library in Los Angeles and was hosted by CNN's Jake Tapper and Dana Bash and Salem Radio network's Hugh Hewitt. It also featured business mogul Donald Trump, former Florida Gov. Jeb Bush, Texas Sen. Ted Cruz, former Arkansas Gov. Mike Huckabee, Kentucky Sen. Rand Paul, Florida Sen. Marco Rubio and Wisconsin Gov. Scott Walker, among other candidates.
© Copyright IBTimes 2023. All rights reserved.