Can Samsung Galaxy Tab 2 Outsell Apple iPad 3 in Race for Mobile Industry Dominance?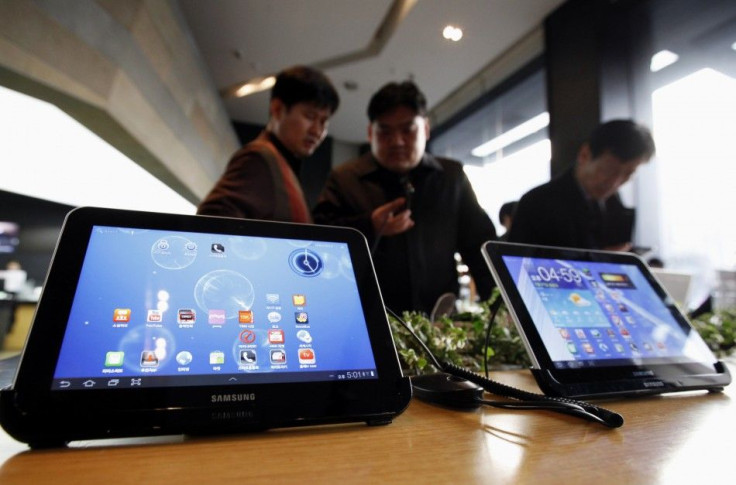 The heated battle between Samsung and Apple rages on as both companies vie for dominance of the mobile industry. Over the last year, Apple and Samsung have run a close race in both smartphone and tablet sales; with the upcoming release of the Samsung Galaxy Tab 2 and, allegedly, the pending announcement of the Apple iPad 3, both Samsung and Apple will continue to encroach on each other's mobile industry market share.
Mobile Phone Market Share
In the fourth quarter of 2011, Samsung and Apple were second and third respectively in mobile phone market share.
Samsung controlled 22.8 percent of the mobile phone market according to IDC, a market research company. Samsung's smartphone sales grew by 20.9 percent from the fourth quarter of 2010 to the fourth quarter of 2011.
Apple controlled only 8.7 percent of the mobile phone market. The company saw a tremendous increase in unit sales, however. From the fourth quarter of 2010 to the fourth quarter of 2011, Apple increased its smartphone sales by 128.4 percent.
Tablet Market Share
To complicate the battle for mobile industry dominance, both companies have taken an extremely aggressive approach to marketing tablet devices.
Global tablet shipments reached 26.8 million units in the fourth quarter of 2011, which represented a 150-percent increase from the same period in 2010. Tablet sales are expected to rise to 147.2 million units by 2015.
In the third quarter of 2011, Apple controlled 61.5 percent of worldwide market share on the tablet industry. Samsung controlled the third largest market share with 5.6 percent.
As tablet sales continue to grow at a rapid rate, Samsung and Apple are gearing up for major tablet product launches later this year.
Samsung Galaxy 2
Samsung will release a low-budget tablet running Android Ice Cream Sandwich (4.0 or higher) that's set to be released in March called the Galaxy Tab 2.
The Samsung Galaxy Tab 2 will run on a dual-core 1GHz processor and carry a 7-inch screen--roughly the size of the Kindle Fire. The screen will support 1024-by-600 pixel resolution. It has two cameras, several internal memory options (8, 16, or 32GB of internal storage), a MicroSD card expansion slot and a battery that can last up to 39 hours according to Samsung.
The Galaxy Tab 2 will cost roughly $350.
Apple iPad 3
The iPad 3--which has not been confirmed or mentioned by Apple--is rumored to have a have a thicker case among other new features according to iLab Factor. The blog posted several pictures of hardware it believes could be used in the manufacturing process of Apple's latest tablet device.
Among other rumors was the fact that the purported chasis for the iPad 3 has a larger camera hole, which is presumed to be for a more powerful camera. Finally, the editors at iLab Factor believe that the iPad 3 will include high-resolution LCD screen manufactured by Sharp.
The iPad 3 will in all likelihood have faster processor, ZDNet reports, in addition to the likelihood that the new device supports Retina Display--a technology used by Apple to create sharper images on the display screen.
In possibly the most extravagant prediction, ZDNet is reporting that Apple could test out the 7-inch-tablet market by releasing what they call the iPad mini.
Conclusion
Although iPad 3 rumors are far from exact at this point, it's likely that the general assumptions will hold true: Apple new machine will be undoubtedly more powerful and add a few extra features onto the last model.
While Apple is busy trying to rally off of the tremendous success of its first two tablets, Samsung will be trying to get its footing in an extremely competitive market.
In order to do so, they'll be jamming as much technology as possible into a low-budget Android device. Whether Samsung is able to undercut Apple's success in the tablet market remains to be seen, but if it doesn't work, they always have their ultra-successful mobile phone strategy to fall back on.
© Copyright IBTimes 2023. All rights reserved.
FOLLOW MORE IBT NEWS ON THE BELOW CHANNELS