Canceled Mistral Sale To Russia Will Cost France Less Than $1.14 Billion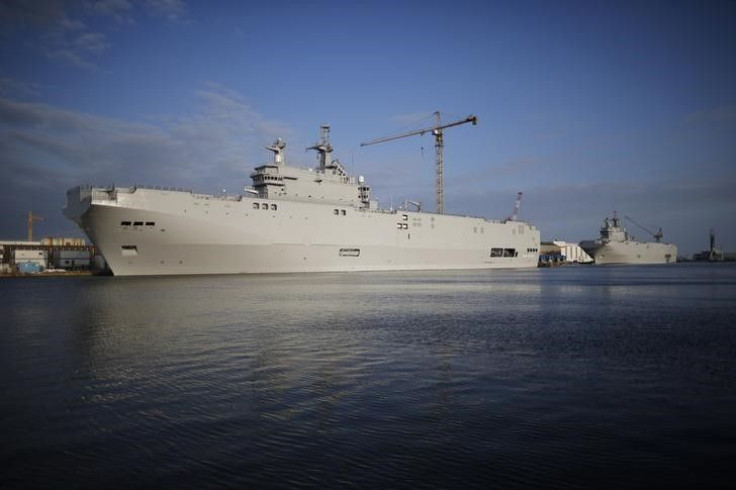 The controversy over France's sale and then canceled delivery of two Mistral-class warships to Russia has cost the French government less than $1.14 billion, Bloomberg reported. France's intended sale of the Mistrals to Russia was postponed over Russia's involvement in Ukraine. Initial figures estimated that the canceled deal would cost France $2.2 billion.
But French government spokesman Stephane Le Foll said Wednesday that the figure would be much lower. "The precise figure will be disclosed to parliament, but for now I can say the cost is bellow 1 billion euros ($1.14 billion)," he said. The amount includes refunding advances that Russia had paid, he said, adding that the cost would be included in France's 2015 budget.
The costs of maintaining the ships in the western French city of Saint-Nazaire are not included in the latest estimate, France24 reported. The upkeep of the ships is estimated to cost the French approximately $5.6 million a month.
France is now in talks with multiple countries about selling one or both of the vessels. French officials said Wednesday that they were in talks with Egypt, the Wall Street Journal reported. However, one official said the deal was not finalized and was one among "serious options." Reports have also noted that Malaysia and other Southeast Asian countries were potentially interested in purchasing the ships.
The sale of the warships took place in 2011 under then-President Nicolas Sarkozy. The deal was initially supposed to cost $1.3 billion, the largest arms sale by a NATO member country to Russia. Current President François Hollande faced criticism over not canceling the sale sooner after Russia annexed Crimea in March 2014. One ship, the Vladivostok, was supposed to be delivered to Russia last year and the other, the Sevastopol, was scheduled for delivery this year.
© Copyright IBTimes 2023. All rights reserved.