Canelo vs. Khan: 3 Reasons Why Alvarez Will Win The Middleweight Title Fight [VIDEO]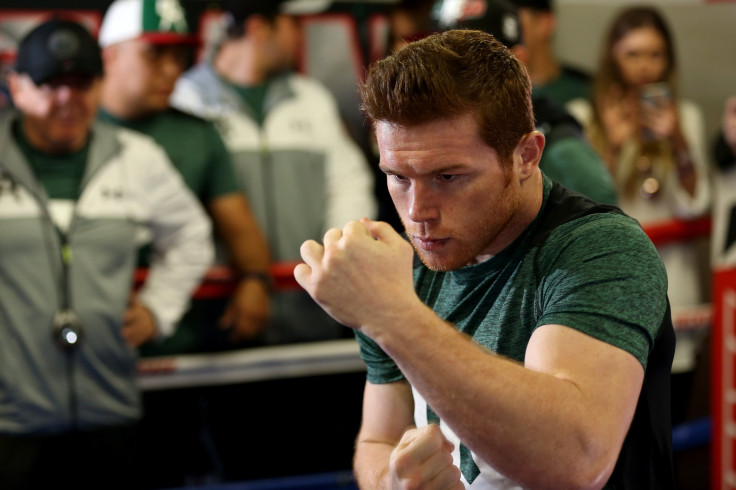 Saturday's fight between Canelo Alvarez and Amir Khan is being billed as one of the biggest boxing matches of 2016, and while it includes two of the sport's top names, there's a good chance it will be a one-sided affair. Alvarez is a heavy favorite, with good reason, and most experts believe it will take a career performance for Khan to pull off the upset.
Upon capturing the WBC middleweight title from Miguel Cotto in November, Alvarez improved his record to 46-1-1. It was the Mexican star's biggest victory since suffering his only career loss to the undefeated Floyd Mayweather in 2013.
Weight plays an important role in Las Vegas this weekend. Khan makes the leap from welterweight, fighting for the middleweight belt at a catchweight of 155 pounds. It's Alvarez's fifth consecutive fight at that weight, while Khan was fighting at light welterweight just three years ago and faced Chris Algieri at 146.4 pounds in his last fight on May 29, 2015.
Alvarez may be emerging as the face of boxing with the recent retirements of Mayweather and Manny Pacquiao, and there are multiple reasons why he'll claim another victory in Las Vegas.
Punching Power
Alvarez needed 12 rounds to beat Cotto in his last fight, but few boxers can match him in the power department. With 32 knockouts to his name, including a third-round KO of James Kirkland a year ago, Alvarez is more than capable of ending the fight early. Khan hasn't had a knockout in his last four bouts, and he'll likely need a victory by decision over his naturally bigger opponent.
"The fans will be very happy on Saturday night," Khan told reporters. "I will be the new world champion. I think it will be difficult to knock Canelo out, but I know I can give him a boxing lesson."
Alvarez could weigh more than 170 pounds when he enters the ring on Saturday, and 30 of Khan's 34 fights have come in the 140-pound weight class or below. The Brit's advantage is his speed, but even if he lands as many shots as Alvarez, they won't be as effective. Judges place more importance on power punches, and Alvarez has a much better chance of landing a signature right hook or uppercut than Khan's best stuff.
Khan's Chin
Khan's chin has been an issue when fighting in his usual weight class, so it could be his downfall when moving up to 155 pounds. He's been knocked out twice in his career, and was shaken up at times in his last fight against Algieri, who isn't known for his power. Facing a big puncher like Alvarez and fighting at a higher weight class for the first time, Khan's chin is a major storyline on Saturday.
Alvarez never gets knocked down, let alone knocked out, and that's not much of a concern for him on Saturday. Alvarez withstood plenty of power shots from Kirkland a year ago, and was largely unaffected by the 129 punches Cotto threw at him.
Experience
Saturday will be nothing new for Alvarez. He's just 25 years old, but he's been fighting on the big stage for years. This weekend's bout will mark the fifth time he's been in the main event of a pay-per-view, and he's faced all kinds of opponents. After losing to the best welterweight in the world in Mayweather, Alvarez won a split decision against boxing's top light middleweight, Erislandy Lara. In the last year, he won a brawl against Kirkland and a 12-round fight against the highly accomplished Cotto.
Khan's speed presents a challenge for Alvarez. A well-conditioned athlete, Khan is capable of going to the body and dodging Alvarez's power punches. But it will take a masterful effort by Khan to faze a boxer who has faced so many different types of boxers.
"I've faced every kind of style," Alvarez said last week. "There are so many different styles I've faced. I've faced people who are fast and elusive. I have the experience to be victorious [Saturday].
"Obviously, I have to be prepared, but yes, I have faced guys like him."
Khan has no experience at 155 pounds, and he's never faced anyone like Alvarez. The Brit has taken on tough opponents like Marcos Maidana, Danny Garcia and Luis Collazo, but none of them had the size or power of Alvarez. Khan is doing all he can to prepare for Saturday's bout, but once he steps in the ring, he should quickly learn that he's facing too tall of an order.
HBO has the broadcasting rights for the fight, and have provided an in-depth look at both fighters' camps.
© Copyright IBTimes 2023. All rights reserved.