Capitals Crush Canadiens to Top Division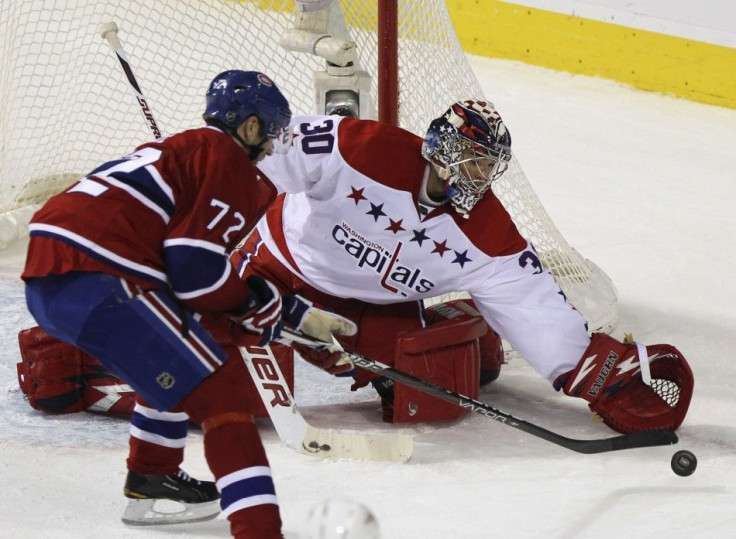 An opportunistic offensive performance helped the Washington Capitals overcome the struggling Montreal Canadiens 3-0 on Wednesday to move top of the Southeast Division.
The Capitals produced a season-low 16 shots, one night after they managed a previous low of 17 in a loss to the New York Islanders, but their new philosophy proved more than enough to earn their fourth win in five games.
This year, (coach Dale Hunter) is a big believer in being conservative. If you don't have a play and you're not 100 percent sure, then live to battle another day, forward Mike Knuble told reporters.
(Former coach Bruce Boudreau) was a big offensive guy. Dale's thing is if we're good enough defensively you'll create your chances.
Mathieu Perreault and Marcus Johansson each scored in the first period and Alex Ovechkin converted his team-leading 19th goal of the year in the second.
Goaltender Michal Neuvirth made 31 saves for his second shutout of the season and the Capitals (25-18-2) jumped one point ahead of the idle Florida Panthers in the division.
Neuvirth was making his first start in 11 games but showed little rust even as he faced 17 shots in the final period.
The Canadiens (17-21-8) remained at the bottom of the Northeast with their fourth loss in five contests.
Newly acquired Rene Bourque, playing in his second game with Montreal since being traded from Calgary, faced Washington for the first time since he delivered a hit to the head of Nicklas Backstrom on January 3 to earn a suspension. Backstrom has not played since.
The bad blood from the incident quickly came to the surface as Washington's Matt Hendricks fought Bourque just 1:15 into the game.
I didn't want to be dealing with it all game, so I wanted to get it out of the way early, Bourque said. As soon as I got on the ice I could hear him calling me and you know what? Just step up to the plate there.
© Copyright Thomson Reuters 2023. All rights reserved.