Carnival Suspends More Cruises Into 2021
Carnival Cruise Line (CCL) isn't ready to fully set sail just yet. The company has announced that it is canceling more cruises into the first part of 2021 as it looks to meet guidelines set by the Centers for Disease Control and Prevention (CDC).
Carnival said that sailings from its U.S. homeports have been canceled through Jan. 31, 2021, while embarkments from Charleston, South Carolina; Jacksonville, Florida; Long Beach, California; Mobile, Alabama; San Diego, New Orleans, and Baltimore have been suspended through Feb. 28, 2021.
Additionally, sailings on the Carnival Legend ship out of Tampa, Florida, have been canceled through March 26, 2021.
Carnival also suspended Australia sailings through March 2, 2021, in a previous announcement.
The move by Carnival comes after the CDC issued a Framework for Resuming Cruise Ship Operations Order on Oct. 30, which replaced the previous no-sail order. Under the new order, cruise ships may return to sea but it is unknown when passengers may come on board as the agency works with cruise lines to ensure that their ships are safe from the spread of the coronavirus.
"This framework provides a pathway to resume safe and responsible sailing. It will mitigate the risk of COVID-19 outbreaks on ships and prevent passengers and crew from seeding outbreaks at ports and in the communities where they live," CDC Director Robert R. Redfield said in a statement.
"CDC and the cruise industry have a shared goal to protect crew, passengers, and communities and will continue to work together to ensure that all necessary public health procedures are in place before cruise ships begin sailing with passengers."
For its part, Carnival said it is in the "process of building a gradual, phased-in approach to resume guest operations." The company will first focus on its Miami and Port Canaveral, Florida, operations, followed by its port Galveston, Texas.
Carnival said it has 16 ships that are following the CDC's requirements for the resumption of service in the U.S. in 2021, including the Carnival Conquest, Dream, Ecstasy, Elation, Freedom, Glory, Liberty, Miracle, Panorama, Pride, Sensation, Sunrise, Sunshine, and Vista. The Mardi Gras ship will enter service in 2021 after construction completes in Finland, and the Carnival Horizon will arrive in Miami this week, followed by Carnival Breeze.
Currently, Carnival has dry-docked its Magic, Paradise, Valor, and Victory/Radiance cruise ships and plans to return them to operations after maintenance and upgrades are complete.
"We are committed to meeting the CDC requirements and keeping our guests and business partners informed of our progress," Christine Duffy, president of Carnival Cruise Line, said in a statement. "The entire Carnival team appreciates the great support of our guests, travel advisors and business partners, and local officials in our homeports and destinations."
Shares of Carnival Cruise Line were trading at $18.08 as of 12:48 p.m. EST on Wednesday, up 3 cents or 0.19%.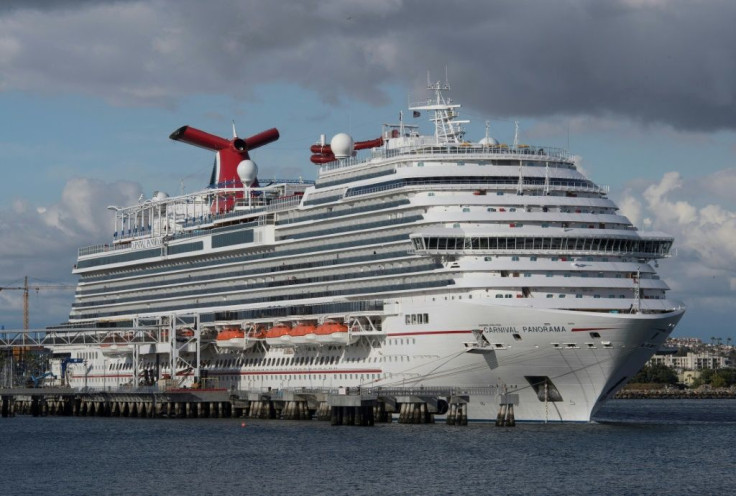 © Copyright IBTimes 2023. All rights reserved.