Carson Wentz Expected To Miss Week 15, Back Injury Could End Philadelphia Eagles' Playoff Chances
Carson Wentz began the 2018 NFL season on the sidelines, and his year could end the same way. The quarterback is expected to miss the Philadelphia Eagles' Week 15 contest against the Los Angeles Rams with a back injury.
Eagles' head coach Doug Pederson hasn't announced whether or not back spasms will prevent Wentz from starting Sunday in L.A., but NFL Network's Ian Rapoport has reported the third-year quarterback likely won't play after missing practice Wednesday. There's even a chance that Wentz is done for the season, and that would likely end the playoff hopes of the defending Super Bowl champions.
Philadelphia went 1-1 in the first two weeks when Wentz was still recovering from the torn ACL he suffered last season. The Eagles scored 39 points as backup quarterback Nick Foles threw for 451 yards, one touchdown and one interception to start the year. The reigning Super Bowl MVP has a 78.9 passer rating after posting a 115.7 passer rating in last year's playoff run.
Even with a healthy Wentz, Philadelphia looks like a long shot to return to the postseason. The Eagles are virtually out of the NFC East race, trailing the Dallas Cowboys by two games with three games left to play. Philadelphia is a half-game behind the Minnesota Vikings for the conference's second wild-card spot.
The Eagles are tied with the Carolina Panthers and Washington Redskins. Carolina has the head-to-head tiebreaker over Philadelphia. Philadelphia visits Washington in the season finale.
Philadelphia is a heavy underdog against Los Angeles, who has gone undefeated at home. It's hard to imagine the Eagles would be able to defeat the Rams with Foles under center. The defending champs will host the first-place Houston Texans in Week 16.
It's been a disappointing title defense for the Eagles. They rank 19th in total offense and 25th in total defense. Philadelphia is 0-4 against teams in the current NFL playoff picture.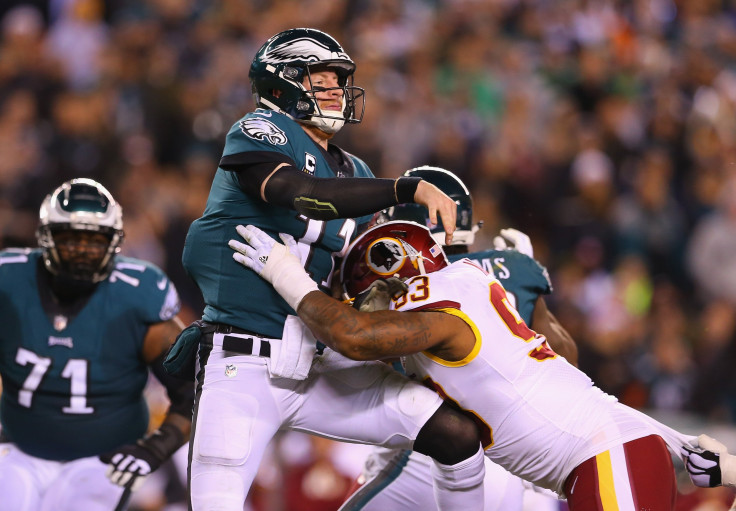 © Copyright IBTimes 2023. All rights reserved.