Catholic Religion Is 'Not At Odds' With Climate Change Science, UN Leader Tells Vatican Officials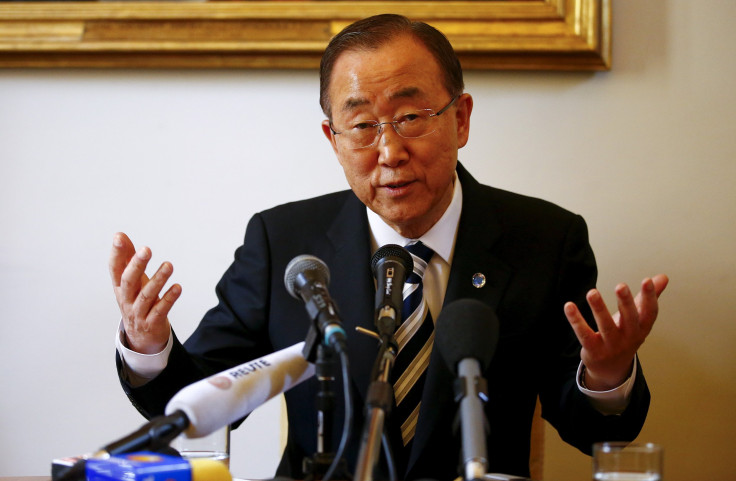 Religion is "not at odds" with the science on man-made climate change, the top U.N. official told Catholic leaders Tuesday. "Indeed, they are fully aligned," Ban Ki-moon, the United Nations secretary-general, said at the Vatican during a conference on climate change and poverty.
Pope Francis convened the summit as part of his effort to influence world leaders as they head into a critical U.N. climate change conference in Paris this December. Nearly 200 nations have agreed to forge a sweeping agreement to reduce greenhouse gas emissions and help vulnerable communities prepare for rising sea levels, extreme weather events, devastating droughts and other known climate effects.
Francis is preparing a highly anticipated encyclical, or papal letter, that is expected to alert the world's 1.2 billion Catholics to their moral imperative to act on climate change. "We all bear the responsibility to protect and to value creation for the good of this and future generations," the pontiff said in January.
Ban said he met privately with the pope on Tuesday morning for "a fruitful and wide-ranging conversation" about climate issues and sustainable development.
"Climate change is intrinsically linked to public health, food and water security, migration, peace and security. It is a moral issue. It is an issue of social justice, human rights and fundamental ethics," Ban said in his opening remarks at the meeting.
He warned that global temperatures are now on track to rise by 4 degrees Celsius (7.2 degrees Fahrenheit) unless humans drastically reduce their use of oil, coal and natural gas and switch to cleaner alternatives for electricity and fuel, according to the U.N.'s Intergovernmental Panel on Climate Change. The planet is already likely to warm by 2 degrees Celsius as a result of burning fossil fuels and destroying forests and farmlands over the last century. Even a 2-degree rise will have serious effects.
"That is why it is so important that the world's faith groups are clear on this issue – and in harmony with science. Science and religion are not at odds on climate change," Ban said. "Together, we must clearly communicate that the science of climate change is deep, sound and not in doubt."
The push by Francis to elevate climate change as a moral concern for Catholics has drawn criticism from some U.S. conservatives, who accused the pope of misleading the Catholic faithful, the New York Times reported Monday.
"Though Pope Francis's heart is surely in the right place, he would do his flock and the world a disservice by putting his moral authority behind the United Nations' unscientific agenda on the climate," Joseph Bast, president of the Heartland Institute, said in a recent statement.
The libertarian group, which is funded in part by the foundation of billionaire oil executive Charles Koch, convened its own panel of scientists -- who represent a small minority of opinion -- in Rome this week to oppose the Vatican summit.
The Global Catholic Climate Movement, a group of nearly 100 religious organizations, expressed its support for the Tuesday climate meeting and Francis' coming encyclical, which could be published in June or earlier. The group in March launched a worldwide petition that calls on world leaders to reach a global climate agreement this year.
"Impelled by our Catholic faith, we call on you to drastically cut carbon emissions … and to aid the world's poorest in coping with climate change impacts," the online petition reads.
© Copyright IBTimes 2023. All rights reserved.