Putin-Poroshenko Handshake: Ukraine's Minsk Meeting Starts Off Icy [PHOTOS AND VIDEOS]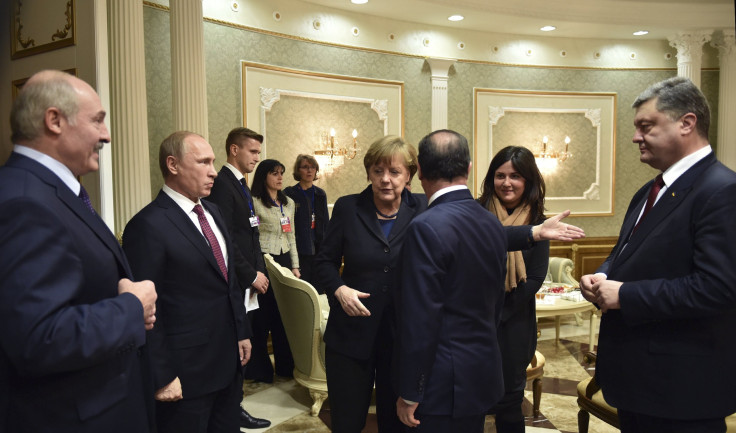 Ukrainian President Petro Poroshenko and Russian President Vladimir Putin met for the second time to discuss a solution to the eastern Ukraine conflict Wednesday. Their icy handshake and body language mirrored their interactions in September, when they signed an ultimately doomed peace accord.
Belarussian President Alexander Lukashenko, host of the Minsk summit, smiled a wide grin as he introduced the two, but that didn't warm Poroshenko, who gave Putin a stern-faced nod and handshake, much as he did in September. Putin was slightly more cordial, offering a reserved smile. Check out Poroshenko's reaction in Minsk on Wednesday, followed by the two's meeting in Minsk in September:
Their meeting in September, along with Lukashenko and Kazakh President Nursultan Nazarbayev:
The two post-Soviet leaders appeared equally chilly once they sat down with German Chancellor Angela Merkel and French President François Hollande, despite Hollande's best efforts to appear positive. The four leaders are in Minsk to find a solution to an increasingly bloody conflict between Russian-backed separatists and the Ukrainian government, in which more than 5,400 people have been killed in the last year. Fighting intensified in recent week as a September peace deal entirely disintegrated.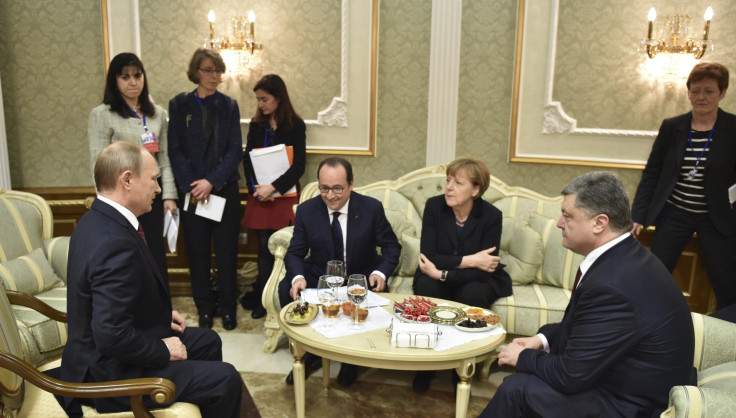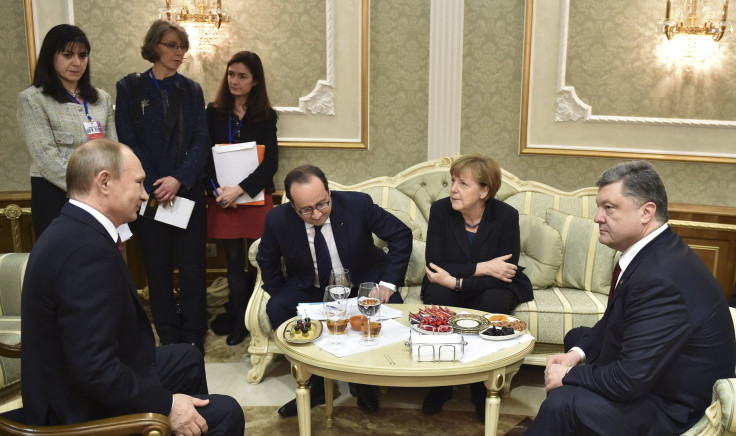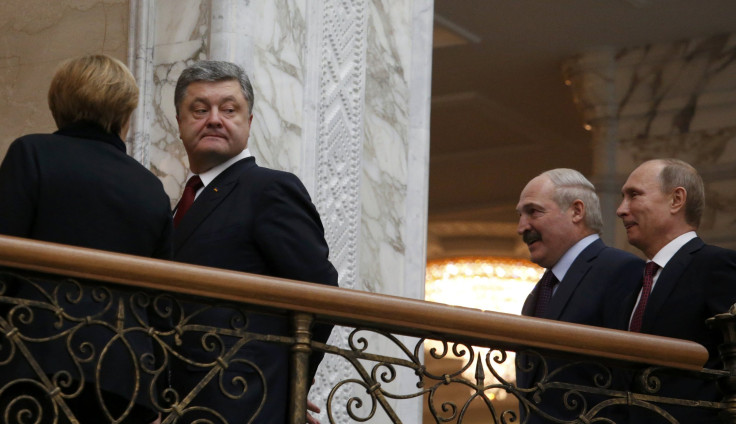 The rebels have pushed poorly equipped Ukrainian militia and regular army troops out of key areas in eastern Ukraine, including the Donetsk airport, which is now almost completely destroyed. Rebels took back about 200 square miles of territory over four months following the signing of the Minsk Accords in September. Both sides accused each other of violating a ceasefire that was meant to protect civilians in the combat zones. Largely indiscriminate shelling and rocket bombardments have heavily contributed to civilian casualties in eastern Ukraine.
While the tension was clear between Ukraine and Russia's leaders, there was at least one incident outside the negotiating room at Minsk's Independence Palace. A Russian journalist for the pro-Kremlin outlet Lifenews literally barked at two Ukrainian journalists and pushed them away for seemingly no reason as they stood in a group of reporters.
© Copyright IBTimes 2023. All rights reserved.
FOLLOW MORE IBT NEWS ON THE BELOW CHANNELS