Cecil The Lion Killing: Patients Of Walter Palmer React To Dentist's Zimbabwe Safari Hunt With Anger, Disbelief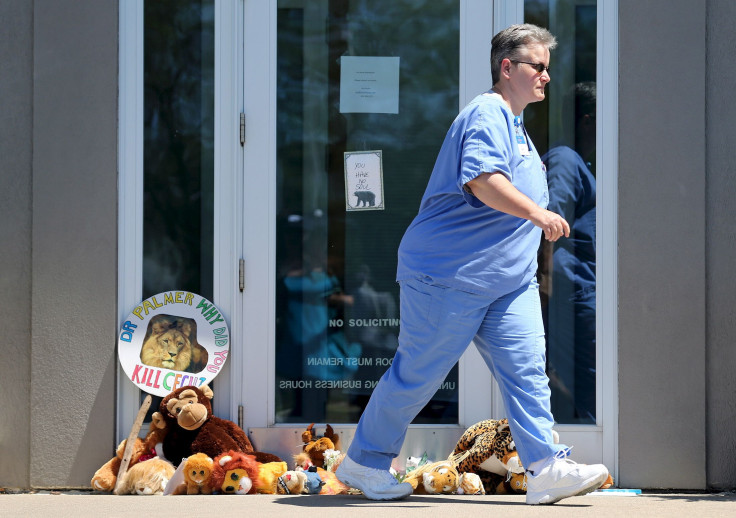 Nothing in particular stood out about Dr. Walter Palmer's dentist office in Bloomington, Minnesota, Telari Bohrnsen said Friday. She said she was a patient of his from 2001 to 2005. The place was very nice, but she could recall no interesting details. In other words, it was how most would imagine a dentist's office: plain.
Bohrnsen said she had no idea Palmer was a big-game hunter, let alone one who has amassed 43 registered kills with Safari Club International.
Palmer, of course, has now become perhaps the world's most famous -- or infamous -- dentist after he killed Cecil the lion during an early-July Zimbabwe safari that has attracted international scrutiny. Palmer reportedly paid more than $50,000 to track and kill a lion, but claimed he didn't realize the animal he shot had been so well known.
He now stands accused of illegal poaching and may face extradition and criminal charges in the southern Africa country. Cecil had become a major tourist attraction at the national park in which he lived and was recognizable by his mane with black streaks and friendly disposition toward visitors.
As the controversy surrounding Palmer continued to swirl, those who once reclined in his dentist chair shared their opinions on the divisive topic. Some of his patients, both current and former, had responses that ranged from vows to find a new dentist, to blunt anger, to measured remarks defending the hunter's character.
Bohrnsen, a married 43-year-old mother of two who lives in nearby Plymouth, Minnesota, said Palmer's predilection for hunting never came up while she was a patient. However, while she never talked with Palmer about what was apparently his favorite pastime, her other interactions with the dentist left her feeling uneasy.
"I didn't like him much at all when I was his patient," Bohrnsen wrote in an email. "He was aloof and condescending toward me and his dental assistant/hygienist, which made me uncomfortable."
One incident in particular stood out for Bohrnsen -- when Palmer "snapped" at an assistant for work-related reasons that were unclear. "I felt like it was an overreaction and unprofessional to do in front of me," Bohrnsen wrote in an email. She and her family eventually switched dentists because they felt Palmer wasn't a "nice guy" and perhaps suggested unnecessarily expensive solutions to dental problems.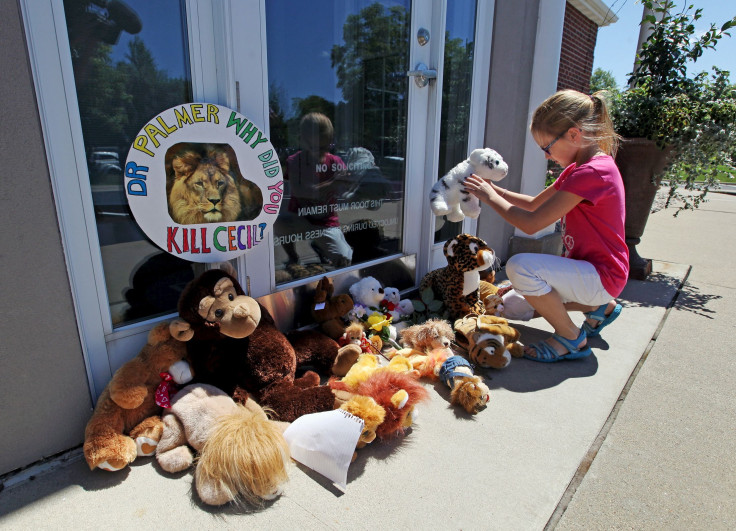 Palmer, 55, released a statement Wednesday to his patients amid the public whirlwind of attention. "I don't often talk about hunting with my patients because it can be a divisive and emotionally charged topic. I understand and respect that not everyone shares the same views on hunting," the statement read, according to KMSP-TV in Minneapolis-St. Paul.
In the statement, Palmer defended himself, saying he had been under the impression that the hunt was carried out legally. The popular 13-year-old lion was allegedly lured out of Hwange National Park and into a hunting area.
"I hired several professional guides and they secured all proper permits," Palmer's statement read. "To my knowledge, everything about this trip was legal and properly handled and conducted. I had no idea that the lion I took was a known, local favorite, was collared and part of a study until the end of the hunt."
A joint statement from the Zimbabwe Parks and Wildlife Management Authority and the Safari Operations Association of Zimbabwe said that Palmer and his group did not have the proper permits and quotas. One of Palmer's patients, who had been aware that Palmer was a big-game hunter, seemed to believe the dentist's account.
"I think he trusted these [guides]," said Rick Torney, who said he had been Palmer's patient for 20 years, according to the Minneapolis Star Tribune. "He seemed to believe they had all the necessary permits. I would go back to him. He's one heck of a dentist. But my wife, she thinks we should find a new dentist."
One patient reportedly told KSMP that after having Palmer as his dentist for 15 years, going back to him would be out of the question. Another patient, while watching a protest against the dentist, defended Palmer, insisting he was a good person. However, he admitted that he would also not be returning. "He's a good guy, a family guy," Jim Ruchie told the Star Tribune. "I just don't agree with what he did. I will never come back here."
During the nighttime hunt in Zimbabwe, Palmer reportedly shot the lion with a crossbow after it was lured with a dead animal attached to a vehicle, said Johnny Rodrigues, chairman of the Zimbabwe Conservation Task Force, the Associated Press reported. The wounded lion was tracked for 40 hours before Palmer fatally shot it with a gun, Rodrigues said. Professional hunter Theo Bronkhorst, who was reportedly supervising the hunt when Palmer killed the lion, was accused of failing to "prevent an unlawful hunt," and could face up to 15 years in prison.
After news of the hunt broke, others who said they were Palmer's patients voiced their reactions on Twitter, capturing emotions spanning between disbelief and anger.
Bohrnsen, while not a supporter of Palmer, did express regret that he was apparently receiving death threats, mentioning he was a "human being" with a family. For her part, Bohrnsen said her family would do their best to make up for the money spent at Palmer's office from 2001-2005 that may have been used to fund her dentist's hunting.
"My family plans to try to bring some good to our involvement -- having likely contributed [money] to his hobby though our business -- by donating as much as we can to wildlife conservation efforts," she said.
© Copyright IBTimes 2023. All rights reserved.
FOLLOW MORE IBT NEWS ON THE BELOW CHANNELS