Charlie Hebdo Staff Receive Standing Ovation At PEN Gala As Publication Receives Award Amid Uproar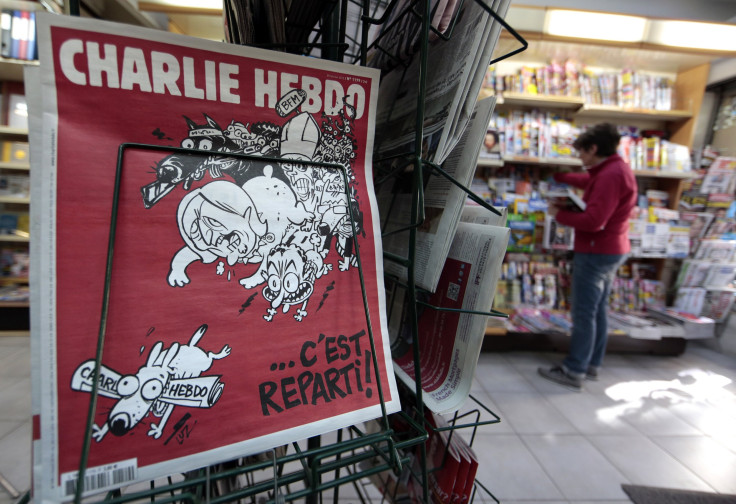 French satirical newspaper Charlie Hebdo was given the 2015 Freedom of Expression Courage award on Tuesday night at the PEN American Center event in New York amid protests over the decision. Over 200 writers had objected to the organization's decision to award the Paris-based magazine, which lost 10 of its employees to an attack in January by Islamic extremists.
The event, which took place at the Museum of Natural History in New York City and was attended by Salman Rushdie, Neil Gaiman and other literary personalities, was carried out under high security. Charlie Hebdo's editor-in-chief Gerard Biard and Jean-Baptiste Thoret, a staff member who survived the attack, accepted the award, and received a standing ovation as they took the stage.
"Being shocked is part of democratic debate," Biard said. "Being shot is not."
"The defense of people murdered for their exercise of free speech is at the heart of what PEN stands for," PEN President Andrew Solomon said, at the event. "Charlie Hebdo's current staff have persisted, and tonight's award reflects their refusal to accept the curtailment of lawful speech through violence."
Earlier, six writers withdrew from the event, citing their disapproval of the organization's decision to honor the publication, which they saw as promoting "cultural intolerance" with its representation of Muslims and its caricatures of the Prophet Muhammad.
The event took place just two days after gunmen opened fire outside an exhibit depicting the Prophet Muhammad in the Dallas, Texas, suburb of Garland.
"To be honest, I can imagine the kind of comparison you can make between the Charlie Hebdo attack of January 7 and this event, but there is nothing. There is no comparison, absolutely no comparison," Thoret told PBS' Charlie Rose of the Texas attack, according to BBC.
Francine Prose, who along with writers Peter Carey, Michael Ondaatje, Teju Cole, Rachel Kushner and Taiye Selasi had pulled out of the event, said earlier that she was "quite upset" when she heard of the award, adding that while she was in favor of "freedom of speech without limitations" and "deplored" the attack on the publication, giving an award signified "admiration and respect" for the magazine's work.
© Copyright IBTimes 2023. All rights reserved.