Charlie Hebdo Suspects: Hayat Boumeddiene Still At Large In France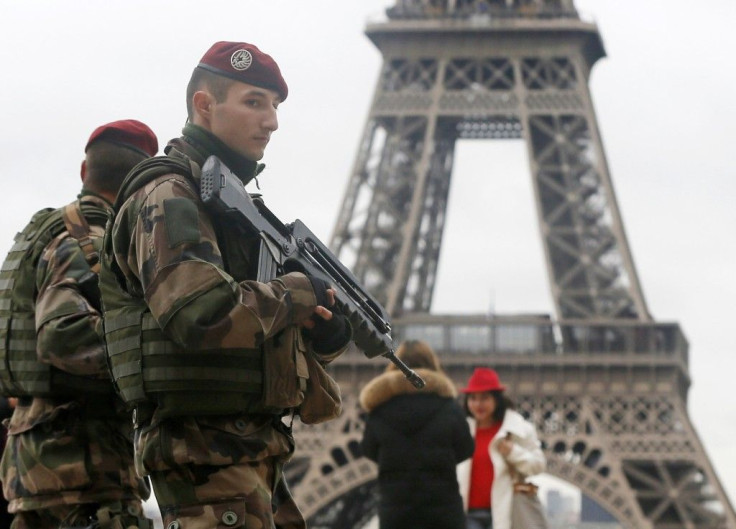 UPDATE 1:54 p.m. EDT:
Hayat Boumeddiene is no longer in France, according to multiple media reports citing intelligence sources. Some reports say Boumeddiene is in Syria after leaving France on Jan. 2, before Paris plunged into three days of high alert and strategic attacks, the Wall Street Journal reported Saturday, citing "people familiar with the matter." The lone suspect remaining alive after a hostage-taking incident at a kosher supermarket Friday crossed into Syria via Turkey. Turkish police are tracking her movements, a Turkish prime ministry source told CNN Saturday.
Original story:
Police are still hunting for France's most-wanted woman, Hayat Boumeddiene, and any other accomplices of the three gunmen killed in Paris Friday. Some 500 additional troops were deployed for the effort in France's capital Saturday, BBC News reported.
For the first time in days, France breathed a sigh of relief Friday after police killed three French terror suspects. But French President Francois Hollande said the danger is far from over.
"We have to be vigilant. I also ask you to be united -- it's our best weapon," Hollande said during a televised address Friday night. French Interior Minister Bernard Cazeneuve said the country will remain on its highest state of alert "for the next few weeks," according to BBC News.
Brothers Said and Cherif Kouachi, who allegedly stormed the Paris offices of the satirical weekly Charlie Hebdo and killed 12 people Wednesday, died during a shootout with police in northern Paris Friday, after three days on the run. Their purported accomplice, Amedy Coulibaly, and his wife, Boumeddiene, burst into a kosher supermarket Friday and seized hostages. Police killed Coulibaly and freed 15 hostages, but Boumeddiene escaped and is still at large. Boumeddiene was believed to be with Coulibaly when he supposedly killed a French policewoman in Paris Thursday, BBC News reported.
Boumeddiene is described as holding a crossbow and wearing head-to-toe, black Islamic garb that shows only her eyes. The 26-year-old is considered "armed and dangerous." Boumeddiene was questioned by police in 2010 about Coulibaly. Thousands of police are actively searching for the wanted woman, according to Agence France-Presse.
France's chief prosecutor, Francois Mollins, said the investigation would "focus on determining who their accomplices were, how these criminal actions were financed, and all the instruction and help they may have benefited from whether in France or from overseas." To date, 16 people have been detained for questioning, including the wife of one of the Kouachi brothers, BBC News reported.
Said Kouachi, 34, reportedly trained with al Qaeda in Yemen in 2011. His younger brother Cherif Kouachi, 32, was a convicted Islamist militant who was incarcerated in 2008 and has been on the radar of French police for years. Both have been on America's no-fly list and were in the U.S. database of known or suspected terrorists, officials told the New York Times Thursday.
Tens of thousands plan to stand in solidarity at so-called Je Suis Charlie rallies over the weekend. The rallies are being held across France and in cities around the world. The slogan, "Je Suis Charlie" or "I Am Charlie," was adopted by French citizens Wednesday to show support for free speech and the slain Charlie Hebdo journalists. The hashtag #JeSuisCharlie has spread like wildfire on social media this week, and it made Twitter history after being tweeted 3.4 million times, according to Twitter France.
An estimated 2,000 people are expected to gather at a Je Suis Charlie rally in New York's Washington Square Park Saturday at 2 p.m. EST. More than a thousand people are planning to attend a three-hour rally in Samir Kassir Square in Beirut Saturday, beginning at 4 p.m. local time. And another rally is scheduled outside the Royal Concert Hall in Glasgow, Scotland, Sunday, starting at 3 p.m. local time.
© Copyright IBTimes 2022. All rights reserved.
FOLLOW MORE IBT NEWS ON THE BELOW CHANNELS