[CHART] Facebook Inc's (FB) Robust Mobile Ad Revenue Growth -- Citigroup (C)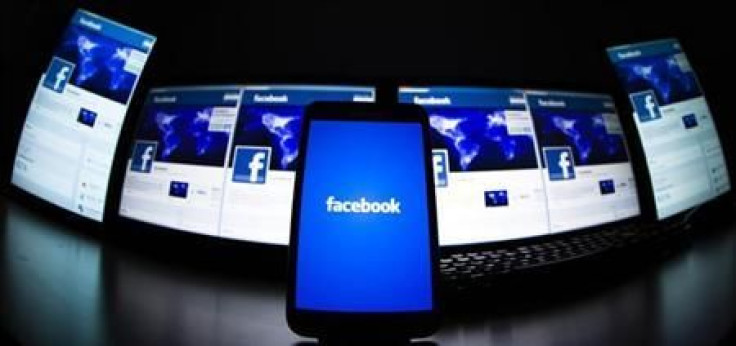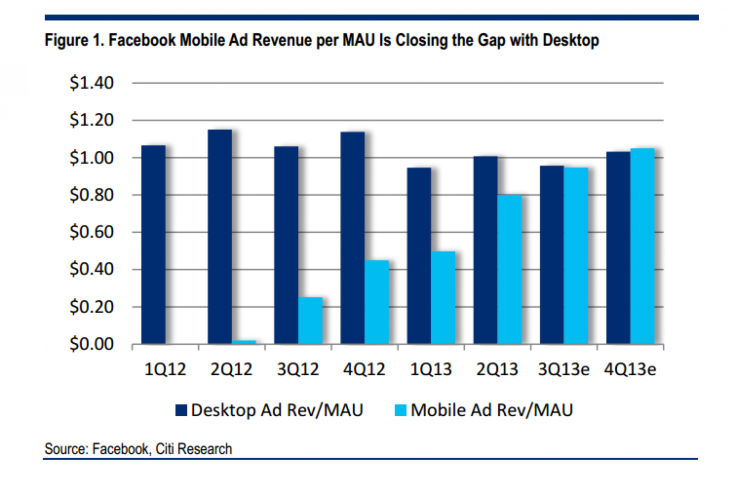 This chart explains some of the legwork and thinking behind Citigroup Inc.'s (NYSE:C) market-moving upgrade of Facebook Inc.'s (NASDAQ:FB) stock last week, from Neutral to Buy.

That research note sent Facebook stock soaring to an all-time high of $49.66, up 5 percent, according to Bloomberg. The stock opened on Tuesday at $49.97.

Citi analysts based their upgrade last week on unexpectedly strong revenue from Facebook mobile ads, which let the social media giant monetize their more than 1 billion users.

Here's the homework behind that investment thesis, with further projections into the third and fourth quarters of this year. If the Citi analysts are right, mobile and desktop Facebook ads will generate roughly the same revenue per user for the first time this coming quarter. And average mobile ad revenues could even beat desktop ad revenues by the fourth quarter.

Confidence in mobile ads have been a boost for Facebook recently, as company announcements on mobile ad revenues finally pushed stocks beyond the initial $45 IPO high for the first time, in September 2013.

Fears about whether Facebook could tap into the mobilization of its users, who have migrated from desktops to mobiles, fed poor stock performance over the past several months.

The second quarter of 2013 represented the turning point, wrote Citi analysts. Total mobile ad revenue grew 76 percent from the previous quarter, and came to 41 percent of total revenue, up from 30 percent in early 2013.

"This trend is consistent with commentary from the advertisers and agencies we've spoken with in recent weeks," they wrote. Facebook announced in its latest quarterly results, in July, that mobile ad revenues grew 75 percent, beating analyst targets.

Many are refocusing on Facebook's rocky 2012 Nasdaq debut to shed light on the upcoming public launch of another social media giant, Twitter, expected imminently.

Facebook is valued at more than $100 billion.
© Copyright IBTimes 2023. All rights reserved.