Cheaper Gas + Shaky Economy = Gulf Coast Recovery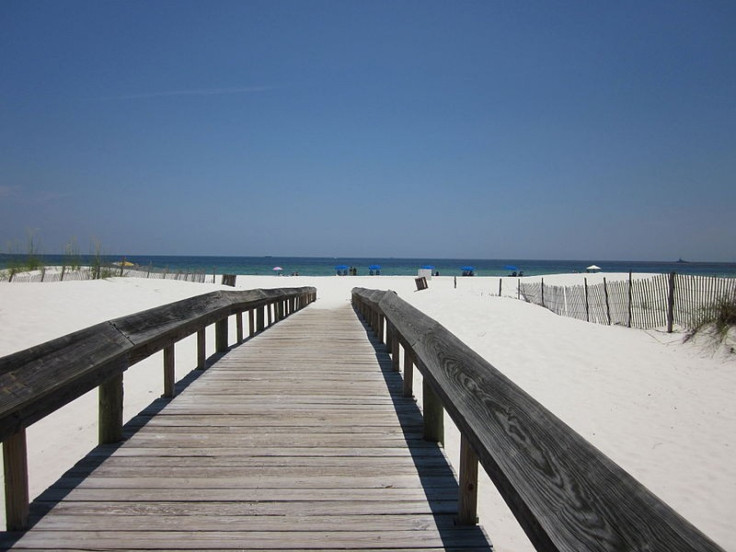 As a weakening economic recovery and cheap gas lead Americans to curtail international vacations, domestic tourism is poised for a solid summer.
For America's Dixie Coast -- a span of white-sand beaches, bays, lagoons, nature trails, docks, golf courses and gambling casinos between New Orleans and Panama City -- a good summer tourism season will strengthen a rebound begun last year. And nothing would help that more than an increase in domestic travel by car.
What we see is when there is a high degree of uncertainty and low consumer confidence, people will still travel; they just travel shorter distances, said Herb Malone, head of Alabama's Gulf Shores and Orange Beach Tourism Department, which advocates for the communities on a beachhead that juts out into the Gulf of Mexico along the south end of Bon Secour Bay, about 50 miles south of Mobile.
But add lower fuel prices to the mix and the distance Americans are willing to drive increases even more. Some travel analysts in the region estimate that in good years Americans will drive up to about 700 miles one way to enjoy mild to hot weather.
The Dixie Coast has long been a favorite wintering ground for legions of retired RV-driving empty-nesters -- called snowbirds by locals -- fleeing colicky winter weather hundreds of miles to the north. In the summer, families from as far away as Illinois and Ohio are drawn by the weather, child-friendly activities and prices.
But all that changed with Hurricanes Katrina, Rita, Gustav and Ike, as well as the economic downturn and the subsequent tepid recovery.
In 2007 we had a record year, the best since Katrina, said Malone. In 2008 we didn't see more than a 3 percent decline in traffic. In '08 and '09 we saw 1 percent upticks. In the first part of '10 we saw double-digits. Then the BP oil spill happened.
Indeed, just as the region was recovering from the hurricanes, the oil spill delivered yet another hay-maker to the region's tourism.
But so far 2012 has shown promise. Snowbirds are resuming their winter migrations in force. Alabama's Fort Morgan, Gulf Shores and Orange Beach saw a 12.3 percent growth in taxable retail sales, to $96 million. They also had an 8.3 percent increase in lodging rentals, to $22.5 million, from December to February compared to the same period last year. That was the first time since the economic downturn that those communities saw growth after the Deepwater Horizon spill checked their post-Katrina rebound.
Taxable retail sales and lodging rentals were up at the start of the spring season in March, too, by 21.3 percent and 24 percent, respectively. Hotel and condo occupancy rates, however, still languish. A survey by the Gulf Shores and Orange Beach Tourism of local managers suggest that condo rentals -- which are typically reserved by drive-in families seeking to save money over booking hotel rates -- will see the largest projected increase this summer while upper-end hotel bookings might decline slightly from last year.
Everybody is trying to save, said Jaffe Perniciaro, tourism information specialist for the Mississippi Gulf Coast Convention and Visitor's Bureau. People have been flocking to our coupons online, those numbers have been astronomical.
The Dixie Coast seems to be following the nationwide trend: Last year, for example, U.S. hotel industry's revenue grew 7.5 percent to $137.5 billion, the largest upswing in a decade, according to Smith Travel Research.
The cost of fuel at the pump is a major factor for the drive-in tourism market. According to AAA, which offers regular surveys of national tourism spending and travel habits, Americans drove fewer miles for Independence Day last year, an average of 573 miles round-trip from 617 miles the previous year when gasoline was about $1 cheaper.
AAA says the national average price at the pump stands at $3.56, down 38 cents from a recent peak of $3.94 on April 5.
We did project that travel would be up slightly this Memorial Day. People are continuing to drive, and driving a little bit more, said Avery Ash, regulatory affairs manager of AAA who analyses fuel prices. As gas prices move lower, people are breathing a sigh of relief when they fill up at the pump.
With fuel prices expected to be lower this summer, the distance families will travel by car will likely increase. Economic uncertainties, on the other hand, will likely cause families to rule out more exotic vacations abroad. And for the people of the Dixie Coast, this is positive news as the summer travel season heats up.
© Copyright IBTimes 2023. All rights reserved.
FOLLOW MORE IBT NEWS ON THE BELOW CHANNELS