Chicago Police Department's Homan Square 'Black Site' Used To Detain, Interrogate Suspects, Report Says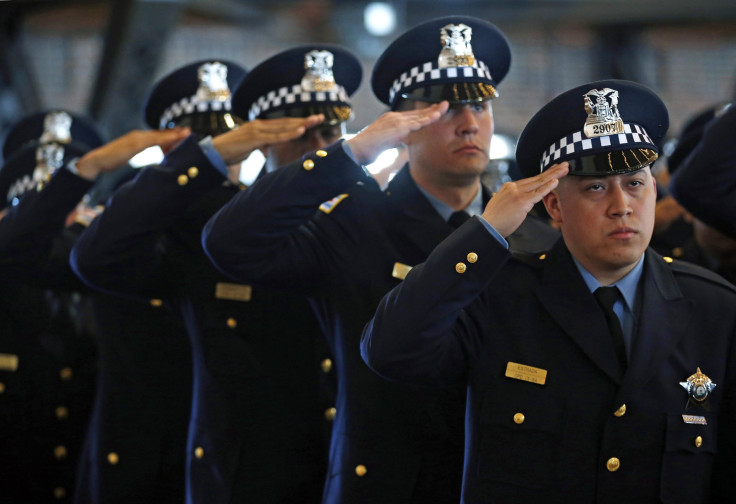 The Chicago police operate a CIA-style "black site" out of a warehouse on the city's West Side known as Homan Square, where special units detain, interrogate and isolate suspects without officially booking them on any charges or providing them access to legal counsel, the Guardian reported Tuesday.
Aside from so-called anti-terrorism efforts, Homan Square serves as a hub for those "special units" within the Chicago Police Department, including anti-gang and anti-drug task forces, the Guardian's Spencer Ackerman reported. The warehouse, according to the report, contains interrogation chambers and military vehicles. Suspects are allegedly held for up to a day without access to a phone or a legal representative, and their incarceration is not reported in any public record or database. There has been a claim of at least one person dying while being held at the facility.
The report details the case of Brian Jacob Church, who was one of 11 people apprehended in 2012 during their protest against a NATO summit. Church said, writes Ackerman, that he was held at Homan Square and shackled to a metal bar for approximately 17 hours before he was finally booked and charged with a terror-related crime. He says he was never read his Miranda rights or allowed to call a lawyer. The report also details several other alleged instances of abuse at Homan Square.
"Homan Square is definitely an unusual place. It brings to mind the interrogation facilities they use in the Middle East. The CIA calls them black sites. It's a domestic black site. When you go in, no one knows what's happened to you," Church told the Guardian.
The report on Homan Square was released days after an exposé on Richard Zuley, a retired Chicago police detective who allegedly conducted coercive interrogations of suspects in the city for decades before he became an interrogator at the Guantanamo Bay detention facility in Cuba.
The Chicago Police Department has yet to respond to the allegations regarding Homan Square, but addressed the Zuley situation in a statement Monday. "The allegations in this instance are not supported by facts. The vast majority of our officers serve the public with honor and integrity, and alleged actions of one individual decades ago are in no way indicative of the hard-working men and women who put their lives on the line each day to protect residents," the department said in a statement, according to MSNBC.
Tracy Siska, who works with the Chicago Justice Project, a nonprofit organization that analyzes data from criminal justice agencies, told the Guardian that Homan Square is akin to overseas interrogation sites that received heavy scrutiny during the post-9/11 period. It's harder to distinguish between American law enforcement and military tactics, the criminologist and civil-rights activist said. "The real danger in allowing practices like Guantánamo [Bay] or Abu Ghraib is the fact that they always creep into other aspects," Siska said.
The CIA's use of "black sites" to detain and interrogate terror suspects drew intense criticism in December after the release in December of a U.S. Senate committee's report on the agency's tactics. Suspects there were reportedly taken "off the grid" and subjected to various acts of torture and "harsh interrogation" at sites around the world.
© Copyright IBTimes 2023. All rights reserved.