Chilean Primaries Set Socialist Michelle Bachelet And Conservative Pablo Longueira To Compete For Presidency; Will Ex-President Bachelet Make A Comeback?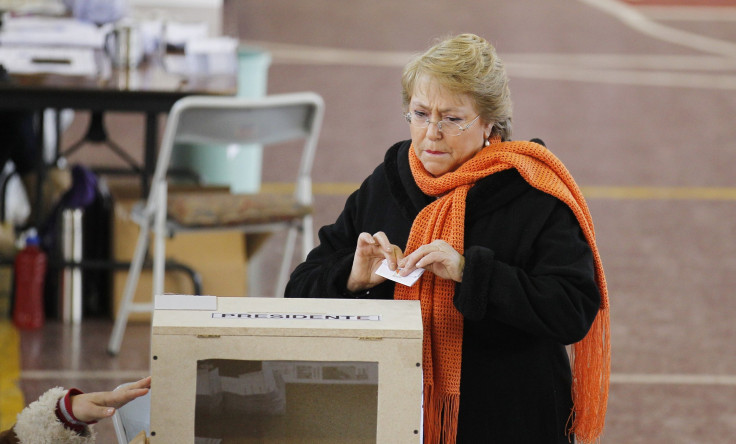 The results of Chile's primaries on Sunday leave former President Michelle Bachelet poised to return to power. She swept the leftist coalition's contest with 74 percent of the votes, while her opponent will be conservative Pablo Longueira, who won narrowly over party colleague Andrés Allamand, despite polls showing Allamand ahead.
Bachelet, who ran the country from 2006 to 2010, voiced confidence in her path ahead to the presidency. "These primaries have been impressive," she said. "We will keep on working to reach La Moneda [the presidential palace in Santiago] on Nov. 17."
Longueira took 51 percent of the votes on the right, against 48 percent obtained by Allamand. Candidates from other parties won 13 percent (Andrés Velasco, independent), 9 percent (Claudio Orrego, Christian Democrat) and José Antonio Gómez (5 percent), according to the Chilean Electoral Service.
These were the first primaries held in Chile, and the participation surpassed expectations – 3 million of 13 million Chileans went to vote, almost double the expected turnout. Polls at this point tag Bachelet to return as president, replacing conservative Sebastián Piñera in March 2014.
Bachelet's main platform is to invest more in the underfunded education system, which has long been a point of protest among Chile's youth. The days before the primaries saw a social upheaval that demanded reform in the education system, which dates back to the Pinochet years.
Bachelet has promised to devote $8 billion, or 3 percent of the country's GDP, to make education more affordable in a country in which only 65 percent of people finish high school.
© Copyright IBTimes 2023. All rights reserved.