China Air Pollution: Smog Alert Shuts Down Beijing, Airports Across Northern, Southern China [PHOTOS]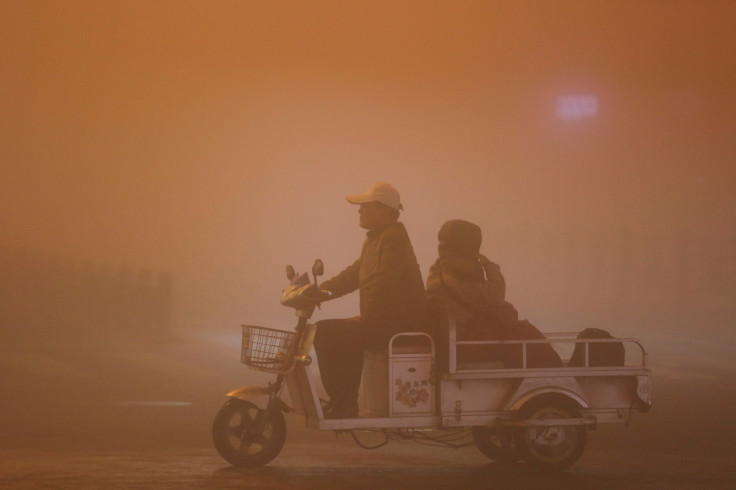 Cities across China's mainland were on alert Sunday as high levels of air pollution blanketed Beijing and parts of northern China in heavy smog, closing down roads and airports. The smog was expected to hang heavy Monday in southern Beijing, Tianjin, Hebei, Shandong, Henan and Shanxi, according to the National Meteorological Center.
The air pollution was aggravated by a rise in temperature and humidity and a lack of wind, the Beijing Municipal Environmental Protection Bureau said. In response, China issued an orange alert warning that can close down schools and construction projects. Under China's four-tier color-coded system for alerts on air pollution, orange is the second highest warning, after red and followed by yellow and blue.
Beijing was expected to see the worse of the smog, with visibility reduced to less than 200 meters, or 656 feet. Schools were told to reduce outdoor activities and large vehicles such as garbage trucks were banned from the roads.
In southwestern China's Sichuan province, more than 20,000 people were stuck at the Chengdu local airport after flights were grounded for at least 10 hours because of the smog, CNN reported. China's Xinhua news agency called it "the worst fog to hit the ... city in years."
Premier Li Keqiang pledged in March to reduce urban smog and ensure "good air quality" for 80 percent of the year. But the Chinese Academy of Engineering in July reported that smog levels were increasing.
Fresh air is increasingly becoming a commodity in China, with a 7.7-litre bottle of "pure, hand-bottled, pollution-free, oxygen-rich air from New Zealand" recently selling for at least 219 yuan, or $31.80. The bottles come with breathing masks.
Outdoor air pollution contributes to some 3 million deaths a year, according to the World Health Organization. An estimated 6.5 million deaths were linked to indoor and outdoor air pollution in 2012.
© Copyright IBTimes 2023. All rights reserved.
FOLLOW MORE IBT NEWS ON THE BELOW CHANNELS