China Anti-Corruption: High-Ranking Official Huang Xiaoxiang Removed From Post, Linked To Former Public Security Czar Zhou Yongkang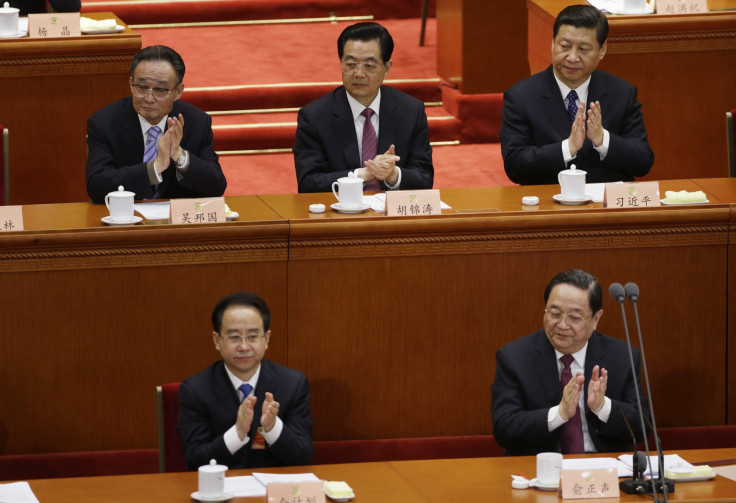 China has officially ousted yet another high-ranking official from a top post. Huang Xiaoxiang, the deputy secretary general of the Chinese People's Political Consultative Conference (CPPCC) was removed Friday from his government position in what was expected to lead to an investigation by watchdog group, the Central Commission for Discipline Inspection (CCDI).
News of Huang's termination broke Friday evening local time by state-media outlet Xinhua News Agency, which reported Huang's dismissal without disclosing a reason or indicating whether there would be any future charges. The report claimed that Huang may have links to Zhou Yongkang, the former public security czar who was sentenced to life in prison earlier this year by Chinese courts in a high-profile case for charges that included abuse of power and disclosing state secrets. The two reportedly have been linked because of their mutual connection to the southwestern province of Sichuan. Huang was a former vice governor in the province and Zhou was once the party secretary of Sichuan, the Xinhua report noted.
This association did not bode well for Huang. A report by state-newspaper Southern Weekend suggested he was "fond of women," implying he was engaging in an extramarital relationship, which is grounds to be deemed corrupt by the Communist Party. However, the charges expected to be brought against Huang may be much more serious, considering those made against Zhou and his previous constituents.
Before investigating Zhou, the CCDI first targeted his former colleagues, investigating dozens and convicting many of Zhou's inner circle on charges of "violations of discipline," murder, "moral corruption," and bribery. The campaign to take down Zhou was a concerted effort made by the CCDI under Xi Jinping's anticorruption overhaul, which aimed to weed out abuses of power within the Communist Party. As a member of China's lawmaking body, the Politburo Standing Committee, Zhou was the highest ranking official to be convicted. It was considered a big victory for Xi and gave the campaign momentum to continue to pursue high-ranking officials.
© Copyright IBTimes 2023. All rights reserved.