Zhou Yongkang Investigation & Trial Timeline: How The Communist Party Took Down The Powerful Former Security Boss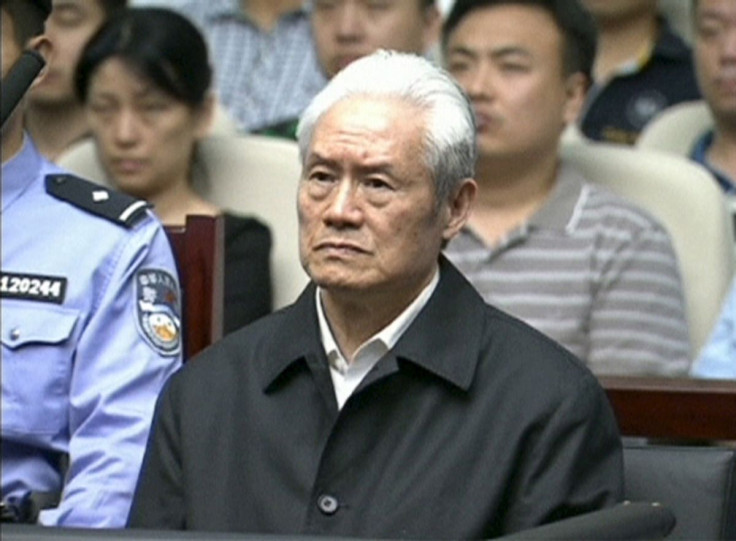 Zhou Yongkang, the former high-flying public security czar, was sentenced Thursday to life in prison by Chinese courts for charges including abuse of power and disclosing state secrets. The sentencing means that Zhou will be the most senior figure jailed for graft in the history of the Communist Party, but the process to take down such a high-ranking official has been years in the making.
Though Zhou Yongkang had been on the central government's radar since as early as 2012, anti-corruption officials, led by Presdient Xi Jinping, didn't go after him until first taking down several of the powerful former leader's close allies and constituents. The campaign, which goes after so-called tigers and flies, is Xi's way of saying that both low- and high-ranking officials would be held accountable if found guilty.
Below is a timeline of the increasing pressure and mounting investigations pursued by the central government to take down Zhou:
Dec. 4, 2012: The investigation of Li Chuncheng: Less than a month after President Xi Jinping assumed the office in November, the first of Zhou Yongkang's former friends was targeted as part of Xi's larger anti-corruption investigation. Serving as the deputy party chief of Sichuan at the time, Li faced a disciplinary measure that allowed for "detention and interrogation" of party members suspected of corruption or other offenses. The BBC reports that Li worked with Zhou when the former was the deputy party chief in the southern city of Chengdu, working under the latter, who was in charge of the central government's security committee.
Aug. 30, 2013: Rumors of investigation of Zhou, the retired senior leader, began circulating. The Foreign Ministry declined to comment on the rumors. Though already retired, Zhou remained a powerful presence within the Communist Party.
Sept. 1, 2013: Investigation of Jiang Jiemin, director of the state-owned Assets Supervision and Administration Commission, who was being probed for "grave violations of discipline," according to state-run Xinhua News Agency. Jiang worked at the state-owned China National Petroleum Corporation in the southwestern province of Sichuan. Prior to his role in public security, Zhou worked as a Party secretary in Sichuan at CNPC.
Dec. 20, 2013: Li Dongsheng, vice minister of public security, is investigated as part of the anti-corruption campaign led by Xi. A government announcement said Li was being accused of "serious violations of discipline." Li was reportedly appointed to his position in 2009, during Zhou's tenure as central government Standing Committee member despite having no experience in public security. Li was formally dismissed from the Communist Party in June 30, 2014.
April 1, 2014: The trial of Liu Han, a powerful mining tycoon based in Sichuan accused of murder, among other crimes, begins. The case against Liu began mounting earlier that year in February, when the state media reported that Liu had acquired assets worth around 40 billion yuan, roughly $6.4 billion, through shady business practices, in addition to charges of gang-related murders. Zhou's connection to Liu are a little less clear-cut, but it is believed that Zhou was able to secure $14.5 billion in assets for himself and his family through connections he made in Sichuan oil and mining industries. Liu was executed, along with four others, on Feb. 9, 2015.
April 9, 2014: Guo Yongxiang, a former governor in Sichuan and longtime aide to Zhou, is expelled from the Communist Party and charged for bribery crimes. According to the anti-graft body, the Central Commission for Discipline Inspection, Guo was also accused of being "morally corrupt" due to an extramarital affair. The South China Morning Post found that Guo's son, Guo Lianxing, was engaged in corporate dealings with Zhou Yongkang's eldest son, Zhou Bin.
July 29, 2014: China officially confirms the formal investigation into Zhou Yongkang. State media reports quote the Central Committee of the Communist Party saying that Zhou was suspected of "serious disciplinary violation."
April 3, 2015: After a formal investigation, Chinese state media announces the formal charges against Zhou, which include bribery, abuse of power and disclosing state secrets. The official announcement called Zhou's infractions "particularly grave."
April 23, 2015: Zhou Yongkang's trial begins behind closed doors at the Tianjin Municipal No. 1 Intermediate People's Court. The courts reportedly heard Zhou's side of the case on May 22, 2015.
June 11, 2015: Chinese state media broke the news that the Tianjin courts had sentenced Zhou to life in prison. According to a widely circulated report by Xinhua News Agency, Zhou pleaded guilty and will not appeal the court's decision.
Prior to Zhou, Bo Xilai was another high-profile government official snared by anti-corruption efforts. The conviction of Zhou, who outranks Bo, is undoubtedly the pinnacle of Xi Jinping's ongoing effort to weed out corruption within the Communist Party, even at the highest levels.
© Copyright IBTimes 2023. All rights reserved.