China Automaker BYD Sees Profits Jump On Stronger Electric Vehicle Demand; BMW Expects China To Soon Surpass US As Largest EV Market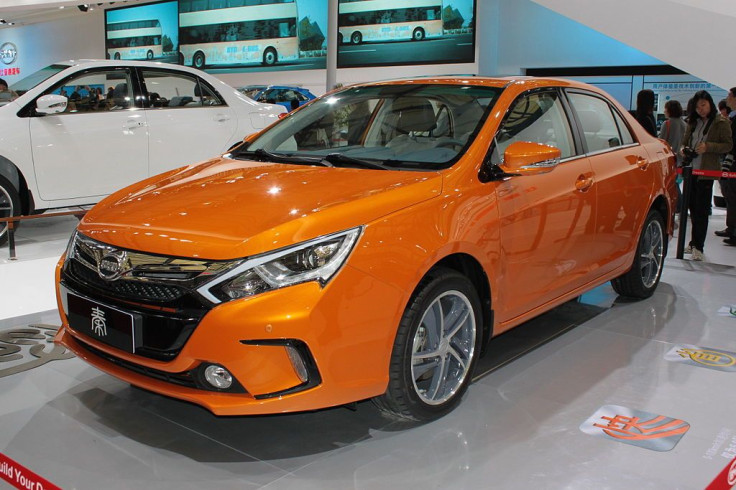 The Chinese electric car market is finally gaining momentum after five years of government incentives. And as the country's market for battery powered cars grows, one local automaker has the most to gain as urban Chinese drivers move away from gasoline: BYD Co., the Shenzhen-based maker of electric buses and new-energy passenger cars that boasts partial ownership by Warren Buffett's Berkshire Hathaway Inc.
BYD's share price leaped more than 7 percent on Monday, to 39.50 Hong Kong dollars ($5.09). The stock movement came after the company reported higher revenue, but a steep drop in 2014 profit, in part due to investments in increasing its battery production capabilities. Investors rallied around BYD's forecast of a steep rise in first quarter earnings thanks to high demand for smartphone batteries, growing Chinese demand for new-energy cars and strong sales for two recently introduced (non-electric) S6 and S7 sport utility vehicles.
The company says it's ready to focus more on new energy vehicles, which include both fully electric and plug-in electric hybrids, just as the local Chinese market for the vehicles is beginning to take off thanks to government incentives. Sales of new-energy vehicles more than tripled last year, to 74,499 units, according to the China Association of Automobile Manufacturers. While this is a sliver of the more than 20 million vehicles bought in the country last year, the recent growth in demand is explosive, just as it is globally.
China's electric car market, "has been elevated to the national strategy level and can look forward to invaluable opportunities for rapid development," BYD Chairman Wang Chuan-fu said in a letter to shareholders released Sunday.
In its 2014 annual report released Sunday, BYD said profits declined by nearly 22 percent, to $69.8 million) on an 11 percent increase in revenue, to $8.92 billion. But past investment appear to be taking off. BYD says it expects first quarter profit to increase to as much as $24.2 million, from just $1.9 million in the first three months of last year.
The company claims it received more orders last year for its electric and plug-in hybrid cars than it could fulfill with its battery production capacity. Last year the BYD Qin, a plug-in-hybrid the company bills as a sedan that's powered with "electricity for trips and gasoline for journeys," became China's bestselling new-energy vehicle. Much like General Motors' Chevrolet Volt, the Qin's appeal to a small group of consumers is its ability to travel short "trips" on electric power alone before switching to gasoline on "journeys." The Qin boasts an electric-only range of 43 miles before it has to switch to gasoline.
Since 2010, China has tried to encourage wider adoption of electric vehicles, but the effort had yet to yield the expected results of 500,000 new energy vehicles on the road by the end of this year. In order to prime demand, three of China's largest, smoggiest cities – Shanghai, Beijing and Tianjin – offered early last year to subsidize the purchase of Chinese electric and plug-in-hybrid cars, which helped BYD and its two main rivals in the new-energy Chinese car market, SAIC Motor and Anhui Jianghuai Automobile.
These and other incentives appear to be paying off.
Last week, the head of BMW's China operations said his company expects that by no later than 2020, the mainland will become the world's largest market for electric cars – a position currently held by the U.S. thanks to its own state and federal incentive programs. Other automakers, including Volkswagen Group and Tesla Motors are taking heed at the electric car trend in China, and are gearing up for the expected growth spurt.
"We are coming with ours; others are coming as well," Karsten Engel, BMW's head of China operations said during an even in Shanghai last Wednesday, according to the South China Morning Post.
BYD Company Limited 2014 Annual Report
© Copyright IBTimes 2022. All rights reserved.
FOLLOW MORE IBT NEWS ON THE BELOW CHANNELS