China Car Tax For Small Engine Vehicles Cut In Half In Hopes To Boost Auto Market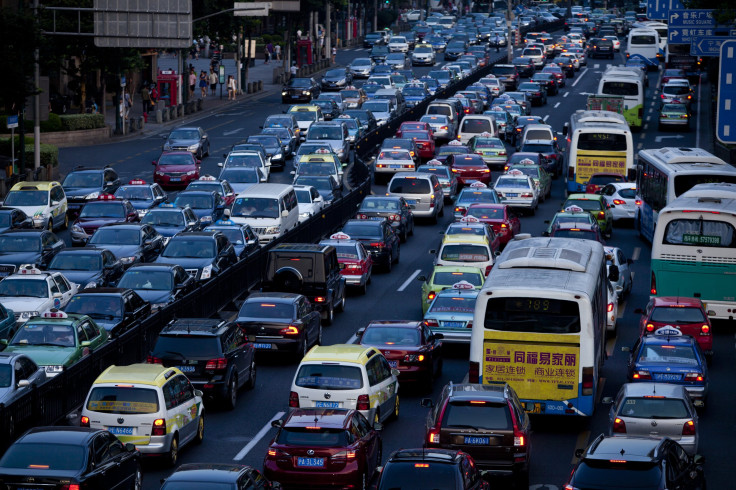 In an effort to boost the world's largest auto market, China announced it would halve its sales tax on small cars, according to Reuters. With the country's economy continuing to slow, the tax cut is expected to run until the end of 2016.
The cut will apply to cars with a small engine, 1.6-liter or smaller, which makes up nearly 70 percent of total sales in China, Reuters reported. The move comes as China's automobile market, the largest in the world since 2009, appears set to contract in 2015 for the first time since the 1990s, according to the Financial Times. New car sales in China fell for the third straight month in August amid sagging demand during an economic slowdown. Automakers were initially helped in August when China's central bank cut the amount of reserves auto-financing firms must hold by 3.5 percentage points.
The government's latest attempt to revive the market, announced by the cabinet Tuesday, initially boosted shares of Chinese automakers Wednesday. Great Wall Motor shot up by about 10 percent in Shanghai, with other carmakers rising, as well.
The automotive sector, which employs a large number of people, is reportedly a priority for the Chinese government. With the economy in an uncertain state, the move is similar to China's decision to cut taxes on car sales during the global crisis in 2008. The new tax cut will likely boost sales, but will not likely trigger an overall economic turnaround.
"The fact that growth has remained weak this year in spite of a period of sharply falling retail prices suggests that poor consumer sentiment and economic uncertainty - rather than pricing and affordability - are to blame for weak demand," analysts at research firm Bernstein wrote in a research note, via Reuters.
Many analysts expect auto sales growth to remain in the low-single digits for the coming years, with global carmakers reigning in costs, according to Reuters.
© Copyright IBTimes 2023. All rights reserved.