China Foreign Exchange Reserves Could Drop By A Record Amount For Second Consecutive Month: Survey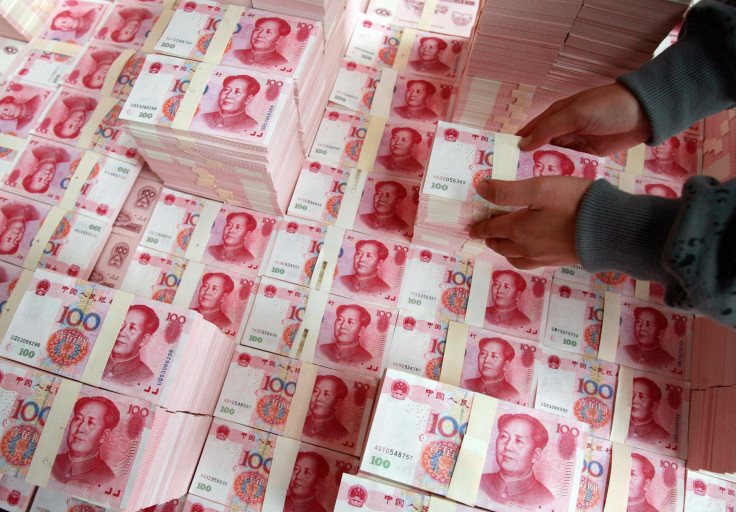 China is expected to post its second consecutive record monthly drop in its foreign exchange reserves on Sunday, a result of efforts to prop up its currency, the yuan, according to analysts.
According to a Bloomberg survey of economists' estimates, China's central bank will report that the country's foreign currency reserves fell by $118 billion to $3.2 trillion in January, which would top December's record decline of $108 billion.
Other estimates, however, estimated the possible drop in the country's reserves could range anywhere from $80 billion to $140 billion. Barclays analysts expect the reserves to drop at the top end of the scale, by $140 billion, but added a caveat that small departures from their assumptions could blow their calculations significantly off course.
Other analysts, however, predicted a drop at the lower end of the range.
"After falling by $108 billion in December, our FX strategists believe headline [China's] FX reserves fell by $96 billion to $3.2 trillion in January, although after adjusting for FX and coupon effects, we estimate a slightly larger fall of around $100 billion," Mansoor Mohi-Uddin, senior market strategist at RBS, told EFX news.
China has been burning through its foreign currency reserves, by selling dollars to buy back its own currency and thus prop up its value, following an effective devaluation in August last year.
Another steep drop in China's reserves will likely spur further capital outflows from China's economy, as concerned investors exit from the country's volatile stock markets and seek to put their money into dollars or overseas assets, such as real estate.
Chinese regulators have a fine line to walk in their quest to stem capital outflows, which amounted to $1 trillion in 2015. As the country seeks to reposition its economy from an export-driven one to a consumer-oriented one, it has been acquiring overseas assets that will help with its economic transformation, but it is keen to stem the flow of "hot money" out of the country and discourage investors from buying dollars, which will weaken the yuan.
Despite the record drops in China's reserves, however, the country's foreign exchange regulator this week stressed that the country's foreign exchange reserves remain abundant, and the risks from cross-border capital movements were under control.
"China's foreign exchange reserves remain abundant, as the ratio between outstanding short-term foreign debt and foreign exchange reserves is far below the 100 percent international safety line," the State Administration on Foreign Exchange said.
"The normal international balance of payments are fully guaranteed and we are able to withstand any shocks from cross-border capital flows," it said.
© Copyright IBTimes 2023. All rights reserved.