China And India In Another Territorial Dispute In Ladakh, But Versions Differ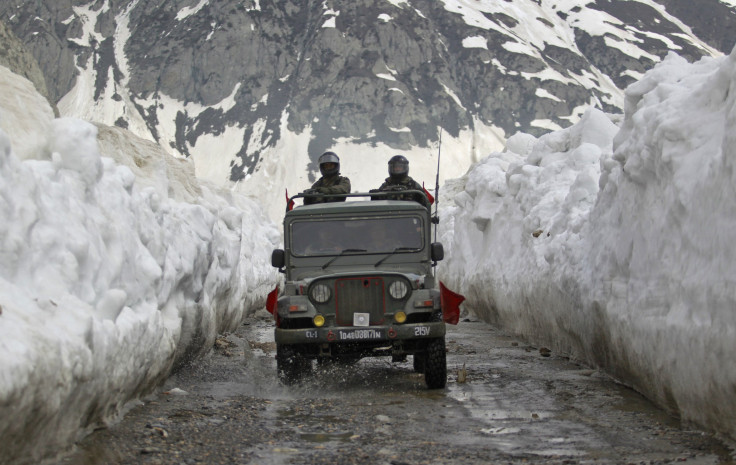 As talks between India and Pakistan on their 67-year-old dispute about Kashmir break down again, tensions with China are also rising in the area. Indian military sources say China has sent troops into the Burtse area in Ladakh, part of a zone of disputed control between the two countries.
According to the Times of India, Chinese troops have entered 25 to 30 km (15 to 18 miles) into the state of Jammu and Kashmir from western China. Citing unnamed Indian officials, the report said a regular patrol of Indian troops noticed Chinese People's Liberation Army personnel moving towards higher terrain in Burtse on Monday. A nonviolent confrontation between Indian and Chinese soldiers occurred, and PLA troops refused to leave the area. Adhering to their newly established Standard Operating Procedures, Indian troops eventually returned to their base and informed higher officers. The mountainous, remote Ladakh area was also the setting of a tense three-week standoff last year between the Indian and Chinese militaries. Confrontations occur at altitudes that can exceed 17,000 feet (5,200 m).
DNA India however, is reporting that both Indian Army Chief of Staff Gen. Dalbir Suhag and spokesman Col. S.D. Goswami denied that any confrontation occurred. They blamed an unclear definition of the Line of Actual Control, which divides the two countries, for the confusion. Both countries openly accept that they have different definitions of the LAC, but mutually agree not to break the status quo in the area. However, they frequently trade accusations of incursion. "There are areas along the border where India and China have differing perception of LAC," Goswami said in a statement. "Due to both sides undertaking patrolling up to their respective perception of the LAC, transgressions do occur."
Whether the most recent incursion actually occurred is still being disputed, but some politicians insist that India beef up border security. "The PLA has intruded 25 km in Ladakh, and our government is justifying it by stating China has only come up to its perception line," opposition Congress Party leader Manish Tewari said, according to India Today.
"Had a tough message been sent from Red Fort [i.e. the Indian government] to Pakistan and China, this interference from Pakistan and Chinese intrusions wouldn't have happened," Congress leader Rashid Alvi added.
In the past, the Chinese have frequently tested the limits of India's borders. Earlier this summer, Chinese troops reportedly breached the LAC along the border into Jammu and Kashmir twice over the span of three days. Last year, India made similar allegations of a breach of borders by PLA troops. In January, Chinese troops reportedly entered Chumar, a southern area of Kashmir, only to retreat after Indian forces asserted their presence.
Chinese media and officials don't often acknowledge accusations from India regarding border incursions by their military, maintaining that they are within their territorial rights. While Indian media picked up the news of the alleged incursion, the state-controlled Chinese media have yet to carry any of the reports.
© Copyright IBTimes 2023. All rights reserved.