China And India Sign Eight-Part Agreement To Further Relations Despite Border Dispute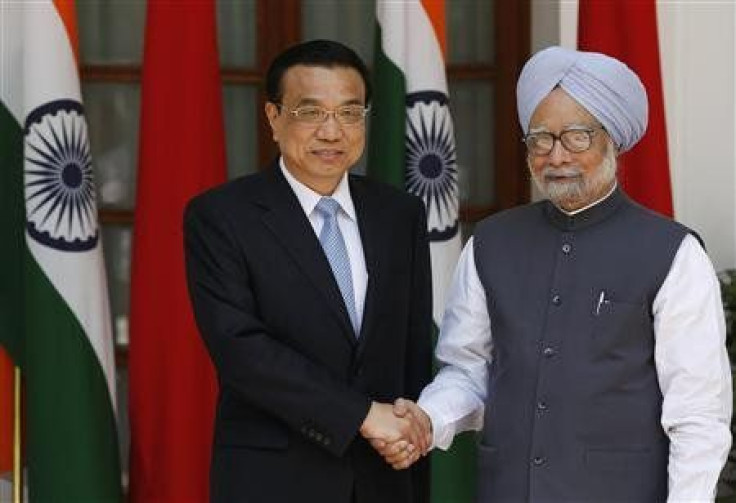 China's Premier Li Keqiang arrived in New Delhi on Sunday for the first leg of his first foreign trip since officially taking office in March.
While there, Li will meet with Indian Prime Minister Manmohan Singh, President Pranab Mukherjee and Vice President and Chairman of India's Upper House of Parliament Hamid Ansari to discuss trade relations between the world's two most populous nations.
Eight items were agreed upon by the two nations and officially signed by Singh and Li after a session of delegation-level talks.
1. A Memorandum of Understanding regarding the famous Hindu tradition of Kailash Manasarovar Yatra, the annual pilgrimage to Lake Manasarovar to cleanse followers of their sins: Both countries agreed to plan the pilgrimage every year during May and September. The route to reach Manasarovar from India had been previously blocked off for several years after China took control of Tibet. Now, the Chinese agreed to improve routes to the lake for Indians traveling to the site, as well as provide assistance in setting up communication systems in the form of phone SIM cards and wireless sets for the mass of travelers.
2. To enhance trade, both sides decided to set up three working groups under the Joint Economic Group: the Services Trade Promotion Working Group, Economic and Trade Planning Cooperation and Trade Statistical Analysis. This was signed by India's Minister of Commerce, Industry & Textiles Anand Sharma and China's Minister of Commerce Gao Hucheng.
3. In an effort to strengthen mutual cooperation in the trade and safety of buffalo meat, fishery products, feed products and feed ingredients, the two nations agreed to meet the standards and regulatory requirements of several agricultural and seafood product groups.
4. A memorandum was signed to enhance cooperation in sewage treatment by India's Ministry of Urban Development and the National Development and Reform Commission of China.
5. The Ministry of Water Resources in India and China's National Development and Reform Commission signed a memorandum on cooperation for efficient irrigation. The agreement will encourage bilateral cooperation and exchange of efficient water technology to help boost agriculture in both nations.
6. India's Ministry of External Affairs and China's infamous State Administration of Press, Publication, Radio, Film and Television (the entity in charge of censoring works of art) came to an agreement on the mutual translation and publication of classic and contemporary works. The deal will create a joint working group that will be responsible for translating and publishing 25 books of each nation in the other respective language over a period of five years.
7. China has agreed to provide India with vital information regarding the water levels, discharge and rainfall levels of the Brahmaputra River, where there are three hydrological stations, twice a day at 8:00 a.m. and 8:00 p.m. Beijing time during the June 1 to Oct. 15 time period.
8. An agreement was signed by India's Ministry of External Affairs and China's Ministry of Foreign Affairs that will facilitate cooperation between Indian and Chinese cities. The memorandum establishes sister states/provinces between the two nations allowing the two nations to build relationships of mutual interest and improve personal contact between the two populations.
In addition, the two counties have set a target of $ 100 billion for bilateral trade, up from last year's $66 billion and the previous year's $74 billion mark.
© Copyright IBTimes 2023. All rights reserved.