China, Japan Agree To Improve Ties After Disputes Over Maritime, WWII Issues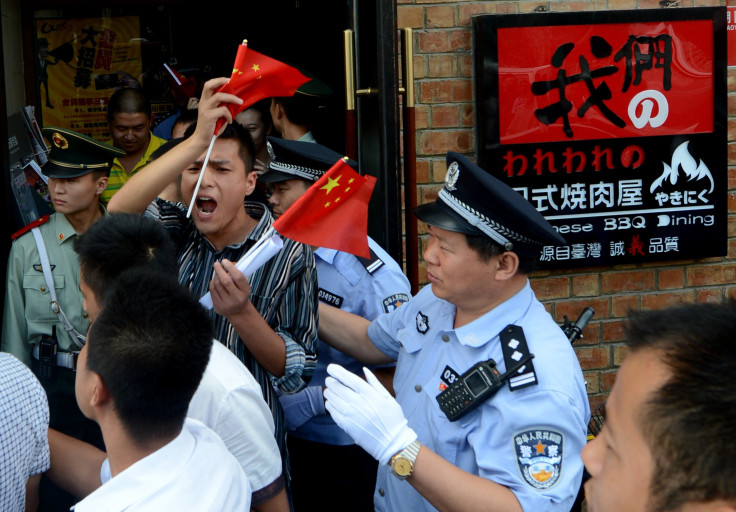 China and Japan have agreed to overcome "political obstacles" and improve ties while acknowledging their different positions on disputed islands, according to reports from Chinese news agency Xinhua.
The state-run news agency reported that the two countries had agreed to gradually resume political, diplomatic and security dialogue through multilateral and bilateral channels, citing an announcement from China's foreign ministry. Chinese and Japanese officials met in Beijing ahead of next week's Asia-Pacific Economic Cooperation, or APEC, summit. The announcement came after Chinese State Councilor Yang Jiechi held talks with Japan's National Security Adviser Shotaro Yachi on Friday.
There has been long-standing diplomatic acrimony between the two countries, arising from a number of issues. Key among them is the sovereignty of a series of islands in the East China Sea that are controlled by Japan but are claimed by China as part of its territory.
The islands -- referred to in Japan as the Senkaku islands, and in China as the Diaoyu islands -- are uninhabited, but lie close to important shipping lanes, offer rich fishing grounds and lie near potential oil and gas reserves, according to the BBC.
Now, the two countries have agreed to set up a crisis-management mechanism to handle future disputes, according to Xinhua.
China also urged Japan to "properly handle history," a reference to the conflict between the two countries over Japan's actions during World War II, Xinhua reported. There is widespread public resentment toward Japan in China, particularly over the issue of "comfort women" -- Chinese women who were forced into sexual slavery during Japan's occupation of China.
Despite issuing apologies for its wartime conduct, Japan is seen by many of its Asian neighbors as being reluctant to face up to the extent of its wartime atrocities. According to one report, a standard Japanese secondary school history textbook dedicates only 19 out of 357 pages to events that took places between 1931 and 1945 -- issues that still continue to shape political discourse in the region today.
Japanese politicians' insistence in visiting or making offerings to the controversial Yasukuni shrine, a site that honors Japan's war dead, including a number of military officers convicted of war crimes, has also been a frequent source of tension between the two countries.
For its part, China has been involved in disputes about its maritime borders with Japan, Vietnam, Brunei, Malaysia, Taiwan and the Philippines, since it began pursuing a more assertive foreign policy in recent years. It has placed oil rigs in waters claimed by Vietnam, and in November 2013, unilaterally announced an "air defense zone" over the East China Sea, which included the area around the islands at the center of its dispute with Japan.
China is hosting the 2014 APEC in Beijing on Nov. 10-11.
© Copyright IBTimes 2023. All rights reserved.