China-Japan Relations: Abe And Xi APEC Meeting Only Symbolic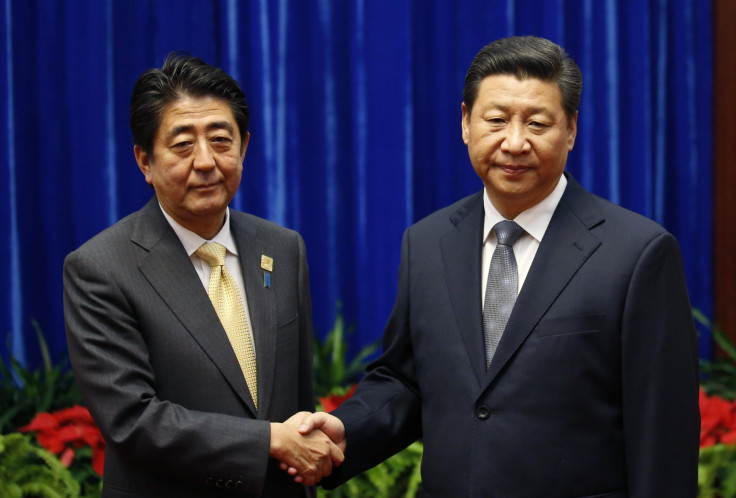 For the first time in more than two years, China and Japan's top leaders shared a symbolic handshake at the Asia Pacific Economic Cooperation summit in Beijing earlier this week. The meeting between Japan's Shinzo Abe and China's Xi Jinping was described by various news outlets as "uneasy," "awkward," but was also considered to be an important "icebreaker" in what are otherwise icy relations between the East Asian nations.
Ahead of the meeting, Japan and China met on Nov. 8 in Beijing to boost bilateral cooperation in hopes of restoring high-level talks. And while that meeting was promising, the brief and awkward sign of a truce already appears to be over.
At the root of contention between the two countries is a cluster of resource-rich islands in the East China Sea which both governments lay claim to. To the Chinese, the islands are known as the Diaoyu, and to the Japanese the Senkaku. Despite the Abe-Xi meeting at the APEC conference, China and Japan are still far from a resolution.
In an report published by China's state-run Global Times, titled "China slams Japan's Diaoyu claim," published on Thursday, Chinese representatives in Tokyo push back on Japan's unwavering position. In a statement, Japanese foreign minister Fumio Kishida denied that there was a territorial dispute in the East China Sea, calling the islets "Japan-controlled."
"We are seriously concerned [about Kishida's statement] and strongly dissatisfied with it," a representative for the Chinese Embassy in Tokyo said, pointing to a "four-point agreement" made between China and Japan on Nov. 7. The third point of the agreement, and arguably the most important, showed that both sides "acknowledged that different positions exist between them regarding the tensions which have emerged in recent years."
"We urge the Japanese side to face up to history and keep its promise and to move in accordance with the spirit of the agreement together with China," the representative added.
Ahead of the APEC meeting, "dialogue and consultation" was a top priority to prevent the East China Sea dispute from compounding. During the conference Xi and Abe even held "brief and informal" one-on-one meetings, according to Japanese media. But as the high-level meetings in Beijing conclude, it appears they are back where they started.
© Copyright IBTimes 2023. All rights reserved.