China Labor Activism: 'Concertmaster' Duan Yi Tests Beijing's Boundaries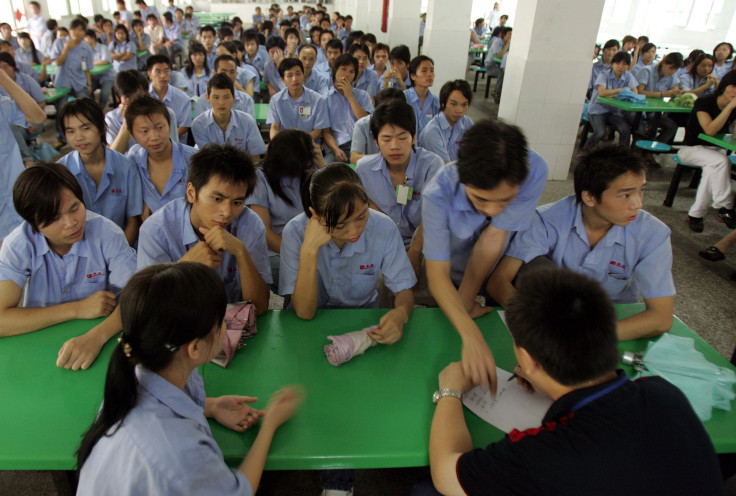 SHENZHEN, China (Reuters) - When local officials warned striking shoe factory workers in China's Pearl River Delta this summer that they were breaking the law, a slight, bespectacled figure barely 5 feet 5 inches (1.65 meters) tall faced them down.
"Where is the law that says striking is illegal? If this activity is prohibited by the law, then you need to say so with crystal clarity. Which law is it?" labor lawyer Duan Yi said he told them, with his characteristic growl.
They had no answer.
While striking workers and those helping them have often been harassed, detained and sometimes imprisoned, Duan, 57, is unscathed after nearly 10 years spent testing the boundaries as China's economy has been transformed.
"If you industrialize," says Duan, "it inevitably touches upon industrial relations. And if you don't resolve the problem of labor-capital relations, your industrialization won't go very far."
China's ruling Communist Party is deeply paranoid about social instability arising from labor disputes. Though the country boasts the biggest union in the world, the All-China Federation of Trade Unions (ACFTU), it is a state-run body that critics say regularly favors investors over workers.
Under President Xi Jinping, pressure has intensified on rights advocates, but that has not stemmed a wave of labor activism engendered by a slowing economy, shifting demographics and the rise of social media.
The rope that Beijing appears to give Duan is, say some, a recognition in official circles that labor disputes have not always been well handled.
Even President Xi, behind closed doors, criticized the ACFTU in late 2013 for not doing more for workers, according to academics and former union cadres.
"We hear internally that (Duan) has support," said a scholar at a state-run training institute linked to the ACFTU, the only legal union.
"The fact that there is space for him to exist shows that there are certain forces that have given him that space."
It helps that Duan, a dynamo in golf shirt and slacks, has a pedigree. The son of a military officer and a government ministry worker, he spent his childhood among "princelings" in an army compound in Beijing.
The hint of swagger in his walk might reflect that past or his eminent present.
"He is the concertmaster of China's labor movement," said Beijing-based scholar Wang Jiangsong.
STRIKING ADVICE
Duan has helped workers at one of the world's busiest ports negotiate for better pay and benefits, shown laborers at an Apple supplier in southern China how to establish a union branch, counseled Wal-Mart employees battling for payouts, and advised striking workers at IBM and Nokia how to protect their rights during ownership changes.
Workers flock to his modest 26th-floor offices in Shenzhen, southern China, to hear advice sometimes peppered with profanity.
That advice is that Chinese workers have the right to organize and, if necessary, strike. And more and more seem to be listening.
China Labor Bulletin, a Hong Kong-based watchdog with whom Duan cooperates, recorded 1,171 strikes in China from June 2011 through 2013. This year it has tracked 1,213 so far. That includes China's biggest strike in decades, involving 40,000 workers at a company that supplies Nike, Adidas and other global brands in April.
After setting up Laowei Law Firm in 2005, Duan and his colleagues have helped hundreds of individuals fight employers, but he soon realized that the problems they faced - unpaid arrears, lack of job security, inadequate social insurance payments - could only be resolved by collective bargaining, backed by the threat of action such as strikes.
Duan believes he has on occasion sailed close to the wind.
Late last year, he said he received warnings that the police had developed "opinions" about him in connection with a case he was working on, and that he ran the risk of detention.
Through a friend in the capital - a member of the "Second-Generation Reds", the children of China's Communist revolutionaries – he passed a letter to President Xi explaining his work. Thereafter, he said, the pressure eased.
He sometimes draws criticism for endangering his clients, too, such as security guards he was advising at a Guangzhou hospital, who were arrested after staging a rooftop protest.
Ma Jianjun, a lawyer who considers Duan a friend, says he has great respect for this "man of ideals" but doesn't give him a free pass.
"To a very large extent he is half-lawyer, half-social activist. From a lawyer's perspective he is unprofessional," he said.
"He's a controversial but impressive figure," said Mary Gallagher, associate professor of political science and China labor expert at the University of Michigan.
"I think people are really interested to see how far things go."
(Reporting by John Ruwitch; Editing by Will Waterman)
© Copyright Thomson Reuters 2023. All rights reserved.