China Parades Detained Swedish Legal NGO Worker On TV In Latest Sign of Civil Rights Crackdown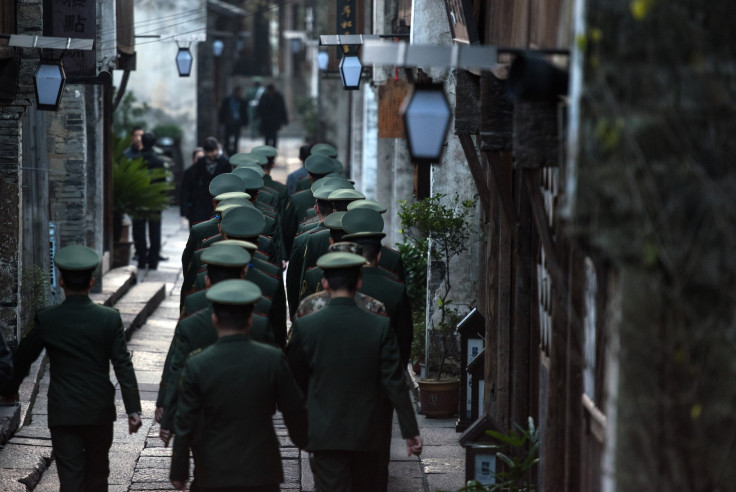 SHANGHAI — A Swedish NGO worker involved in legal aid projects in China has been shown on Chinese state television, apparently confessing to carrying out illegal acts and seeking to undermine the Chinese state. However, friends of the detained man, Peter Dahlin, said they believe he had been coerced into the statements, in what rights groups said was part of a deepening crackdown on civil society and China's legal sector.
Chinese media said Dahlin, 35, who was detained in early January, along with his Chinese girlfriend, had received foreign funding to set up legal aid organizations in order "to train and fund many agents to carry out criminal activities that harmed state security." They said he used such people "to collect negative information about our country, to twist, exaggerate and even to fabricate."
The charges relate to Dahlin's work with the Chinese Urgent Action Working Group (CUAWG), an organization his colleagues said sought to empower "Chinese citizens at a grassroots level to find redress for their grievances using Chinese law."
The official Xinhua news agency, however, said the group was illegal, and had been "smashed" by the authorities. Key among the accusations was Dahlin's links to foreign groups: Xinhua quoted people it said were his colleagues — though it did not name them — as saying that "western anti-China forces had planted Dahlin and some other people in China to gather negative information for anti-China purposes such as smear campaigns… and to incite masses to confront the government and to create mass incidents." It also claimed he had been told to file "96 lawsuits against the Chinese government each year."
And Xinhua said "Dahlin and his men" had "pocketed" almost half their foreign donations "through false receipts and other claims."
During the TV interview, Dahlin confessed to violating Chinese law and said "I need to offer my deep apologies for hurting the Chinese government and the Chinese people," according to Xinhua.
However, a colleague at the CUAWG, Michael Caster, told The Guardian that parts of the statement appeared to be "scripted." He said Caster was trying to help develop civil society in China and had no malicious purpose. And he said the confession appeared to be designed to "incriminate him" as a "nasty foreign infiltrator." Caster denied that Dahlin had carried out grass roots legal aid work in order to get rich, and said that while the organization had received financial support from abroad, it came from legitimate organizations that "have a pretty rigorous financial reporting system in place."
Analysts noted that Dahlin's TV appearance followed a number of cases over the past three years in which the Chinese authorities have paraded critics of the system on television to confess to hurting society. These have included a financial journalist who reported that the government was planning to reduce its intervention in China's plunging stock market last summer, a celebrity blogger who criticized social policy, and a British business investigator accused of illegally obtaining information. Legal academics have criticized such 'trial by television' as undermining legal process in China. The blogger was later released without trial, while the journalist has not yet been charged.
Dahlin is believed to have come to the attention of his Chinese authorities as a result of his links to the Beijing Fengrui Law Company, a civil rights practice that has been the focus of a government crackdown since last summer. His CUAWG co-founder Wang Quanzhang also worked for Fengrui, which the authorities have accused of stirring up trouble and paying citizens to petition against the government. Eight people linked with Fengrui have been charged with subverting state power — which can carry a sentence of life imprisonment — or inciting such subversion.
CUAWG is accused of giving money to an activist who is accused of illegally helping the son of Wang Yu, one of the detained lawyers, to cross the Chinese border into Myanmar last year. The 16-year-old boy, who had previously been prevented from travelling to Australia to study, was later repatriated to China.
The official Global Times, commenting on the case, acknowledged there were "grass-roots problems" in Chinese society, but said human rights lawyers had posed "challenges… to the order of society based on the law," and sometimes made social problems worse. And it said that just because Dahlin was a foreigner he was "no exception to Chinese law."
Chinese media said Dahlin was detained on Jan. 3, but was not granted a visit by Swedish consular officials until Jan. 16.
Human rights groups have condemned his detention, which they said was part of a crackdown on both lawyers and civil society groups in China. They said it will add to concerns about China's new NGO law, due to be passed this year, which imposes restrictions on non-governmental organizations receiving foreign funds.
Dahlin's television appearance came soon after China formally charged several workers' rights activists from southern Guangdong province with disturbing social order, which can carry a charge of up to seven years in jail. Last month, a court in Beijing gave one of China's most famous civil rights lawyers, Pu Zhiqiang, a three-year suspended jail sentence, which disqualifies him from practising law.
Observers say the Chinese government, concerned at slowing economic growth that has led to a rising number of strikes, and at growing social activism and online debate about social problems, is increasingly targeting groups and individuals it sees as a threat.
After the arrests of the labor activists last week, Brad Adams, Asia director of Human Rights Watch, said they signified "a significant escalation in the Chinese government's assault on civil society since President Xi Jinping came to power. … Under Xi, the authorities are showing increasing hostility toward those whose activism wasn't considered a threat just a few years ago."
Dahlin's television appearance came a day after another TV confession, by Gui Minhai, a Hong Kong-based publisher of books critical of Chinese leaders. Gui, one of five Hong Kong booksellers now believed to be in detention in China, was previously reported to have vanished while in Thailand last year. He was shown on Chinese television confessing to being a fugitive from justice for a hit-and-run driving case in China in 2003. The publisher, who also holds a Swedish passport, said he had returned to China voluntarily to face justice. Friends quoted by the South China Morning Post said the hit-and-run case allegations may have been true, but doubted that Gui had returned to China voluntarily.
Gui's case follows the controversial disappearance of bookseller Lee Bo, who held a British passport, from Hong Kong late last month. Lee later sent a message home to his wife saying he had travelled voluntarily to China to deal with some business matters, and was helping police with an investigation. But his disappearance has sparked protests, with supporters alleging he was abducted by Chinese security services. Hong Kong authorities said they had no record of his passing through immigration controls to leave the city. And the Hong Kong government said this week that Hong Kong police had written to mainland counterparts to request a meeting with Lee.
FOR FREE to continue reading
✔️ Unlock the full content of International Business Times UK for free
offer available for a limited time only
✔️ Easily manage your Newsletters subscriptions and save your favourite articles
✔️ No payment method required
Already have an account? Log in
© Copyright IBTimes 2023. All rights reserved.