China Ramps Up Its Maritime Microaggressions With Civilian Trawlers Notorious For Going Rogue: Report
At a time when Beijing is building military pressure for Taiwan reunification, China is reportedly using state-funded large civilian fishing vessels to exert its dominance over the wider South China Sea region.
Despite having one of the world's largest navies, Beijing is paying hundreds of civilian ships and fishing vessels to drop anchor for months around the disputed islands in the South China Sea region, the Associated Press reported, adding that about 300 to 400 vessels are deployed there at any given time.
Several countries have claims over the South China Sea, which is known to have abundant oil reserves and fishing opportunities and through which one-third of global shipping takes place.
These steel-hulled Chinese civilian ships, although funded by Beijing under a program to enhance the fishing industry, are apparently notorious for ramming into fishing vessels from other countries in the region.
In 2019, a steel Chinese trawler rammed and sank a Filipino boat that anchored northeast of the Spratly Islands in the South China Sea. A similar incident was reported in 2020, when a Chinese maritime surveillance vessel rammed into a Vietnamese fishing vessel, with eight fishermen onboard, fishing near the Paracel Islands.
When faced with diplomatic outrage, China evades responsibility for the operations of its civilian fishing vessels and refers to them as mere accidents.
China has also sought to shore up its vast territorial claims over the entire South China Sea region by building artificial islands, on top of rocks or reefs close to the water's surface at high tide using dredging ships to scoop the seabed.
Despite international objections, China is said to have built over 20 outposts in the Paracel Islands and 7 in the Spratly Islands. It also controls Scarborough Shoal which it seized in 2012, creating 3,200 acres of new land, according to research by the Asia Maritime Transparency Initiative.
An international tribunal in 2016 ruled that China had violated international law in constructing these islands and had no right to claim ownership of the sea. However, disregarding international law, Beijing claims the islands as Chinese territory and is using the territorial claims of these islands to further extend its own claim over the region as a whole.
While the United States and allies respond by sending their warships through the region in what is called freedom of operation missions, China routinely objects to these passages.
In March, it was reported that China had fully militarized at least three of several islands it built in the disputed South China Sea and armed them with anti-ship and anti-aircraft missile systems, laser and jamming equipment and fighter jets in an increasingly aggressive move that threatens all nations operating nearby.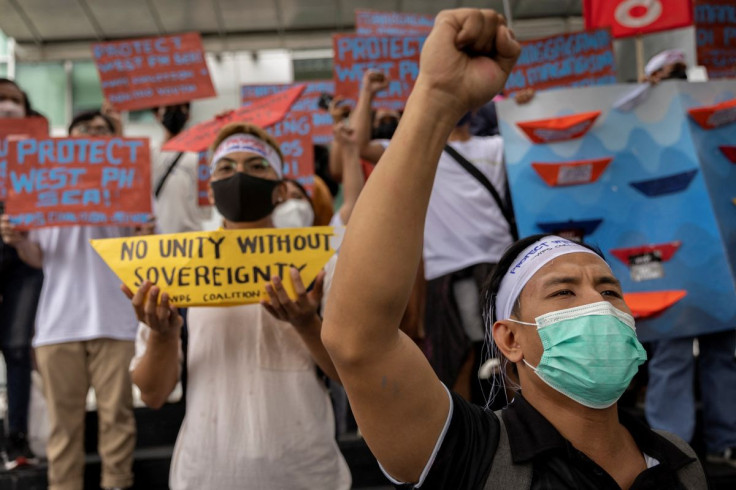 © Copyright IBTimes 2023. All rights reserved.