China: Protests For High-Speed Rail Line To 'Abandoned' City Triggers Violent Clashes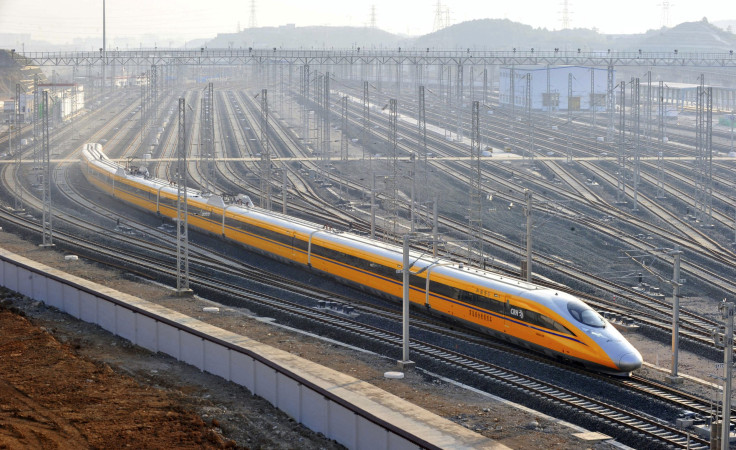 SHANGHAI -- Chinese police have clashed violently with protesters demanding the construction of a high-speed railway to their city in southwestern China, in a case that state media say shows both the economic impact of China's fast-growing high-speed rail network, and the problems caused by a lack of transparency in local governance.
Photographs posted on Chinese social media showed smashed and burnt police vehicles, an overturned ambulance, injured citizens surrounded by riot police, and demonstrators hurling rocks at police sheltering behind riot shields on a blocked highway.
The official Global Times newspaper said on Monday that local authorities had "not confirmed… rumors that some were injured or even killed in the demonstration."
The clashes came after an estimated 20,000 people marched through the streets of Linshui, in southwestern Sichuan province, in an initially peaceful demonstration. The protest followed reports that a planned inter-city rail line to the nearby city of Chongqing would be routed not through Linshui, but through the region's administrative center, Guang'an.
Images on social media showed Linshui citizens carrying triangular pennants printed with the words "Build high speed rail," and banners stressing they were law-abiding. However, an eyewitness told the Wall Street Journal that the rally turned violent "when police began roughly handling people."
According to local media reports, Guang'an officials announced earlier this month that the regional government supported the line passing through their city, rather than taking the geographically shorter route via Linshui (though a message from the city government confirming this was reportedly later deleted from its website.)
Linshui residents told Chinese media that their city, which has a population of one million, had many factories, but its development was being held back because it had no railways. They also complained that Guang'an, which has a smaller population but is home to the regional government in charge of the rail project, was being "favored" because it was also the hometown of China's late leader Deng Xiaoping.
Following the weekend's clashes, the Sichuan provincial government issued a statement saying that studies for the line were still in their "preliminary stages," and the route had yet to be approved. It said if the central government gave permission for the line, experts would then seek opinions on issues, including the route, from different social groups, "including people who live along the route."
The provincial government also suggested that the events showed "everyone's support and hopes for rail construction," and the "high level of attention" the public now paid to China's railway network.
China has rolled out more than 12,000 kilometers (about 7,500 miles) of high-speed rail over the past seven years, and is planning to double the length of the network by 2020.
Research shows that China's high-speed rail lines have brought "very substantial" economic benefits for towns along the route, encouraging investment and tourism. (China has also built a large highway network in recent years, but experts say this remains inefficient because it is prone to congestion and accidents.)
One Chinese newspaper, the Huashang Bao, said the protest was a reminder that the allocation of resources was not always fair in China: it said this had led to "unbalanced development," with some towns receiving significant investment, while others still had an "inconvenient" transport infrastructure. And it suggested that the choice of railway routes was "still based on who had most power" -- with a lack of an open and transparent decision-making process, and no mechanism for information disclosure. It said this meant many people did not trust the planning process, resulting in demonstrations like the one in Linshui.
Suspicion of China's railway approval process may have been reinforced by revelations of significant corruption in the country's rail bureaucracy over recent years: the country's former railways minister Liu Zhijun, architect of the high-speed network, is now serving a life-sentence for corruption, having admitted to receiving more than 300 properties and over $100 million in bribes.
Another Chinese newspaper suggested the incident revealed a failure of local governance. The English-language Global Times, in a commentary, said that given the "substantial" benefits railways could bring to an area, it was "understandable" that citizens would express "strong and even violent desire for the railway." However, it said, Chinese local governments often failed to respond "promptly" to citizens' demands -- in this case, it suggested, local authorities could have avoided conflict by implementing "a widely representative and convincing policymaking process."
The paper added that local governments in China were facing a growing challenge from an increasingly assertive civil society, with more people "willing to fight for their rights" -- it said there had been a "growing number" of environmental protests over the past year in particular. As a result, it suggested, "persuasion and law enforcement" were losing their power, and only a "scientific and democratic policymaking process" could balance such conflicts of interests effectively.
The case is also a reminder, however, that "persuasion and law enforcement" are still seen by many local governments as the best way to deal with protests -- and there have been several cases this year when protests that apparently began peacefully turned violent, after what demonstrators saw as an excessively brutal response by police -- such as in a protest against an incinerator project in Langtang in Guangdong province last month.
FOR FREE to continue reading
✔️ Unlock the full content of International Business Times UK for free
offer available for a limited time only
✔️ Easily manage your Newsletters subscriptions and save your favourite articles
✔️ No payment method required
Already have an account?
Log in
© Copyright IBTimes 2023. All rights reserved.