China Q4 Economic Growth Eases To 7.7%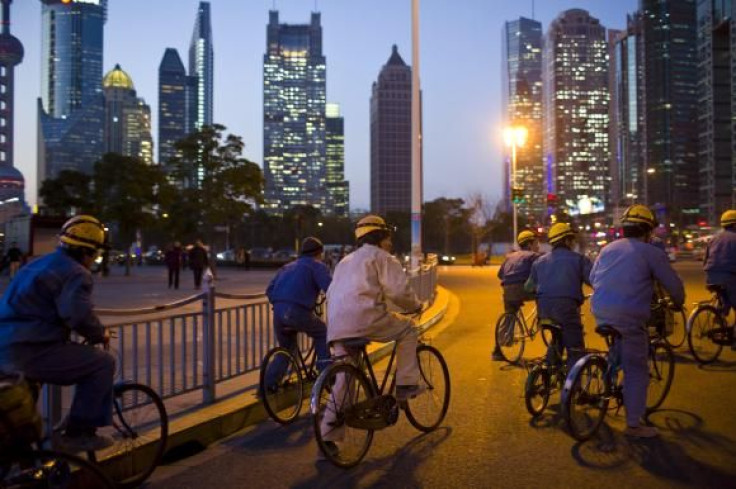 China's economy grew more rapidly in 2013 than the government's official target after easing in the last three months on weakened investment growth, Reuters reported Monday.
It was a cooldown some analysts believe points to more sober times in the near future as China's government grapples with implementing significant reforms.
Gross domestic product in the world's second-largest economy grew by 7.7% in 2013 over the previous year, according to China's National Bureau of Statistics; the government's target was for 7.5 percent growth. It was the lowest level seen in China since 1998, according to Xinhau. "We anticipate the upcoming data release to show China's economy losing steam somewhat in December," UBS's Harrison Hu said in a note released head of the data. "Though sequential growth momentum likely held steady or declined slightly across most domestic demand sectors, a high base effect would have weighed upon headline activity numbers."
On a quarterly basis, GDP climbed 1.8 percent in October-December, slower than expectations for 2 percent and a reading of 2.2 percent in July-September, Reuters noted.
China's annual economic growth eased to 7.7 percent between October and December 2013 from 7.8 percent during the preceding three months -- slightly ahead of market expectations for growth of 7.6 percent, according to the news service.
Other data revealed that industrial output grew 9.7 percent in December from a year ago, compared with expectations of 9.8 percent in a Reuters poll.
Consistent with expectation was a 13.6 percent climb in retail sales from a year ago, Reuters noted.
Fixed-asset investment expanded 19.6 percent in 2013 from a year earlier, versus an expected 19.8 percent.
© Copyright IBTimes 2023. All rights reserved.
FOLLOW MORE IBT NEWS ON THE BELOW CHANNELS