China's Wealth Management Products (WMPs) Lure Investors With Higher Yields [CHARTS]
Wealth management products are perhaps the fastest-growing products offered by financial institutions in China today. Retail investors seeking higher returns than interests paid on traditional savings accounts are pouring into WMPs, which are the least transparent of savings products and are ones that can expose investors and the banks that issue them to ill-defined risks.
"Legally they [WMPs] are not deposits. They are investment products that are managed 'off-balance-sheet' by banks, and there is little transparency about where the funds are going," said Stephen Green, head of Greater China research at Standard Chartered in Hong Kong, in a note.
According to Green, the funds from different WMP products are often mixed and deployed to finance a broad pool of assets that more often than not fall into the sectors of the economy that regulators have attempted to fence off from normal bank lending (real estate, local government infrastructure, etc.), partly because these sectors are deemed to be particularly risky. In addition, the banks hold neither reserves of WMP deposits nor capital against the assets.
The yields offered on these WMPs usually stand at around 5.5 percent, compared to about 3.3 percent for a traditional one-year deposit.
Newly issued WMPs with 5 percent per annum "promised" returns reached a record high over the past five weeks, according to David Cui, head of China Equity Strategy at Bank of America Merrill Lynch.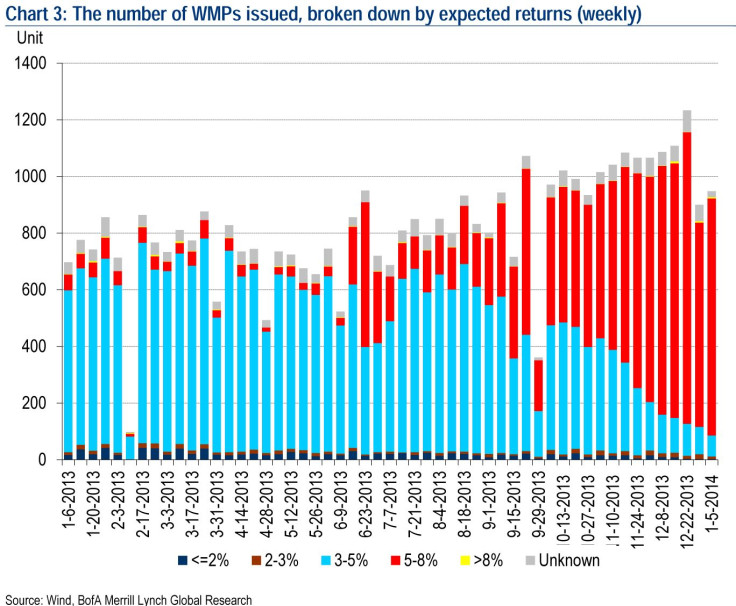 Over the past five weeks, 83 percent of WMPs sold have an expected return of 5 percent to 8 percent, compared to an average of 32 percent in 2013 and an average of 46 percent since May end.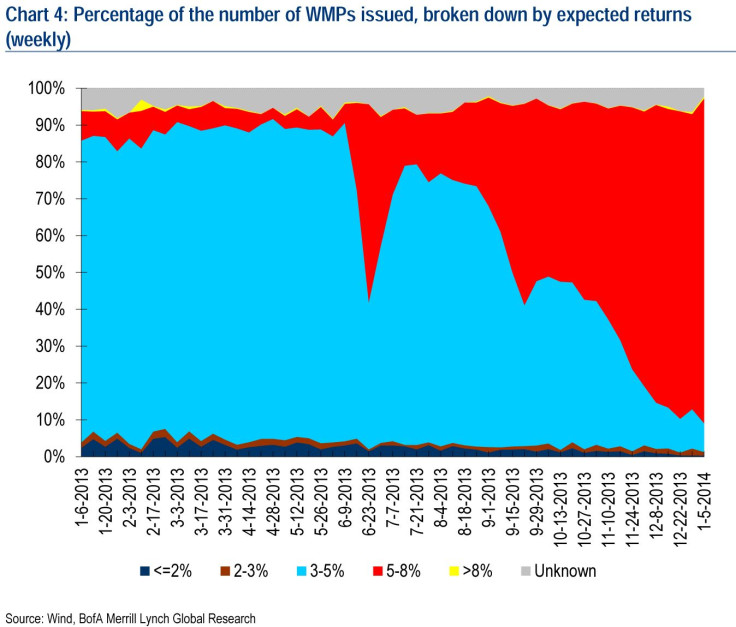 Xiao Gang, chairman of Bank of China (SHA:601988), one of the top four state-owned banks, said in an October 2012 op-ed published in the English-language China Daily that many assets underlying the WMPs were dependent on real estate or long-term infrastructure projects that might find it impossible to generate sufficient cash flow to meet repayment obligations on short-term WMPs.
To avoid a crisis, banks issue new WMPs to repay existing subscribers, creating a "Ponzi scheme," Xiao said.
Outstanding WMPs in banks totaled 9.08 trillion yuan ($1.64 trillion) at the end of September 2013, according to the China Banking Regulatory Commission. Green expects this number to go up to 11 trillion yuan at year-end 2013.
© Copyright IBTimes 2023. All rights reserved.