China To Scrap Commercial Banks' Loan-To-Deposit Ratio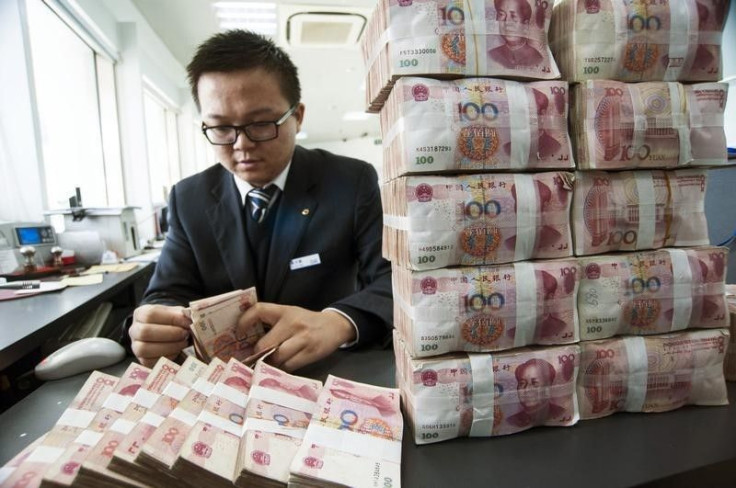 China is to scrap the country's longstanding loan-to-deposit ratio requirement, the latest in a series of measures to reform the country's commercial banking sector and get more lending into a slowing economy.
China's cabinet, the State Council, published its decision late on Wednesday as part of a draft amendment to the country's 20-year-old commercial banking law.
Chinese banks at present are prohibited from lending more than 75 percent of their deposits, limiting their ability to offer loans and engage in other commercial activity.
Broker China Securities Co has previously estimated that the removal of the ratio would potentially allow 16 listed banks to release up to 6.6 trillion yuan ($1.1 trillion) in extra lending.
The move comes as the country's economic growth continues to slow, and as the government hastens financial reforms that have included the liberalisation of interest rates and the implementation of a deposit insurance scheme.
"The loan-to-deposit ratio is the biggest administrative restriction over banks," said Ma Kunpeng, a Shanghai-based banking analyst at Sinolink Securities Co., after the announcement.
The removal of the restriction will "strengthen ability of financial institutions to lend more to the agriculture sector and small businesses", the State Council said in an online statement.
Analysts said shares in Chinese banks, including top lenders Industrial and Commercial Bank of China Ltd , China Construction Bank Corp , Agricultural Bank of China Ltd and Bank of China Ltd , would likely rise as a result.
As China steps up its financial reforms, its central bank has cut interest rates three times in the last seven months in a bid to lower borrowing costs, while giving banks more flexibility over how much they pay depositors, which has hit bank earnings as lenders face competitive pressure to pay more for deposits.
In May, China launched a long-awaited bank deposit insurance scheme, setting the stage for full liberalisation of deposit rates, which would allow banks to compete on the basis of deposit yields, seen as a key step in letting the market, not the state, set the price of capital and risk.
Last week, Bank of Communications, the country's fifth-biggest lender, unveiled the country's first ownership reform of state-owned banks, which aims to introduce private shareholding to help drive growth.
Even with the removal of the lending restriction, bank lending isn't expected to increase substantially, said Li Qilin, an analyst at Minsheng Securities Co, as banks have become more risk-averse in a slowing economy.
Wednesday's draft amendment will be submitted for approval to the Standing Committee of the National People's Congress, China's parliament, the cabinet said. It didn't provide a timetable.
With credit demand weakening and banks struggling with the rising costs of deposits brought about by interest rate liberalisation, it was the "perfect time" to remove the loan-to-deposit requirement, said Ma of Sinolink Securities.
The State Council also said it would set up a 300 billion yuan national insurance fund to invest in domestic and foreign funds that finance urban construction, regeneration and water projects as well as key projects in the "One Belt, One Road" initiative.
© Copyright IBTimes 2023. All rights reserved.