China's Premier Says Some Chinese Bureaucracy Is A 'Big Joke' As Government Seeks To Streamline Economy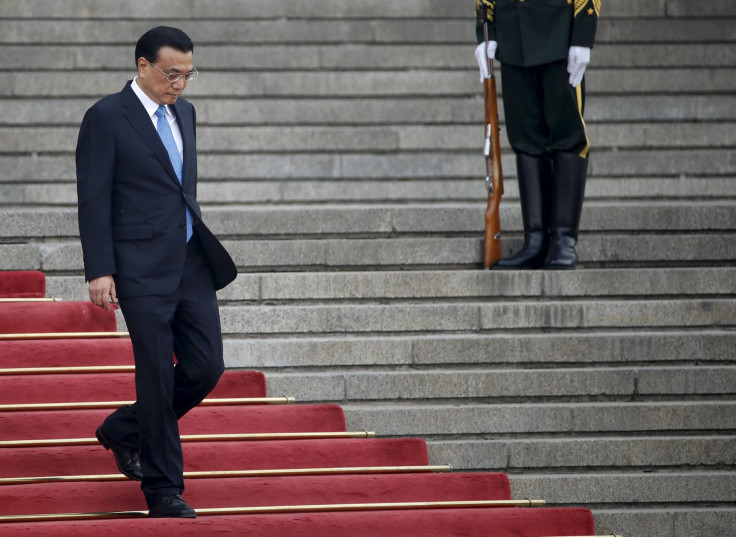 SHANGHAI -- "Even after 30 years of reform, China's economy remains bound by red tape," head of the China Center for Economic Research at Peking University, Yao Yang, wrote recently. And the country's Premier Li Keqiang appears to be growing increasingly frustrated at how long it takes for the government bureaucracy to respond -- even to his own calls for change.
With China's economy slowing -- its growth rate of 7 percent in the first quarter was the slowest in six years -- it seems Li has decided to declare war on red tape, apparently in the hope of promoting a leaner, more streamlined and efficient economy.
Last week he told officials they were being "too slow" when they said it would take until August to introduce trial tariff cuts on imported consumer goods, which the government hopes will stimulate domestic spending. Immediately afterward, his government introduced a seven-day rule for ministries to issue new policies once they had been approved by China's cabinet, the State Council.
On Wednesday, at the latest meeting of the cabinet, Li again expressed irritation with bureaucracy, asking, "Why is it so difficult for ordinary people to get things done?", and "Why does the government put up so many obstacles that stop people getting things done?"
In remarks released on the official government website, published by a Shanghai news site, Li was described as "speaking bitterly" of how he had read about a man who was planning to go on holiday, and had written down his mother's name as a contact in case of emergencies on a form he had to fill. Then, however, Li said, "some department asked him to provide documents to prove that 'your mother is you mother'! It's really a big joke," he added. "He just wanted to go on holiday, have a rest – and see what happened!"
Li also cited a case of "an outstanding grassroots worker" who applied for a certificate recognizing him as a 'model worker' -- exactly the kind of hard-working hero President Xi Jinping is currently seeking to promote -- who had to spend days trying to get the eight official seals he needed just to submit his application.
Li also said Taiwanese investors in southeast China had told him their intellectual property rights were not being sufficiently well-protected -- with too many people copying their products, and the courts and government "not willing to help much." This showed, he said, that there was a "real problem" that the government often "didn't do enough to deal with issues it ought to tackle," but would "make a big effort to meddle in things that are actually none of its business."
Li said that there had been some progress in simplifying government procedures and streamlining the government's function in the past couple of years, but he said there was still "quite a big gap between what had been achieved and what the people want to see."
It's relatively unusual in China for government to release such forthright comments from officials, but the authorities -- and Li in particular -- currently seem keen to project an image of a no-nonsense approach. It seems to be designed both to satisfy public pressure for greater transparency, and also to encourage both foreign investors and domestic would-be entrepreneurs, who have long complained of how hard it is to get bank loans, for example, and of how bureaucracy and tax rules make it difficult to set up a business.
In the latest sign that the government is at least trying to address these concerns, China's tax authorities on Wednesday promised more help to innovative start-ups and new small businesses: the State Administration of Taxation said it would remove "unnecessary" taxes and fees for innovative enterprises, and would "actively support healthy development in new industrial patterns and new business models," to "bolster society-wide innovation," according to the South China Morning Post.
It also urged local tax departments to ensure that policies were properly implemented, and ordered them not to carry out so many time-consuming checks on such companies -- business people say their time is often wasted by such investigations.
Yet Li's comments are also a reminder that it may not be easy to change the mindset of China's bureaucracy, where swift, daring policy-making has rarely been encouraged. One Chinese academic warned last week that Li's call for ministries to issue policies quickly may only solve part of the problem, adding that implementation of policies is often delayed by local governments, while other central government ministries may sometimes do their best to oppose policies from rival ministries.
Some analysts have suggested, for example, that rivalry between different regulators and government departments may account for the apparently contradictory policy toward companies like ride-booking app Uber, which has been able to sign major cooperation agreements with Chinese partners, but has had two of its offices raided by local officials over the past week.
In the latest sign of the difficulty of implementing policy, China's military newspaper said on Thursday that some parts of the army were failing to take the government's current anti-corruption campaign seriously, according to Reuters. It said some cases of corruption were being covered up or seriously downplayed, especially if they involved senior officers, because some staff were scared of getting into trouble if they reported their bosses – or simply did not wish to harm the military's honor.
The government has said President Xi's campaign against corruption is fundamental to the survival of the Communist Party, and a number of senior military officers have been punished -- but the army newspaper said cover-ups of cases were "not the exception."
There have also been warnings that the ongoing anti-corruption campaign could actually discourage officials from showing the kind of innovation and pro-business attitudes the government says it wants to promote. After many cases in which local officials have been arrested on charges of taking bribes from business people, entrepreneurs quoted by thepaper.cn said government officials were now so scared of being accused of corrupt dealings that they were trying to avoid meeting them, or dining with them -- and sometimes were" simply doing nothing at all," and refusing to sign off on projects already agreed upon because they were too nervous.
The paper quoted several industrialists as saying they had "got land, and received funding, but were unable to go ahead with their projects," since officials were refusing to sign off on their contracts. And it said this phenomenon of 'lazy government' was spreading.
Peking University's Yao has also raised the question of whether the campaign against corruption could "weaken the incentive for government officials to promote growth," by reducing the "large rewards" they have previously won from corrupt business deals. His conclusion, though, is that tackling corruption will make China's economy stronger in the long run.
However, as Premier Li's own comments suggest, making this happen may still be a major challenge.
FOR FREE to continue reading
✔️ Unlock the full content of International Business Times UK for free
offer available for a limited time only
✔️ Easily manage your Newsletters subscriptions and save your favourite articles
✔️ No payment method required
Already have an account?
Log in
© Copyright IBTimes 2023. All rights reserved.