China Seizes 10,000 Illegal Guns In Weapons Raid, As Gun Culture Becomes More Popular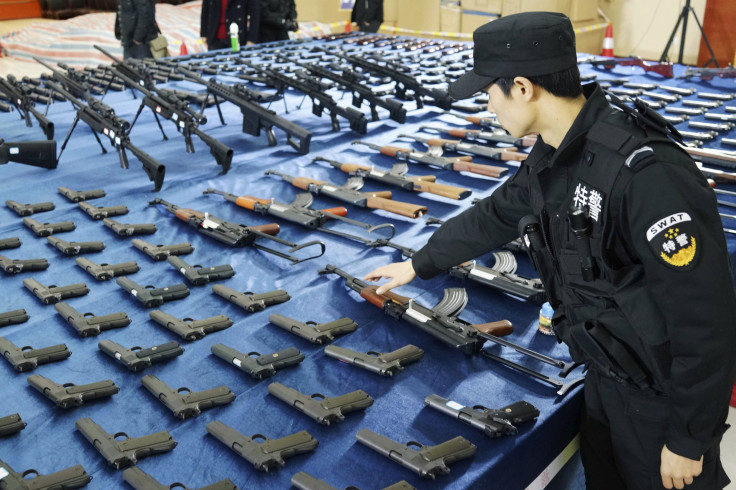 A raid in southern China resulted in the seizure of over 10,000 illegally owned guns, in addition to thousands of illegal knives. And besides being the largest haul of illegal firearms to date in China, the raid in the city of Guiyang, located in Guizhou province, has brought to the light once more China's evolving, underground gun culture.
China's weapons laws are among the world's strictest. The country bans all private gun ownership, with very few exceptions. This however has not prevented the emergence of an increasingly robust illegal gun business. China's central television station, CCTV, reported that 10,500 guns and 120,000 knives were seized by authorities in the crackdown.
In general, gun violence in China is not a grave public concern; knives are the more common weapon of choice because of accessibility and availability. Illegal guns are becoming indeed an increasingly dangerous business -- fifteen people were arrested in the most recent raid, accused of gang involvement and illegal firearm trafficking -- but China does not have anything comparable to what an average American would know as "gun culture".
Located in the same province as Guiyang, a village known as Basha is an exception to the rule. Basha villagers are one of China's 55 ethnic minority groups, known collectively as the Miao (while the majority of Chinese are considered ethnic Han). The men of Basha are legally allowed to make, carry, and fire guns in the name of tradition. Basha Miao are exempt from the government's blanket ban on guns, and are even marketed as the nation's last gunslingers. They have turned into a tourist attraction, known for their performances in marksmanship.
The scarcity of guns and their illegal status has created a highbrow reputation for them. Those who are curious can take a shot at local shooting ranges, like the Beijing North International Shooting Range. According to the website, customers can pick a gun, ranging from rifles and pistols made in China, the U.S., and Russia, and buy ammunition by the magazine load. The shooting range experience highlights the educational philosophy behind shooting in China. The gun range carries, besides functioning modern guns, antique firearms that are on display for educational purposes, and even boasts a museum hall. That's a far cry from the mafia-like gangsters who were reportedly caught in Guiyang.
Illegal hunting has also become an activity of choice for some among China's elite, who are tired of the golf courses. The Wall Street Journal reported that in a rural pocket of central China's Anhui province, wealthy businessmen and retired army personnel gathered for annual wild-fowl shoots.
However, guns in China are not contained among those who shoot for sport, and despite bans, stories of illegal gun smuggling and gun violence continue to make headlines. China is after all a major manufacturer of firearms, and guns are surprisingly accessible considering the nation's strict rules. Last summer, a man fatally shot five people in a fit of rage that stemmed from an economic dispute at work. In 2008, unrest in the Tibetan and Muslim regions of China also highlighted the government's desperation to rein in gun ownership when a police officer was shot six times in the midst of what authorities and local media described as a "gun battle."
China's stability-obsessed government maintains a steadfast position on banning private gun ownership, and routinely holds gun drives to rid the nation of illegal guns. According to the Ministry of Public Security, the government's no-questions-asked gun-surrender drives have netted more than 150,000 illegal guns in just a few months.
© Copyright IBTimes 2022. All rights reserved.
FOLLOW MORE IBT NEWS ON THE BELOW CHANNELS