China Shares Surge As Central Bank Publishes Outdated Comments On Shenzhen-Hong Kong Trade Link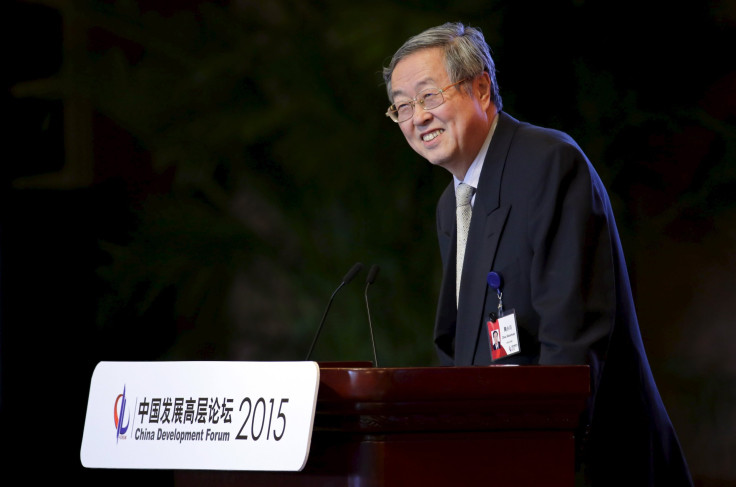 The People's Bank of China clarified its position after it published outdated comments by Governor Zhou Xiaochuan on its website Wednesday, which said that the eagerly awaited program to connect the Shenzhen exchange to the Hong Kong stock market will be active by the year end.
The announcement seen on the central bank's website in the morning sent stocks in China and Hong Kong sharply higher as investors had expected the Shenzhen-Hong Kong stock connect to be delayed into 2016 due to the stock market turmoil earlier in the year, according to reports.
Post lunch, the Chinese central bank clarified that Gov. Zhou's remarks were made on May 27 and did not reflect the current status of the project, but gave no reason as to why the speech was published nearly six months later.
A key industry source told the South China Morning Post that market regulator China Securities Regulatory Commission is still working on the plan and is not prepared to issue a timetable to roll out the arrangement.
The trading link is part of China's attempt toward a larger global role for its currency. In March, Chinese Premier Li Keqiang said the trading link would be launched at "an appropriate time," but didn't set a time frame.
The Shenzhen-Hong Kong stock connect , when launched, will provide foreign investors greater access to the mainland market. Currently, only few government-approved fund managers are allowed to invest in the Shenzhen exchange, according to the Journal.
Some analysts however feel that it is too early for the program, "China has not finished cleaning up the market yet." Francis Cheung, head of China and Hong strategy for CLSA, told the Wall Street Journal.
Chinese stocks rose in the morning, but reversed their gains somewhat following the clarification. The Shenzhen Composite Index was up 5.1 percent while the Nasdaq-style ChiNext Price Index closed 6.4 percent up.
© Copyright IBTimes 2023. All rights reserved.