China Slams US' 'Enormous Lie' About Forced Labor In Xinjiang After 2 More Companies Blacklisted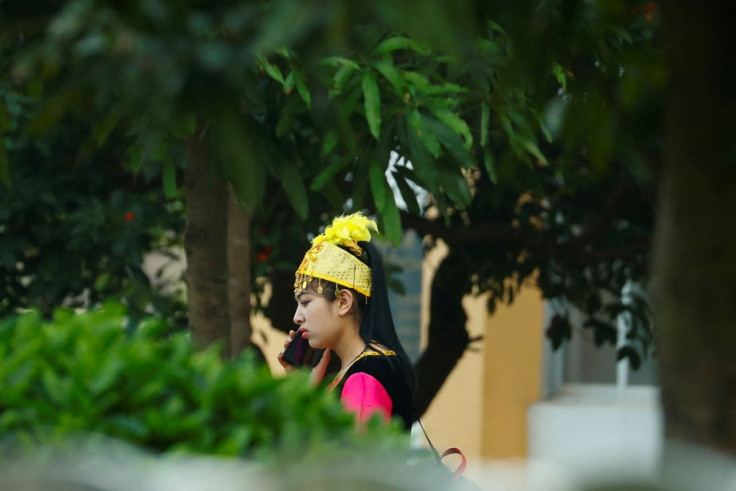 KEY POINTS
The U.S. banned goods from Chenguang Biotech and Camel Group on Tuesday
Washington says it's part of an effort to eliminate forced labor practices in the U.S. supply chain
Beijing has repeatedly denied allegations of forced labor in Xinjiang region
China has condemned Washington's move to add more Beijing-based companies to a trade blacklist over alleged forced labor practices in the northwestern territory of Xinjiang, where many ethnic groups reside.
"The allegation of 'forced labor' in Xinjiang is nothing but an enormous lie propagated by anti-China elements to smear China. It is the very opposite of the fact that the labor rights of people of all ethnic backgrounds in Xinjiang are effectively protected," a Chinese foreign ministry spokesperson said in a statement Wednesday.
Beijing's comments came after the U.S. added two more Chinese companies – Chenguang Biotech Group and its subsidiary Chenguang Biotechnology and Camel Group – to its Uyghur Forced Labor Prevention Act (UFLPA) entity list Tuesday. Chenguang is a Quzhou, Hebei-based manufacturer of spices and extracts, while Camel Group is a battery manufacturing firm in Xiangyang.
"Today's additions demonstrate the United States' unwavering commitment to eliminating forced labor, including by ensuring that goods made by forced labor are not imported to our country," said U.S. Trade Representative Katherine Tai in a press release Tuesday. She added her office will continue to work with interagency task force partners to ensure the UFLPA is implemented and forced labor practices are "eliminated" from the U.S. supply chains.
China said enforcing the UFLPA on the basis of "lies" was "detrimental to international trade rules" and would disrupt stability in global industrial and supply chains. The blacklisting of Chinese firms was targeting stability and prosperity in Xinjiang and was aimed at "containing China's development," the ministry said.
"We condemn and reject this and will take strong measures to firmly safeguard Chinese companies' lawful interests and rights," it added.
Most of the companies on the UFLPA blacklist have been on the list since June 2022. Printer and ink manufacturer Ninestar Corporation, along with its eight subsidiaries in Zhuhai, and chemical maker Xinjiang Zhongtai were added to the list last month.
The other notable companies on the list are export-focused glove maker Baoding Lyszd Trade and Business, spinning mill Changji Esquel Textile, No. 4 Vocation Skills Education Training Center (VSETC) and Xinjiang Production and Construction Corps (XPCC).
After it was added to the list, Changji Esquel said it "morally" opposes the use of forced labor as it was "completely contrary" to the company's 40-year tenure. The company accused Washington of relying on "a handful of misleading anecdotal media mentions," adding it will continue cooperating with the U.S. government to "clear" its name.
In June, Secretary of State Antony Blinken raised concerns about alleged human rights and labor violations in the Muslim-dominated Xinjiang region when he met Chinese President Xi Jinping during a visit to Beijing.
A month earlier, the House Select Committee on China reportedly sent letters to Nike, Adidas and Chinese shopping platforms Shein and Temu over potential links to forced labor of Uyghurs, a mainly Muslim ethnic minority, in Xinjiang.
In 2020, think tank the Australian Strategic Policy Institute (ASPI) accused Adidas, Abercrombie & Fitch, Apple, Amazon, Gap and other foreign and Chinese brands of "directly or indirectly benefiting from the use of Uyghur workers outside Xinjiang through abusive labor transfer programs."
The Chinese foreign ministry has repeatedly denied allegations of human rights violations in Xinjiang, calling them "nothing but vicious lies." It said the U.S. has "serious problems" of forced labor and human trafficking. The Asian powerhouse said issues in Xinjiang were more related to countering "violent terrorism and separatism" instead of human rights.
© Copyright IBTimes 2023. All rights reserved.