China Steps Up Anti-Terror Controls In Sign Of Anxiety After Series Of Attacks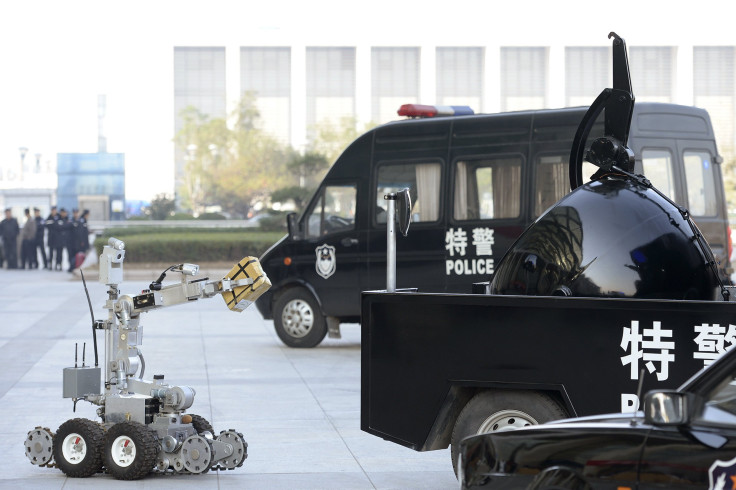 SHANGHAI -- China has said it will step up police patrols on public transport systems and at key transportation hubs and public places, in an attempt to prevent acts of terrorism or other violent attacks. The move follows a series of attacks at stations and other public places since last year.
China's official Xinhua news agency said police would reinforce patrols, "especially during… rush hours," at stations, ports and airports, and "along high-speed rail lines," in order to prevent "violence, terrorism attacks or extreme events." The measures, announced by the ruling Communist Party's Central Committee and the State Council, China's cabinet, also called for enhanced precautions at "kindergartens, schools, financial institutions, commercial sites and hospitals."
Xinhua reported that the new measures were part of efforts to build a "security network," which would also involve stricter enforcement of real-name registration in hotels and other industries, including motor refitting, second-hand goods trading and "recreation services." It added that a national population information database would also be enhanced to include information not only from citizens' identity cards but also from credit records.
The measures are the latest response to a series of attacks in public places over the past year. Many have been ascribed to members of the Uighur minority, an ethnic Muslim group from the northwestern region of Xinjiang, where China has said it faces a secessionist terrorist rebellion. Last month, three people were executed for a machete attack at Kunming railway station in March 2014, when 31 people were stabbed to death and 141 injured. Three people were also killed and 79 injured at Urumqi station in Xinjiang last May, while 31 were killed and 91 injured when explosives were hurled into a crowd at a market in the same city later that month.
Security at public places, particularly stations and airports, has already been tightened since those attacks. However, the new measures suggest a more systematic approach to keeping tabs on potential wrong-doers. The emphasis on monitoring industries such as motor refitting, for example, may be a response to the use of vehicles in several recent attacks, notably in November 2013, when a Uighur family drove a car into crowds at Tiananmen Square in Beijing; two tourists were killed and 38 people injured, while the three people in the car were also killed when it caught fire.
The latest report gives a rare insight into China's own 'war on terror.' A traditional emphasis on stability has meant, for example, that detailed footage of the attacks at Kunming station has not been released. And officials have yet to give a clear explanation for two stabbing attacks outside the main railway station in the southern city of Guangzhou over the past year: in the most recent incident, in early March, police shot dead one attacker and caught another, after nine people were injured with machetes. After the first attack last May, police denied reports that it was linked to Xinjiang separatists, but did not give any further details. Nor have they commented on foreign media reports quoting eyewitnesses as saying that the attackers in last month's attack appeared to be Uighurs.
However there is no doubt that the attacks have alarmed many in a country unused to such threats. The government last month introduced a draft anti-terrorism law at the annual session of China's legislature. And China's chief justice announced that courts convicted 712 people for "instigating secessionist activities or participating in violent terrorist attacks" in 2014, up 13.3 percent over the previous year.
Some experts, though, have warned that the new draft law could lead to infringement on civil liberties. Beijing has denied that it would be used to give the government a back door into all Internet platforms operating in China. However, the life sentence given to Uighur academic Ilham Tohti in September last year, for what China said were separatist activities but what he said was sociological research, has been interpreted by some experts as a sign that Beijing is in no mood to compromise on the issue.
The latest report also called on police to step up investigations to solve serious crimes and cases that might lead to "extreme situations" -- an apparent reference to concerns about cases of social unrest over issues such as forced relocation and environmental problems. Xinhua also said the government would seek to recruit community volunteers and offer "handsome rewards" to those who reported serious crimes.
© Copyright IBTimes 2022. All rights reserved.
FOLLOW MORE IBT NEWS ON THE BELOW CHANNELS