China Warns Of 'Decisive Response' If US Vessels Sail Close To Disputed Islands In South China Sea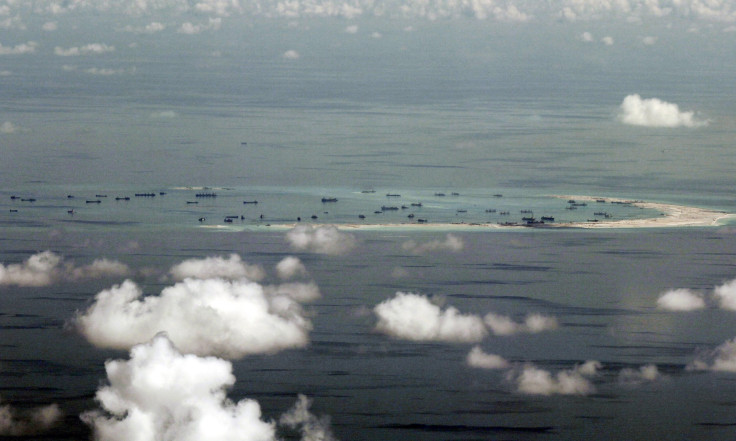 SHANGHAI -- China's official news agency has warned that proposed U.S. naval patrols close to islands China claims as its own in the South China Sea would be a "grave mistake," which could escalate tensions and lead to a "dangerous misunderstanding" between the two countries' militaries. The Xinhua News Agency said any such action would lead China to respond "appropriately and decisively."
Tensions have risen over the past year, as China has reclaimed land on islands in the Spratlys chain, in waters also claimed by the Philippines and several other southeast Asian countries, and is reported to have built three air strips on them. Beijing says the facilities are for humanitarian use, and says it is only doing what other nations including Vietnam have done in the region. However, following a failure to reach a breakthrough in talks between President Barack Obama and President Xi Jinping last month, the U.S. has pledged to take action to show its displeasure.
Defense Secretary Ash Carter said last week that the U.S. plans to sail within 12 nautical miles of the islands (the limit of territorial waters under United Nations conventions) in the near future, to stress that these are in international waters, and to "defend freedom of navigation."
Reports say the U.S. has not sailed into the waters since 2012. And Xinhua said any resumption of U.S. presence in the area would be a "provocative step" that would "damage" bilateral ties and would also raise the "danger of miscalculation."
Beijing has insisted the facilities are not being "militarized" and says they have civilian purposes, including helping to guarantee safe navigation for shipping. One Chinese official even claimed recently that if the lighthouses China recently built on the islands had been in operation last year it would have made the search for missing Malaysia Airlines Flight MH370 much easier.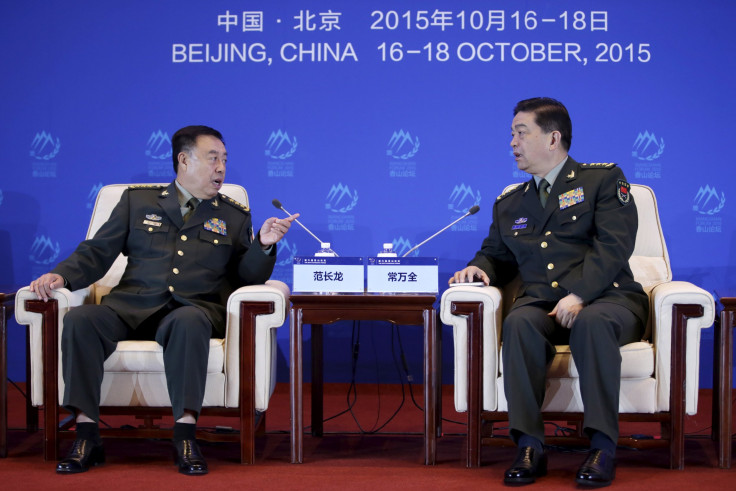 However Xinhua said U.S. action would "leave China no choice but to beef up its defense capabilities," adding that Washington's tough stance would encourage the Philippines, a U.S. ally, to take "more provocative steps to challenge China" as a result. (Manila has repeatedly condemned China's construction in the region, and this year raised its defense budget as a response to what it sees as China's threat.)
China's promise of a decisive response raises the question of what might actually happen if U.S. vessels approached the islands. Some Chinese experts have said recently that Chinese vessels would likely issue warnings and seek to usher the U.S. ships out of the area. However a commentary in the Global Times newspaper -- a hawkish tabloid owned by the official People's Daily -- last week said that if the U.S. encroached on China's core interests, "the Chinese military will stand up and use force to stop it."
The comments again emphasize China's newly assertive stance on the South China Sea under President Xi, who said in an interview with Reuters earlier this week that the islands had been Chinese territory since ancient times, and added "the Chinese people will not allow anyone to infringe on China's sovereignty and related rights."
"The situation in the South China Sea is potentially a very dangerous flash point," Willy Lam, a specialist on Chinese politics at the Chinese University of Hong Kong, told International Business Times. He said Obama was now inclined to follow the advice of defense secretary Carter, who had been calling for a tougher line on the issue for some time. As a result, Lam added, without a "conciliatory gesture" from China, such as stopping further land reclamation, things could "go sour... The generals close to Xi Jinping are pushing Xi to continue flexing China's muscles," he said, "but this is getting dangerous. If the Chinese are seen as backing down at the last minute Xi Jinping will lose face."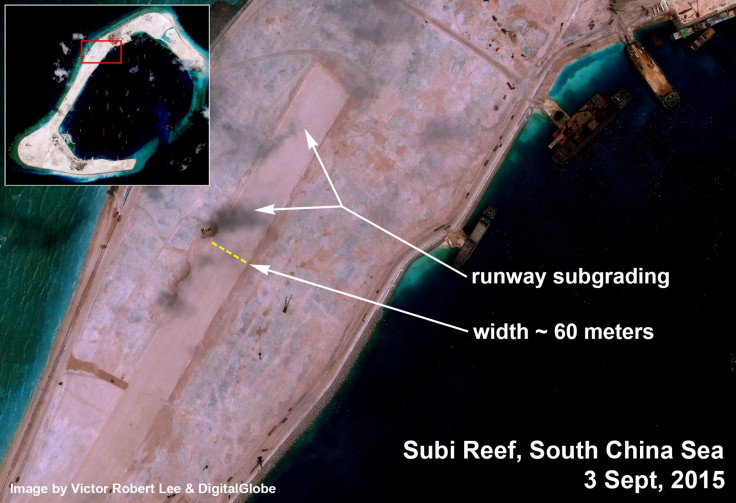 In one relatively conciliatory gesture, Chinese media Wednesday highlighted a visit to China's first aircraft carrier, the Liaoning, by U.S. navy officers. The Global Times said this "displays China's sincerity in military exchanges with the US," though it added that it also showed "China's military confidence."
And senior Chinese officials meeting their counterparts from the Association of Southeast Asian Nations (ASEAN) -- many of whose member countries also lay claim to disputed areas of the South China Sea -- expressed hope that the implementation of a 2002 "Declaration of conduct on the South China Sea" could help avoid what deputy foreign minister Liu Zhenmin called "local problems."
Last week China's defense minister said China would be willing to hold joint drills with ASEAN countries in the South China Sea on search and rescue, and to reduce the risk of accidental encounters.
Nevertheless, analysts say the words of Chinese officials and media in recent months suggest Beijing is unlikely to compromise on its claims of sovereignty over the disputed islands, which it sees as a core interest.
© Copyright IBTimes 2023. All rights reserved.
FOLLOW MORE IBT NEWS ON THE BELOW CHANNELS