China Yuan Value Vs US Dollar: Drop To Continue For Chinese Currency Amid Economic Slowdown, Economists Say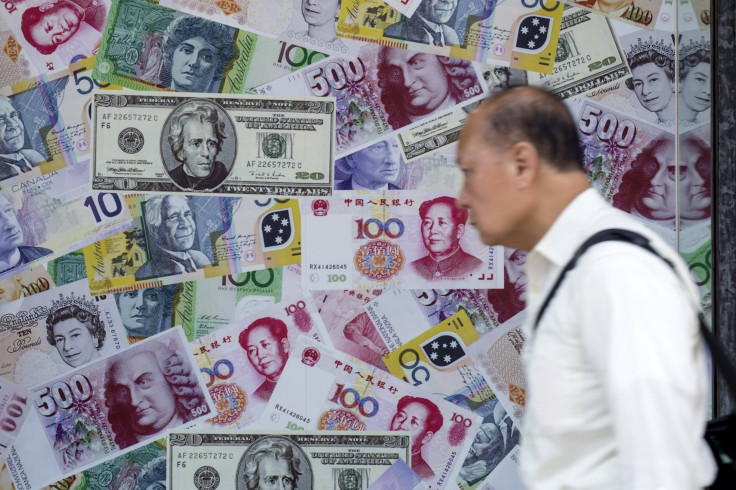 Economists have predicted that China's currency, the yuan, would continue to slide against the U.S. dollar until the end of 2015, according to a survey conducted by CNN Money. Median estimates predicted a drop of 2.8 percent.
The yuan has already fallen by 2.6 percent since January, including a major two-day slump in August that resulted in global stocks being sold off and the Dow Jones Industrial Average falling by more than 1,000 points before recovering.
A fall of 17.8 percent against the U.S. dollar was one of the most dramatic forecasts put forth by an economist. China's central bank, which has adjusted how the yuan's 2 percent trading range is set, now uses the currency's closing price from the previous day.
The possible continued devaluation of the yuan has prompted fears of a regional impact across Asian markets. Countries including Malaysia, Thailand and Hong Kong export in large quantities to China and any slowdown in China could lead to a regional impact.
"Further devaluation could trigger further capital outflow that weighs further on the economy," said Jianguang Shen of Mizuho Securities, speaking with CNNMoney.
The Shanghai Composite also dropped 6.1 percent this week, with China's energy producer, PetroChina Co., falling to a low, according to Bloomberg.
"The most worrying aspect for the market is that we have had a lot of incremental monetary policy stimulus over the past twelve months, but it has done little to drive faster growth," said Nathan Griffiths, a senior emerging-market equities manager at NN Investment Partners, speaking with Bloomberg.
China's Premier Li Keqiang tried to reassure investors last week while speaking to the World Economic Forum. "China is not a source of risk for the world economy but a source of strength," said Li. "The positive factors in the economy are building up."
Reassurances hinge on "whether China continues to pull back on importing global wares -- not least, commodities -- as the world's second-largest economy continues to slow its pace of growth after three decades of breakneck development," International Business Times has reported.
© Copyright IBTimes 2023. All rights reserved.