Communist Party Veterans In China Demand Security Head Zhou Yongkang Quit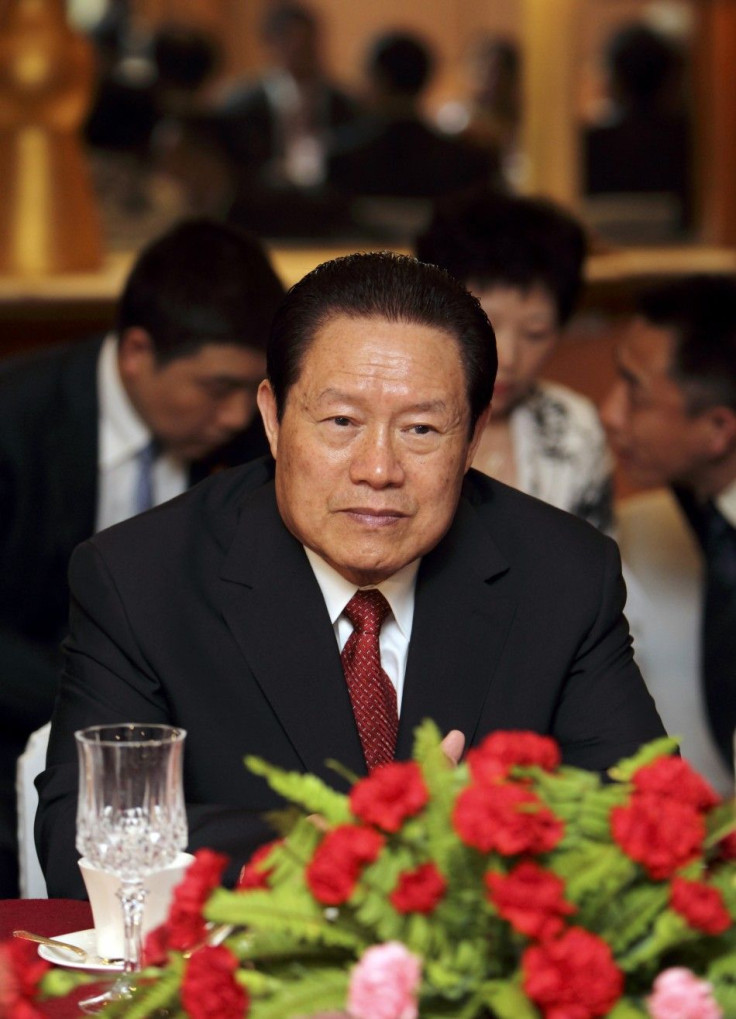 A group of retired Chinese Communist Party members have called for the resignation of Zhou Yongkang, the head of China's Public Security Ministry.
Zhou is a member of the party's Standing Committee, which ranks as the innermost, most powerful political cadre in China. Its nine members include President Hu Jintao and Premier Wen Jiabao. Zhou controls China's judiciary, as well as all security forces.
Zhou's resignation was recommended in a petition that surfaced on Wednesday, reports the New York Times. In a statement attached to the petition, 16 signatories decried Zhou's alleged former alliance with Bo Xilai, the former powerful head of the Chongqing municipality who was suddenly sacked from his post in March.
Ever since a scandal erupted over Bo's governing practices and business transactions, Zhou's supposed connections to him have become a liability.
Bo once enjoyed a public prominence that was unique among Chinese politicians. He was a populist politician and a charismatic campaigner, endearing himself to the citizens of Chongqing with affordable housing initiatives and crackdowns on high-level corruption. He was also defiantly Maoist, often invoking revolutionary Communist rhetoric and promoting red culture.
Bo has been criticized for his heavy-handed approach to policing Chongqing. An investigation conducted by the Financial Times in March suggests that Bo's popular crusade against corruption was tainted by gross human rights transgressions.
Zhou may have been involved in those transgressions, say the authors of Wednesday's petition. They also allege that he shares Bo's Maoist, anti-reformist goals for China.
Bo's downfall came shortly after the defection of Wang Lijun, a Chongqing police chief who had been Bo's protégé and right-hand man, and who may have shared sensitive information about Bo with American officials when he briefly took refuge at the U.S. Consulate in Chengdu.
The scandal surrounding Bo is still spreading; he and his family were investigated under suspicions of foul play in the mysterious death of Neil Heywood, a British businessman. Bo's wife and a family aide have since been arrested, and Bo is now under investigation for serious discipline violations.
Rumors have swirled regarding Zhou's precarious situation following Bo's downfall, but nothing appears to be out of the ordinary. The New York Times reports that Zhou still makes public appearances and delivers speeches that are carried by state-owned media outlets.
The authors of the petition are all retired and were not high-ranking members of the Communist Party, making it unlikely that their request will lead to any significant changes -- especially since Zhou was already expected to retire in October, during the once-a-decade scheduled power transition.
© Copyright IBTimes 2023. All rights reserved.