China's Economic Growth Outlook Grim: Barclays Sees Economy Growing By Less Than 6% By 2020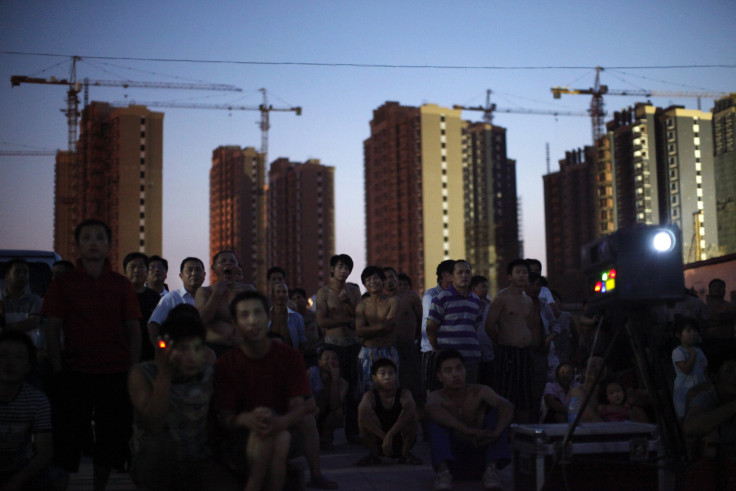 Recent economic data out of China have pointed to stabilization in the world's second-largest economy, prompting a series of broker upgrades to China's economic growth forecast for this year. But that's as good as it's going to get, according to some estimates.
After market hours on Tuesday, Barclays said it was cutting its 2014 projection on China's gross domestic product to 7.1 percent from 7.4 percent.
"We do not expect sustained acceleration in domestic demand, given our belief that there will be modest policy support aiming to stabilize rather than boost growth," Jian Chang, a Hong Kong-based economist, wrote in a note to clients.
The slowdown in economic growth that Chinese policymakers seem to be accepting, or maybe even attempting to engineer, may not be smooth. Once expectations start to center around a lower pace of growth, there's considerable risk of underachievement.
In a written interview with Russian and Central Asian media on Sept. 4, President Xi Jinping said: "We would rather bring down the growth rate to a certain extent in order to solve the fundamental problems hindering our economic development in the long run."
He also said, "[China's] growth rate could have been higher had we continued with the previous development model. However, we will press ahead with the adjustment of economic structure, and transforming and upgrading the economy."
Barclays believes that China's potential rate of growth is already down to about 8 percent currently and may shift toward 6 percent quickly, partly due to tightening demographic constraints. The days of double-digit growth might be over, especially now that the Chinese government has neither the appetite nor much capacity to implement another big stimulus program.
Chang also said she believes the government will cut its GDP growth target to 7 percent from 7.5 percent, when the National People's Congress meets in March 2014. A 7 percent growth rate would be in line with the 12th Five-Year Plan's target, according to Chang, who is expecting a neutral monetary policy stance with a bias toward tighter liquidity in the coming quarters.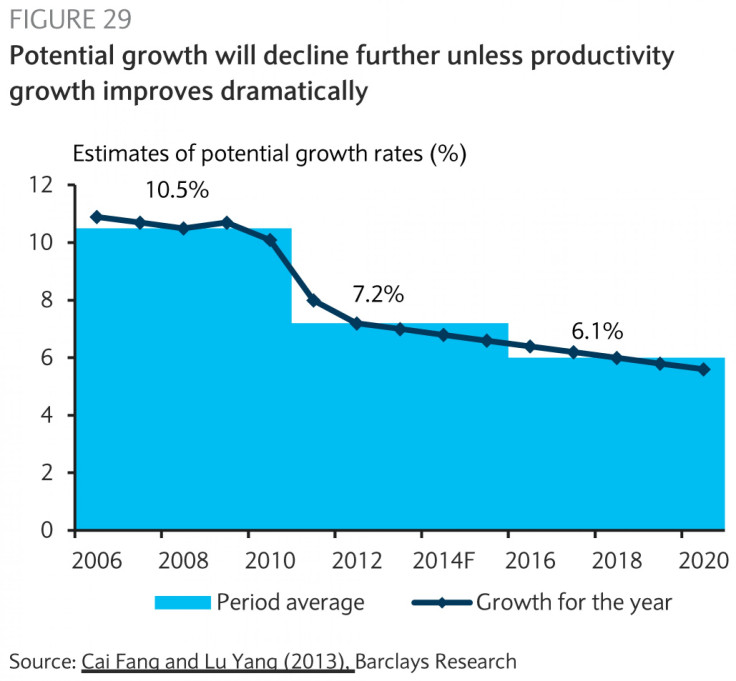 Fundamental challenges facing the Chinese economy -- excess capacity in the industrial sector, a latent property bubble, financial risks and lower potential growth -- have not been addressed.
In fact, the driver of the latest improvement in China's economy remains a pickup in infrastructure investment -- similar to the rebound in the fourth quarter of 2012, when GDP growth rose to 7.9 percent year-on-year from 7.4 percent in the July-September period before dipping again to 7.6 percent in the first half of 2013.
After stemming six months of mild deceleration in July, fixed-asset investment growth rose to 20.3 percent year-on-year in the eight months to August. Investment in transport infrastructure jumped to 35 percent, the highest since November 2009, led by railway spending.
"In fact, any strong pickup in infrastructure or a rebound in property investment would mean a further worsening of imbalances, undermining the government's goal of adjusting economic structure," Chang said. "Some painful adjustment, during the transition period, is unavoidable if the economy is to be put on a more sustainable growth path."
At the Third Plenary Session of the 18th Central Committee of the Communist Party of China in November, Chang expects the following areas to be high on leaders' reform agenda: administration, the fiscal system, land tenure, the household registration system, the social security system, resource pricing, and the financial sector. State-owned enterprise reform may also be included.
The structural reforms should result in less government intervention in economic activity. And, the days of a growth band of 8 percent to 12 percent are probably over as the government's influence over economic activities is reduced.
"Economic downturns are painful but are also ways of improving the quality of investment projects. In the next three to five years, we might see the first recession in the Chinese economy since the beginning of economic reform," Chang said.
© Copyright IBTimes 2023. All rights reserved.
FOLLOW MORE IBT NEWS ON THE BELOW CHANNELS