China's Growing Military Is A Top Security Concern Among Japanese: Poll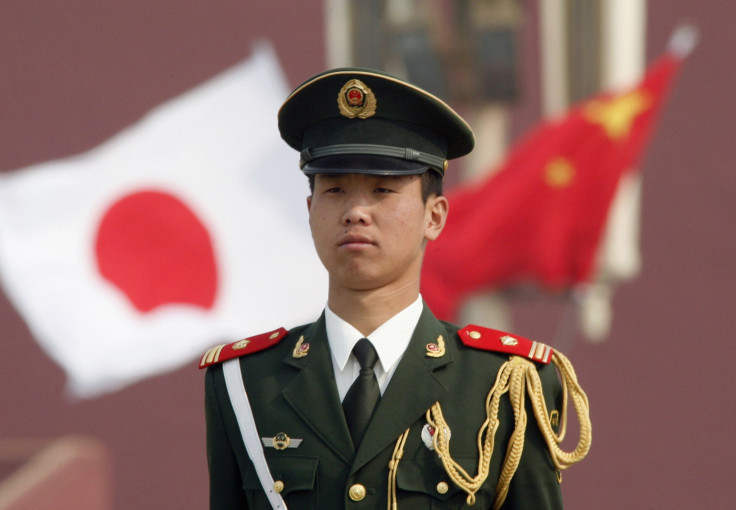 When it comes to relations with China, Japan's people have become increasingly apprehensive about their East Asia neighbors. China's continuous military assertiveness has solidified its status as a geopolitical powerhouse in the region, making the country Japan's top concern -- even over North Korea.
According to results of a public opinion poll released by the Japanese government, China's military expansion and emphatic claims in various land and maritime border disputes with Japan are more of an immediate security threat to Japanese than disagreements with any other country. More than 60 percent of those polled in a survey in January said China was Japan's main concern, up from 46 percent in 2012.
In the past, North Korea's volatility and war-mongering have been the primary concern. In 2012, North Korea was the top concern of approximately 65 percent of those polled. This year, that number fell to roughly 53 percent.
China's rise in the ranks indicates ongoing strained relations between Asia's top economic powers, especially when it comes to geopolitics and military issues. "There is a lack of transparency in China's military and security policy, including about the budget," Japan's Defense Minister Gen Nakatani told reporters last week. "We want to continue to seek disclosure from China."
For a long time Sino-Japanese relations hinged on claims over a cluster of islands in the East China Sea -- known as the Senkaku to Japanese, and the Diaoyu to the Chinese. Many believe that the tug-of-war over the uninhabited, resource-rich islands could eventually lead to a full-blown war between the two countries.
Though Japan is not directly involved in the dispute, China's reclamation efforts in the South China Sea show the intimidating force of China's military. Despite ongoing claims from the Philippines, Brunei, Malaysia and Vietnam of the Spratly Islands, satellite data obtained by IHS Jane's Defense weekly showed that China created a man-made island in the area in just 10 months. The artificial island is reported to feature a landing strip and will be used as an outpost for Chinese military surveillance in the area.
Japan's Prime Minister Shinzo Abe appears to be mirroring the shift in public opinion. According to a report by Bloomberg, Abe's military reforms, which include allowing soldiers to be deployed abroad and increasing their defense budget, are partly in response to China's growing military status. This would be a drastic change for Japan, which adopted a pacifist constitution after World War II. "There is currently a lot of tension in East Asia, with threats from North Korea and the rapid militarization by China," Shihoko Goto, a senior associate of the Asia Program at the Wilson Center, told International Business Times. "There has been a shift in the defense landscape in Asia in the last three years."
© Copyright IBTimes 2023. All rights reserved.