China's Long List Of Food Safety Scandals: Alcohol Company Investigated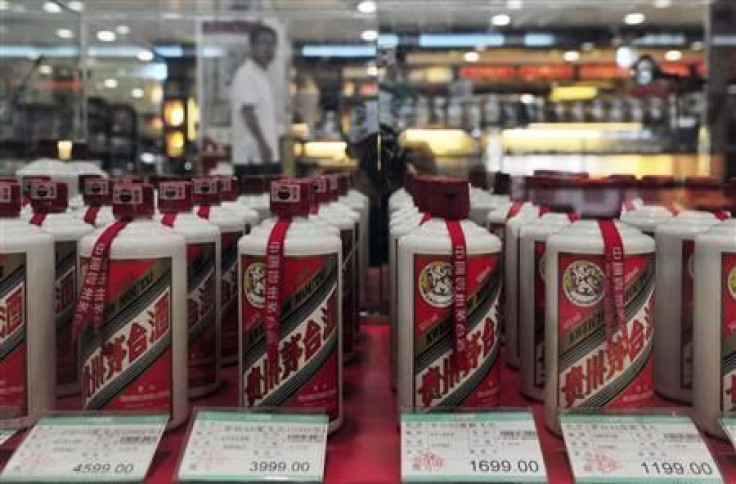 Chinese alcohol producer Jinggui Liqour Co. has now joined a long list of companies under investigation in China after an independent food testing company found that bottles of baijiu, China's "white spirits" liquor, allegedly contained toxic plasticizers that produce various health risks, including cancer.
Food safety scandals keep occurring in China, likely because the official testing facility is largely bound by countless governmental restrictions. As cancer rates continue to rise in China, more effective food regulations are necessary in order to avoid more health problems.
The Shanghai Daily reported that a bottle of liquor that was tested contained three variants of plasticizers, one of which was 260 percent above the acceptable level.
Plasticizers are reportedly added to the alcohol in order to improve taste and appearance, but are extremely hazardous. The plasticizers found in Jinggui liquor could have found their way in the product because of plastic containers used in the distilling process. The chemical can change hormone levels, damage the digestive system and even cause liver cancer.
Jinggui Liquor responded to the allegations by denying claims that their drinks are contaminated. Jinggui Vice President Fan Zhen has disputed the findings and refused to recall their products, claiming that the testing company's findings do not match those of the nation's quality supervision board, which found no plasticizers in the product.
According to The Shanghaiist, the original investigation was done by Chinese news website 21cbh.com, which was acting on a tip given by people within the Jinggui company. The news site sent over bottles to the National Food Quality Supervision and Inspection Center, the official food-testing facility in China, where the bottles were refused because tests "require authorization from the production company." The bottles were then sent to Shanghai-based independent food-testing company, Intertek Co., where tests found that the liquor contained the various toxins.
Here are some examples of the nation's already lengthy list of foods containing carcinogens and other harmful agents:
1. In 2008, infant milk formula and other dairy products were found to be contaminated with melamine, an industrial chemical used in fertilizers, killing six children and leaving 300,000 sick. The whistleblower of the contaminated milk scandal, Jiang Weisuo, mysteriously died recently, raising concern over the consequences of investigating food safety.
Earlier this year, the Shanghai Daily reported another baby formula company, Yili, had products that contained mercury and has since suspended selling Yili products in supermarkets.
2. Earlier this year, Chinese media uncovered a national food scandal, where contaminated black-market cooking oil was being distributed across the country. The oil was said to be produced from garbage, food scraps and even animal carcasses. The illegally bought and sold 'Digou oil', loosely translated means 'sewage oil', cut costs for restaurants and street food vendors. This April, over 100 arrests were made across several provinces relating to the illegal production of Digou oil. Over 3,200 tons of the oil were seized and later destroyed.
3. In 2010, artificial green peas were found in Hunan province, which contained various toxins and artificial additives that is sometimes used as a bleach. The China Daily reported that "the peas were an unnatural color and had a penetrating odor. After 20 minutes of cooking, the peas did not turn soft but the water [turned] green." The fake green beans that were found in local farmer's markets were produced in two illegal workshops.
4. In October, the Shanghaiist reported over 11,000 students in Germany fell ill due to abdominal influenza; 32 of them being hospitalized. The cause of the outbreak was traced to frozen strawberries that were imported from China, according to the Robert Koch Institute, which conducted tests on the fruit. However, the Chinese Administration of Quality Supervision, Inspection and Quarantine refuted the claims, saying tests found no disease-causing viruses on the China-exported strawberries.
© Copyright IBTimes 2023. All rights reserved.
FOLLOW MORE IBT NEWS ON THE BELOW CHANNELS