China's Parliament Likely to Push Growth Agenda: HSBC Economist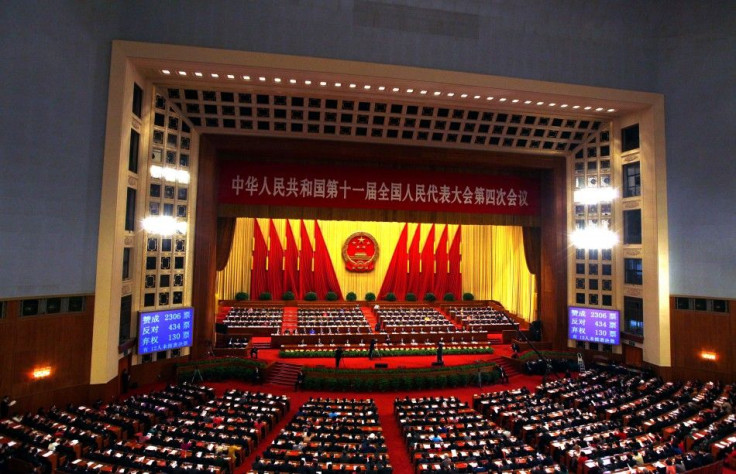 China's 11th National People's Congress, the Chinese Parliament and top legislative body, will convene its fifth annual meeting Monday to set such key 2012 economic objectives as a lower target for economic growth, while keeping inflation steady.
The anticipation of a slowdown in the world's second-largest economy will push the Chinese government to roll out more pro-growth policies to ensure economic and social stability -- the top priority ahead of the central leadership's handover this fall, HSBC's China economist Sun Junwei, wrote in a research note.
While the key policy tone was set at the Central Economic Work Conference last December, the meeting that begins Monday and runs for a week a half will produce concrete policy targets and measures.
2012 Key Economic Targets
China's policymakers are expected to lower the country's GDP year-on-year growth target to 7.5 percent for 2012 from 8 percent set in previous years. However, HSBC economists think this target will serve as a lower bound rather than an actual target, given that Beijing has a strong track record of overshooting its announced growth target.
Despite weakening exports and cooling housing prices, we expect Beijing to have sufficient policy flexibility to keep growth above 8 percent this year and the next, Sun said. He is forecasting 8.6 percent growth.
The consumer price index target is expected to be kept at 4 percent, which should also act as a ceiling on headline inflation. By keeping the CPI target flat, Beijing will have more room for reforming how resources are priced and accelerating wage growth.
Pro-Growth Policies
Leading up to the political reshuffle, key policies will be designated for promoting growth and employment. Downside risks stem from the European debt crisis and a correction in China's property market. HSBC economists expect Beijing policy makers to ease on both monetary and fiscal fronts to support growth, especially by stimulating domestic demand.
Monetary Easing
The People's Bank of China targets 14 percent year-on-year money supply growth for 2012, up slightly from 13.6 percent recorded at the end of 2011. HSBC economists believe that monetary easing needs to play some catch-up to ensure smooth liquidity growth. The later-than-expected cut in bank reserve ratio requirement on Feb. 20 suggests that Beijing continues to see growth, not inflation, as the biggest macro risk.
Lower-than-expected credit growth and the outlook of smaller upcoming money inflows imply that the central bank has to speed up quantitative easing via at least another two 50 basis-point reserve ratio requirement cuts over the coming months, Sun said. Interest rate cuts, however, seem less imminent until CPI slows to below 3 percent.
Fiscal Deficit
China's fiscal deficit is likely to be budgeted at 900 billion yuan ($143 billion), or around 1.7 percent of the estimated 2012 GDP, according to HSBC. That's a modest expansion from the actual deficit of 519 billion yuan in 2011, or 1.1 percent of 2011 GDP.
The country's fiscal revenue-to-GDP ratio reached a 26-year high at 22 percent in 2011 and has nearly 3 trillion yuan in fiscal cash deposits. China's strong fiscal position allows policymakers to made bolder actions through tax cuts and fiscal spending.
Starting from 2012, turnover tax was replaced with a value-added tax in the transport sector and some service sectors in Shanghai as a way to cut taxes and boost growth in the country's services industries.
Turnover tax refers to a tax on the gross revenue of a business, while a value-added tax refers to a tax levied on the difference between a commodity's price before taxes and its cost of production.
HSBC expects China's pilot value-added tax reform program to be expanded later this year.
Gradual Reform
China 2030, a report released Monday by the World Bank and a prominent Chinese think tank also addressed some of China's most politically sensitive economic issues and recommended that sweeping changes -- including reducing the power of state-owned enterprises and breaking up monopolies -- should be taken.
Beijing has also reiterated its intentions to push forward critical reforms to sustain China's growth. However, progress has been slow.
Progress is likely to be gradual this year, Sun said. (There is) unlikely to be any aggressive move in the political reshuffle year.
The three key events during the 2012 PNC:
- Premier Wen's government work report outlining 2012's key economic targets and detailed policy agenda.
- The Finance minister's 2012 fiscal budget report.
- Press conferences held by Primer Wen, the finance minister, the central bank governor, National Development and Reform Commission ministers and other senior policymakers.
© Copyright IBTimes 2023. All rights reserved.