China's Rural Land Reform: A Step Toward More Consumption, Less Social Unrest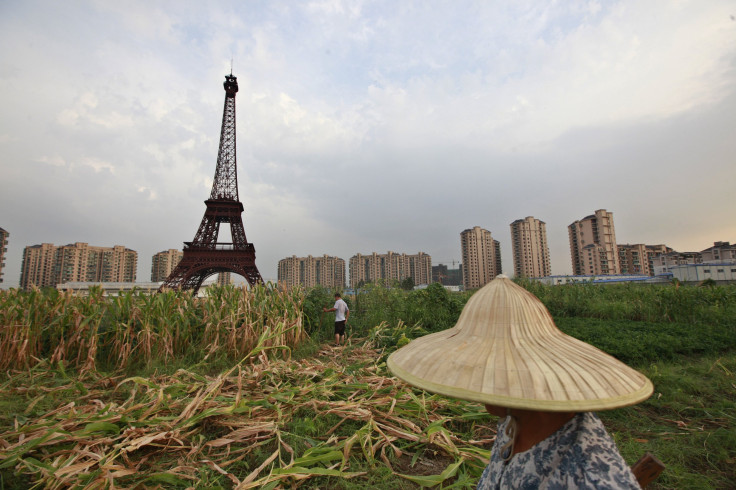 In a groundbreaking reform pledge announced by China's ruling Communist Party, farmers will be able to buy and sell so-called "land use rights," giving rural residents the same rights as urban dwellers. The much-anticipated land reform, if followed through, is expected to boost China's still laggard household consumption.
"Efforts must be made to allow farmers to participate in China's modernization," the ruling Communist Party said in a document issued on Nov. 15, after the third plenum meeting. "Farmers will be given more property rights."
Reforming the current land acquisition system, which prevents migrant workers from getting fair compensation from land transfers, is essential.
"This revolutionary change would undermine local governments' monopoly over land markets and boost farmers' income, thus providing them with the start-up capital to settle in the city," Société Générale analyst Wei Yao said in a note.
Beijing has started to clarify farmers' rights to their contracted land and promised to finish registration and certification within five years, so a legal foundation can be laid and the property rights of farmers safeguarded.
Under the current law, Chinese farmers don't actually own their land; they only have the right to use it. All land in China is still owned by the government. With farmers and collectives barred from selling rural land, expropriation of land has been a significant source of revenue for local governments.
One recent estimate by the Chinese Academy of Social Sciences researcher Yuhui Liu puts local government debt at an astonishing 20 trillion yuan. Land sales revenue is an important source of income for local governments, amounting to a net 1.4 trillion yuan ($230 billion) in 2012, or around 11 percent of local governments' total income, according to Bank of America Merrill Lynch.
In one survey by Landesa in 2011 (the latest available), 43 percent of Chinese villagers said government officials had taken or tried to take their land. That is up from 29 percent in a 2008 survey. The same survey found that on average, the compensation that governments paid to farmers was just 2 percent of the land's market value. Approximately 4 million rural people have their land taken by the government every year, and conflict over land accounted for 65 percent of the 187,000 mass conflicts in China in 2010, according to the researchers.
Violent clashes between officials and villagers have resulted in the death of a four-year-old girl, Xiaorou Hong, who was hit by a bulldozer after her family resisted a land grab. Haifeng Xu, whose home was razed three years ago, told Reuters the story of how her family members had been kidnapped on 18 separate occasions after she went to Beijing to complain about the city and county governments that ordered the demolition. According to Xu, her family members were taken to a hotel-turned-illegal jail in the eastern city of Wuxi with black bags thrust over their heads and locked for weeks in a tiny, windowless room.
"Reducing expropriations would also reduce social tensions," Capital Economics economists Mark Williams and Julian Evans-Pritchard wrote in a note to its clients.
It is worth noting that this reform proposal is not new. Similar suggestions were made at the previous Third Plenum in 2008, but they ultimately went nowhere. "We nonetheless think that the chances of substantive change are higher this time," the Capital Economics economists wrote.
© Copyright IBTimes 2023. All rights reserved.